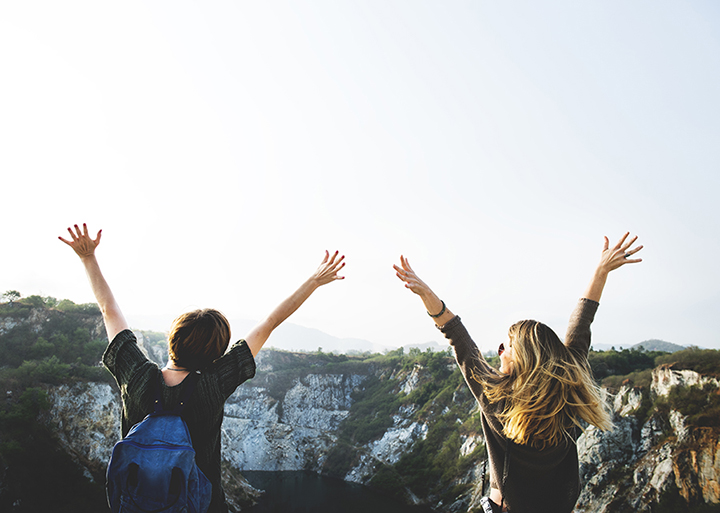 ---
Whew! We've made it! It's the beginning of a fresh and exciting NEW YEAR!
If you're like me, January feels like a beautifully clean slate God graciously gives us every year.
Imagine if we were stuck in one drawn-out never-ending mistake-riddled year? Ugh. Just the thought of it is dampening my new year vibe.
Praise God! We've been given a chance to reboot and start afresh!
Yet, sometimes the new year can feel pretty daunting, too. I mean, there's 365 days stretched out in front of us and sometimes the last 365 days didn't go so well.
Last year was a wonderful year for me. I look back amazed at how God maneuvered some experiences and circumstances to make it a great year.
I also wasted a lot of time on Netflix, last year, and neglected some of my most treasured goals, such as writing and reading. That's not so great. Maybe you did something similar and neglected–maybe even down-right forsook–some important goals half-way through the year.
This is pretty normal, so don't start condemning yourself as a failure. Fact is, you're not. Twenty-seventeen was still a good year for me, despite some major failures. I did get some good writing and reading done and I had many life-changing experiences to boot.
Nevertheless, the wasted opportunities left me feeling less confident, more uncertain, and often more confused than before. You might not watch Netflix much, but I'm sure you can identify with missed opportunities or abandoned goals.
As with every year, I want to do even better in 2018. So I've made a plan to help me rock the new year like a pro. Maybe you should join me?
Here's the plan.
1. Explore a vision
We like to make a big hullabaloo over having our lives figured out by the time we're seventeen and can start applying for colleges and pursuing careers.
In truth, most adults barely even know what they want to do with their lives, let alone those of us who are just entering adulthood (for the first time, I might add!).
There's nothing wrong with writing down five-, ten-, or twenty-year visions, but there's no need to get discouraged if we just simply don't know. Sometimes the reason we don't know is because we haven't found the opportunities right before us.
If you're a teen who loves God, you don't need a ten year plan to honor Him in 2018. You just need a vision to start exploring.
For example, I started a blog when I was thirteen because I enjoyed writing and thinking and wanted some place to express those areas of interest. My friend Andrew and his buddies were skilled guitarists and musicians, so with a couple of gig opportunities in front of them, they started a band. Zach didn't know he wanted to become a Bible translator until his family moved to Thailand and he fell in love with language learning and foreign missions.
So here's your first step to rocking the new year: Write down one or two words that express what you'd like to do with your life this year. I put down "Writing."
(What did you put down? Let me know in the comments below!)
2. Find support
Have you ever heard of Paul Allen or Steve Wozniak?
Maybe, but their names probably aren't as familiar as their respective business partners: Bill Gates and Steve Jobs. Without Allen, there'd likely be no billionaire Gates or Microsoft; without Wozniak, there'd likely be no revolutionizing Jobs or Apple.
We like to focus on individual heroes and call them "self-made" but that's just not reality.
Here's something you can count on: No one ever accomplished great things alone. You just won't find it.
Great accomplishments happen with teams. God himself has "partnered" with us to spread the Gospel (1 Corinthians 3:9) and He put us all on a team called the Church. If God doesn't want to "go it alone" in spreading His glory, then we would be fools to try to accomplish our visions by ourselves.
Find people who support you and ask them to journey with you in pursuing your vision. It could be a large group like your church or the community here on The Rebelution or it could be a small, tight-knit group of friends–either way, you need support or else there will be no one there to help you when things get tough.
3. Do one scary thing related to your vision this year
Anything worth doing is going to involve risk. Bill Gates and Steve Jobs both risked time, money, and reputation on their endeavors, but they changed the world. Thomas Edison failed hundreds of times before he invented the light bulb.
Your risk might be playing a song you wrote for your parents or it may be submitting an article to The Rebelution for the first time (I promise we're not too scary!) or it may be applying for a job you've been waiting on for years.
Either way, there's always a risk you might get rejected or someone might not like what you made for them or whatever. This can be terrifying, but in the end, I don't think you'll regret it.
Obviously, it should be something that glorifies God and isn't foolish (like jumping out of a aeroplane without a parachute). I would recommend doing something related to your vision. If you're wanting to write, submit an article. If you're wanting to work in a certain field, apply for a job that might get your foot in the door. This will help clarify whether or not you really want to pursue that vision.
No matter the outcome, the greatest fulfillment often comes with the greatest risk.
How fulfilled do you want your life to be in twenty-eighteen? Take a risk.
4. Celebrate!
Once you've explored your vision and conquered your fear, it's time to party. And I don't mean that flippantly. I mean that very seriously. One of the greatest reasons we don't accomplish our goals is because we don't set clear rewards for ourselves in advance. As a result, we drag things out and lose motivation.
When I'm done writing this article, I'm gonna go make some coffee and spend an hour doing something I really enjoy doing. Why? Because I've just accomplished one of my primary tasks for this week (writing this article)!
Rock the New Year
There's no perfect formula for having a perfect year. If there was, we wouldn't have five-thousand articles filling our news feed about "How to Have the Perfect Year."
There's no formula to it, but there are some key things we can do to pursue growth in 2018. Exploring a vision, forming a support team, committing to doing one hard thing related to your vision, and celebrating your accomplishments are a couple of major steps to rocking your next year.
No, it won't be perfect. Yes, you might fail a few times; but you'll find yourself, this time next year, more confident, less afraid, and with more direction than ever before.
So are you in? If so, I'd love to hear what your plans are.
What's the one or two words you wrote down as a vision for this year?
Share it in the comments and let's start cranking out the reasons to celebrate.
---
Share Your Thoughts in the Comment Section!
---