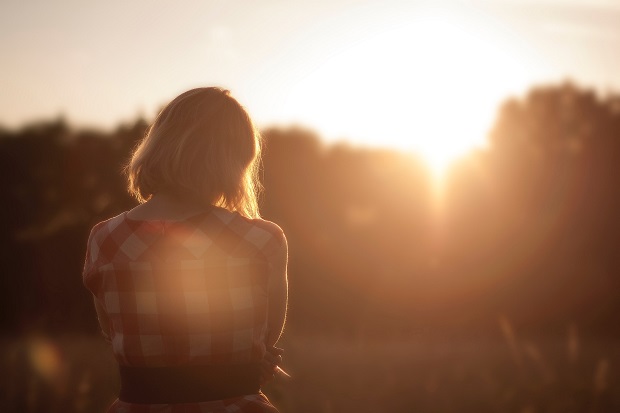 ---
We've all had those relatively smooth "good weeks" when temptation isn't shouting in our faces. Once sin has taken us out in battle, it retreats for a season, crouching quietly in the shadows (Gen. 4:7).
Then, temptation comes in poisonous innocence. Just one more time. You haven't done this for weeks, it can't hurt to do it once more.
A harmless offer, right?
Instead of fighting and fleeing temptation, we entertain it for seconds, minutes, or hours—a habit that rapidly leads to choosing sin.
There are fist pounding, soundless cries of remorse to follow.
For years, I've believed the act of giving into temptation is when the most damage happens. But in reality, sinning is just the gaping, hemorrhaging wound in the battle against rulers, principalities, powers, and spiritual forces of wickedness in high places (Eph. 6:12). Anemia threatens because we're the most vulnerable to Satan's methods of killing, stealing, and destroying immediately after saying yes to sin (John 10:10).
To keep us in bondage to that vicious cycle, he attacks with vengeance amplifying the three main natural consequences to sin. Let's call them giants.
The Enemy's Giants: Guilt, Shame, and Condemnation
When we're weak from the wounds of falling, Satan sics these giants on us to squeeze the life from our desire to fight.
Unless we fight against their lies with the Word…
Searing guilt seals us off from hope.
Shame leaves us face-down in the muck of paralyzing despair.
Condemnation scathes our souls, the worst giant of all.
Satan uses condemnation as the ringleader to brainwash us into believing the lie that because we've sinned, we're filthy and God would never love us or shower mercy upon us again. Liar.
God's love is unconditional. We certainly don't want to practice a lifestyle of sin on purpose. But know that there is indeed mercy and love, grace and forgiveness when we sin.
But know that there is indeed mercy and love, grace and forgiveness when we sin.
Click To Tweet
"Therefore there is no condemnation for those who are in Christ. For the law of the Spirit of life in Christ Jesus has set you free from the law of sin and death" (Romans 8:1-2, NASB).
Jesus loved us exquisitely at the Cross while each of us rejected him. He offered forgiveness there because he had compassion on our pitiful, depraved ignorance. He knew we didn't infinitely realize with our finite comprehension what we were doing to the Son of God, so he asked for forgiveness while his wounded, marred body was still wet with the mingled blood and water of his sacrifice.
While those giants guilt, shame, and condemnation, are tormenting us, Jesus is calling our name, drawing us back with his light, his love, so we don't have to spend a second dwelling in the punishment of darkness without him.
Jesus is calling our name, drawing us back with his light, his love, so we don't have to spend a second dwelling in the punishment of darkness without him.
Click To Tweet
Satan tries to tell us that we should give up. It's tempting to be depressed enough to concede.
We've already sinned, so we doubt it's worth striving to keep our purity, war against lust, follow in Christ's footsteps, read the Word, or pray. The enemy calls us unworthy to keep us deeply entrenched in sin.
The Father's Love
After sinning, I picture God scowling at me, ashamed, his love removed. Scripture does say that fellowship is broken with him and the Holy Spirit grieved when we sin, but it is not in the way we imagine.
Let's remember the prodigal son.
He left his father, wasted the wealth of his inheritance on his own pleasures, and was a homeless, miserable man without a friend, nowhere to turn. He knew he was unworthy to even have the position of his father's servant, but because of the hope of that possibility, he headed home (Luke 15:11-19).
The father was waiting, watching, preparing for his son's return long before his wasted frame dotted the horizon. When the son approached, the Word says, "while he was still a long way off, his father saw him and felt compassion for him, and ran and embraced him and kissed him" (15:20, NASB). The father didn't frown upon the pig sty stench clinging to his son; he embraced him and offered fresh raiment, a ring, and planned a celebration feast (v. 22-32)
The prodigal son's father celebrated his return; he didn't condemn his wandering. He restored him to the position of a son—he didn't tell him he deserved to be a slave. All that mattered was that his son was lost but found again.
The Father's love is the same for us. He's eagerly searching the horizon, waiting for our return. Whether we have strayed for seconds, months, or years, his heartbeat is alive with love, compassion, and the desire for reconciliation.
"If we confess our sins, he is faithful and righteous to forgive us our sins and to cleanse us from all unrighteousness" (1 John 1:9).
He doesn't want us dwelling in the dark, but running, as soon as possible to the light!
Real Repentance
There is a quote I'd like to share with you today:
"Legalistic remorse says, 'I broke God's rules,' while real repentance says, 'I broke God's  heart.'" –Tim Keller
Repentance means believing you haven't broken rules, but rather God's heart. Instead of feeling the prick of pride that your perfectionism was faulty and upset about the consequences of sin, feel the woundedness.
If you are feeling completely defeated at this moment and doubting whether you can ever have true repentance, remember God gave everything to redeem us through his only Son, Jesus. Confess and ask for a truly repentant heart because we can never muster that up. It's impossible.
He is ready and willing to conquer the giants called guilt, shame, and condemnation.
Jesus' blood was spilled for the purpose of reconciliation—it takes away the filth and reproach of the pig sty of sin—washing us whiter than snow.
And for every hundredth time the enemy launches the fiery darts that we're unwanted by God, hear this today, God is the one who woos us from wandering through his love. It's never once. He doesn't give up on us, but continues to reaches out in a million ways.
God's arms are open, His eyes are on you, and he is waiting to gather us back.
Are you hurting and broken within
Overwhelmed by the weight of your sin
Jesus is calling
Have you come to the end of yourself
Do you thirst for a drink from the well
Jesus is calling
O come to the altar
The Father's arms are open wide
Forgiveness was bought with
The precious blood of Jesus Christ
Leave behind your regrets and mistakes
Come today there's no reason to wait
Jesus is calling
Bring your sorrows and trade them for joy
From the ashes a new life is born
Jesus is calling
"O, Come To The Altar, Elevation Worship"
---
Share Your Thoughts in the Comment Section!
---