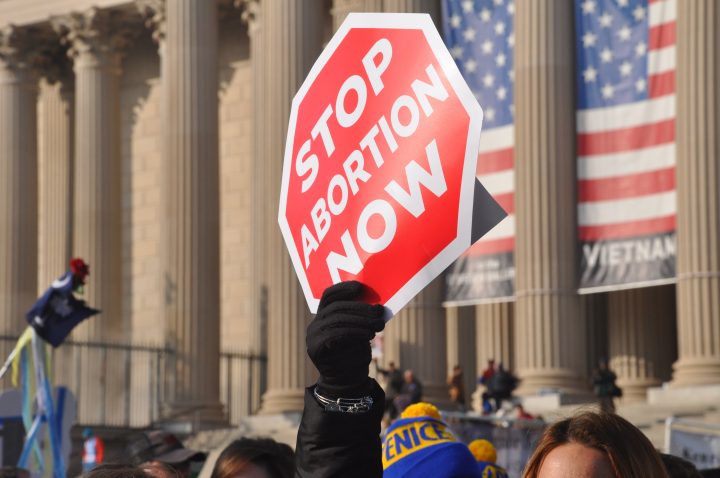 Abby Johnson stared at the black and white ultrasound image. The tiny baby on the monitor was so perfect and beautiful. Suddenly, something else appeared on the screen. It looked foreign and out of place. Abby didn't want to look, but she could not pull her eyes away from the image. As the abortion doctor turned on the suction, the baby, once so perfect and beautiful, disappeared as she was pulled from the haven of her mother's womb.
After seeing an ultrasound-guided abortion, Abby Johnson left her position as the director of a Planned Parenthood clinic in Texas–to become a pro-life advocate.
Abby Johnson's Journey
Desiring to help and empower women, Abby had worked at Planned Parenthood for years. She never liked abortion; her hope was to make it rare. But she believed that abortion was a woman's right, and as such, needed to be made available.
However, as she stood there in the operating room, she finally saw the truth about her job for the first time–she was working in an industry that was killing babies every day. As the director of an abortion clinic, she was responsible for the deaths of thousands.
Appalled, Abby left the clinic she had loved and diligently worked at for the last eight years. In the process her reputation was damaged, her friends deserted her, and she ended up in court facing a lawsuit by Planned Parenthood. Her life was turned upside-down, but she knew she was now on the right side, able at last to find healing and freedom.
Our Fight Is Not Against People
Too often, we look at people who work in the abortion industry and think they are cruel and heartless. Abby was neither. Her desire was simply to help women in distress. She was not evil; she was deceived.
Ephesians 6:12 reminds us, "For we do not wrestle against flesh and blood, but against the rulers, against the authorities, against the cosmic powers over this present darkness, against the spiritual forces of evil in the heavenly places."
When we fight against abortion we are not fighting people, we are fighting spiritual forces of evil. The lawmakers who vote to allow abortion, the clinic workers, the abortion doctors, and the women who have had abortions are not our enemies. Our battle is not against them; It is against darkness.
These people are in need of our prayers and our love. They are lost just as we were before we knew Christ. Abby's testimony reminds me that I should see each one not as an enemy but as a lost soul who needs light, hope, and help.
Don't Shy Away–Pray
The issue of abortion is something many of us would like to avoid. We don't want to think about it, yet God is calling us to care. We need to pray, not only for mothers who are considering abortion and for their unborn children, but also for the clinic workers, many of whom are deceived and do not understand what they are doing.
For the eight years that Abby worked at Planned Parenthood, pro-life Christians stood outside, in front of the clinic. They gave Abby flowers and cards. They greeted her and showed her they cared, and most importantly, they prayed for her.
I am sure there were discouraging days, days when they wondered if they were doing any good, days when they felt like giving up. In spite of the discouragement, they remained faithful, and God used them to draw Abby out of the abortion industry.
May we be willing to pray, to love, and to speak. May we too choose to reach out and love the people on the other side of this issue. Whether or not we stand outside an abortion clinic, we should pray fervently and faithfully that others, like Abby, would see truth.
Sharing the Story
Abby's story was first shared in her book, Unplanned. It is an incredibly personal look into her life. In it, she is vulnerable and openly shares her struggles and pain. Unplanned is a book that I would highly recommend to anyone.
A movie based on this book and by the same name is scheduled to hit theaters on March 29, 2019. The movie Unplanned * shares Abby's journey and tells the truth about abortion.
Abby's story challenges us to see this issue differently. This battle is not only about the lives of unborn children. It is also about the hearts, minds, and souls of those children's parents, the clinic workers, and the abortion doctors.
This is a spiritual battle. We are fighting against darkness. We are fighting not only for the lives of unborn children but also for the souls of people like Abby.
Let's pray fervently, love fiercely, and fight faithfully.
---
*Unplanned received an R-rating from the Motion Picture Association of America. If you are interested in viewing this film, but are concerned about the rating, go to www.simplydevoted.org where you will find a movie review which includes a list of all of the difficult scenes in the film.  The topic is heavy, and there are some hard moments, but it is a powerful movie with a life-changing message.
I deeply hope that the rating of this film will not discourage Christians from viewing it. Abby's story is something that the church in America needs to hear. It demonstrates the power of prayer, the goodness of God, and the hope and forgiveness that are found only in Christ.
---