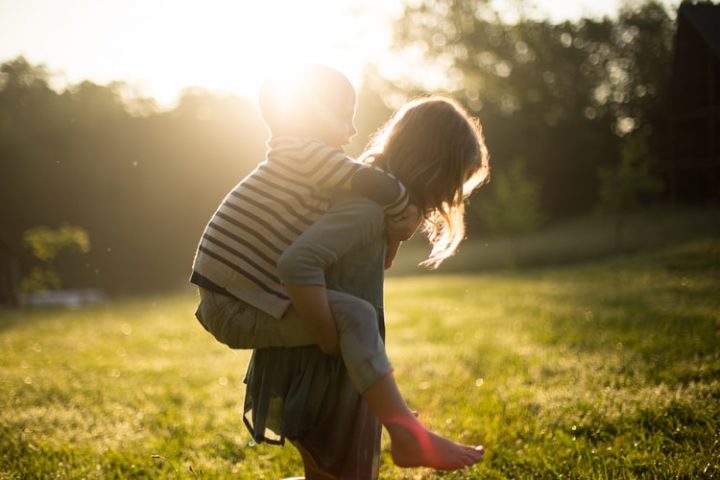 Being a sibling is hard.
I would know. I have nine unique little brothers and sisters that I'm called to love all the time. Sometimes it drives me bonkers!
It can be hard to treat our siblings right, especially when we're teenagers and our emotions are extra sensitive. As a brother or a sister, we know we should love our siblings regardless of how we are feeling, but how should we go about this? How can we glorify God in the way we interact with our siblings?
Well, I'm nowhere close to being perfect–just ask any of my siblings. But here are some helpful lessons I've learned over the years.
#1: Remember that your siblings are blessings.
When we are overwhelmed and feel like we are about to snap, we can forget that there is any good in our brothers and sisters. After all, nobody knows how to get on your nerves better than a sibling.
But no brother or sister is entirely evil. Even though my siblings can be really bad and even hurtful, they also can be extremely nice and pleasant.
When they seem to be unforgivable, I have to remember the good in them. If I were to ever lose any of them, I would miss the talks we had, and everything they brought into my life. I would even miss the most pesky side of them. We, as brothers and sisters, need to keep the mindset that our siblings aren't all that bad, even when we see them as something worse.
Whenever I search my soul, I frequently find God convicting me of sin in how I treat my siblings. I see my impatience with them and have to work at it constantly. It's hard, but I can't even imagine how much less patience and unconditional love I would have in my heart if my patience wasn't tested daily.
"And let us not grow weary of doing good, for in due season we will reap, if we do not give up." (Galatians 6:9).
So let's not think of our brothers and sisters as temptations God gives us to live with, but rather think of them as opportunities. Siblings are a constant challenge for us to manifest patience, glorify God, and become more Christ-like in our own households. They are opportunities God blesses us with every day to respond in the way that Jesus would.
#2: Put your siblings first.
I often catch myself putting my siblings below me. As their sister, it is easy to see all their flaws. I look down on them and think bad things about them and, consequently, want to believe that I'm the best out of everybody. However, this isn't the mindset we should have as Christians.
We should love our siblings, and loving them is putting their needs above our own. It's humility.
One of the most practical ways I've found to put my siblings above myself–perhaps the most practical way–is to let them take the good portion.
Let them actually be first. Accept the tiniest cookie after they choose the big ones for themselves. Take on the nastiest job so that they don't have to. Put yourself last. God is glorified by your humility!
"Do nothing from selfish ambition or conceit, but in humility count others more significant than yourselves. Let each of you look not only to his own interests, but also to the interests of others." (Philippians 4:3-2).
Doing this is helpful in more ways than one. I find that a lot of the biggest squabbles in my home happen over the job that nobody wants to do. It is usually a lot easier and even quicker to do the job myself than to get someone else to do it. As siblings, we need to follow Christ's lead and be servants in our everyday lives.
#3: Pray for your siblings.
Siblings are very easy to overlook when we pray. However, if we don't pray for them then we are ignoring the spiritual health of those with whom we spend the most time.
Praying for my siblings is one of the biggest things I can do to get into the right perspective. When I pray for my brothers and sisters, I remember what really matters. Not their faults, not any grudges I may have against them, not even whatever they might have done yesterday. What matters is their eternity.
"Therefore, confess your sins to one another and pray for one another, that you may be healed. The prayer of a righteous person has great power as it is working." (James 5:16).
So, what should we be praying about concerning our siblings? First of all, if they aren't following Jesus, we should pray for their salvation. (Especially if they are growing up in a Christian home. That's when it's the hardest to tell how their faith is doing.) And if they are following Jesus, pray for their faith to be strong.
Secondly, we must remember to ask for God's forgiveness if we have sinned against a brother or sister–it happens more often than we like to think. And if you ask for your sibling's forgiveness too, that is a truly loving and God-glorifying thing!
Third, pray for humility and patience for tomorrow. Bearing with siblings is hard and you can't do it without God.
#4: Take a break when you need to.
A sibling doesn't need to spend every possible moment interacting with his/her siblings in order to glorify God. That would seriously test his/her patience–and their siblings' patience, too.
You've probably noticed that friends are a lot easier to tolerate than siblings. This is partly because you spend a considerable amount more time with your siblings than your friends. More time is not always a good thing.
And when our emotions begin to spiral out of control, our siblings are the first to feel the effects. So sometimes we need to take breaks. For our own good, and the good of our siblings.
Whenever I'm frustrated with something–even something besides siblings, like a slow computer–I cannot work with my siblings peacefully. These are the times I need to slow down and realize that I can't just push through.
When we are pushed to our snapping point, we need to take a break, find a quiet space, and pray. Read, doodle, have a snack, do whatever it takes to calm down, but don't leave God out of it. Let your struggles bring you closer to God, not further.
"Come to me, all who labor and are heavy laden, and I will give you rest." (Matthew 11:28).
By viewing our siblings as blessings, putting them first, praying for them, and taking breaks, we can be God-glorifying brothers and sisters.
It may be difficult sometimes, but God has called us to it, and the Holy Spirit is there to empower us. Remember to go to God for help, and he'll always be there for you.
---