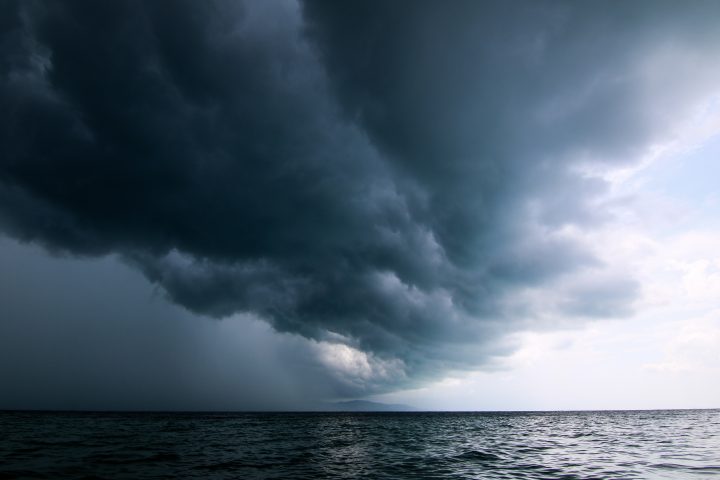 A storm is both a wonderful and terrifying thing. There's nothing as humbling as being surrounded by walls of unrelenting rain and roaring thunder. But with the humbling comes fear too, even if we try to hide it.
As a storm rages, our imaginations start a coup d'état in our brains, making reason fall from its throne. The thunder isn't simply the result of an unstable atmosphere, it's the sound of a thousand pianos toppling down the stairs. The lightning isn't just a natural phenomena, it's greedy to electrocute whatever it touches.
The idea of witnessing or being caught in a storm isn't an uncommon idea, just like the idea of seasons isn't. Some days our lives are filled with sunlight. Other days it's cold and biting outside.
Our lives, in short, are defined by seasons.
"YOU WILL HAVE TRIBULATION"
In John 16:33, Jesus promises us that we will "have tribulation." He promises us that our lives will also have seasons–some that are easy and others that are harder. Of all of the things that he said, we can probably all personally testify that this one is true.
Our lives are filled with tribulations–some small, and some that seem like a tidal wave that will devour everything in sight. But, we must not forget the next part of the verse where Jesus says: "But take heart; I have overcome the world."
But how do we "take heart?"
THE 'I DARE' APPROACH
Sometimes when we go through hard times, our initial reaction is to shy away from God. We may keep blasting out worship music or even spend the usual time studying our Bibles, but at the same time, we often don't give ourselves fully over to him in prayer. We don't surrender fully to what he wants to do because we're afraid of what will happen if we give our challenges to him. Will he tell us to endure? Or maybe he'll even expect us to be joyful?
We shy away from God because we think that he doesn't know best.
But, of course, he does.
Psalm 61 provides a powerful example of somebody giving over every part of their life to God in the middle of their challenges. It's measured, yet raw. It's desperate, yet dependent on God. I would suggest that Psalm 61 can give us a great Biblical way of venting our worries and fears to God instead of pushing him away.
For ease, we can summarize and remember Psalm 61 by using the acronym 'I DARE.' As we dare to trust God, everything can change.
I- INSISTENCE
"Hear my cry, O God, listen to my prayer,'" Psalm 61 begins. Something about this line immediately gives me the idea that the Psalmist is petitioning God and has been for some time. For us, this might look like saying: "Jesus, I've asked you before, but please listen to me now," or "I need you to hear this, God."
We shouldn't be afraid to tell God how we really feel and how much we want to be heard–maybe even continuously.
D- DESPERATION
The Psalm continues: "from the ends of the earth I call to you when my heart is faint."
I've fainted before, several times. Sometimes I think that I'm fit to be a character in a Jane Austen book. I've fainted when traveling by train, and cutting myself slicing up some fruit. The idea of our heart growing faint in this verse makes me see how vulnerable the Psalmist feels. He feels like he has lost all of his strength, like all he can do is collapse.
He's desperate.
And he's not afraid to show it. This is a huge challenge for us as believers. When we're hurting, can we be honest with God? Can we truly say that we are growing faint?
A- ANTICIPATION
The next line is my favorite part of the Psalm. It's such a visual image that makes me think of standing on a cliff face while storms whip around me. "Lead me to the rock that is higher than I," says the Psalmist, asking in anticipation to be in the place of safety where he can worship God. In doing so, he is opening himself up to God's plans for him by focusing on God, not his problems.
We too can anticipate that better things will come.
R- REMEMBRANCE
Our memories are beautiful things. I'm sure that you have a gallery in your mind of all of the times that God has blessed you and of all of the times that you have been close to him. Maybe they're not even your memories. Maybe you've heard stories of God's goodness, or even Biblical recollections of the salvation of the Israelites or the slaying of Goliath. These thoughts can anchor us close to God as we remember His faithfulness to us.
''You have been my refuge, a strong tower against the enemy," the Psalmist declares and we can too. Maybe we haven't had to face a giant, but we can probably say, "you have protected my family," or "you have provided for my needs."
Let's not let our brains be clouded over by fear and confusion. Let's remember what God has done for us.
E- EXULTATION
Verse 8 continues with: "so will I ever sing praises to your name." Here, the Psalm reminds us that we should remember to worship God even in tough times, to sing praises to who he is. God is so generous that we can even ask him when the longing grows dry that he would help us to want to worship him.
Our worship can break barriers that our words couldn't. It's not necessarily singing songs or dancing, but it's venerating Jesus and reminding ourselves of how good he is.
Our worship can break barriers that our words couldn't. It's not necessarily singing songs or dancing, but it's venerating Jesus and reminding ourselves of how good he is.
Click To Tweet
"I HAVE OVERCOME THE WORLD"
So, right now, your life might feel like one big storm. Maybe your worries are so big that the thunder and lighting outside fill you with the purest sensation of fear. But, whether your life is filled with storms right now and you're looking for a shelter, or if you're in a barren wilderness and you can't seem to find where God is in your life, I encourage you to keep daring.
Dare to be insistent with God, dare to be unafraid of showing him your desperation. Anticipate meeting with him, remember his goodness. And don't forget to exult him. Don't forget that he is good.
Don't forget that he has overcome the world.
---