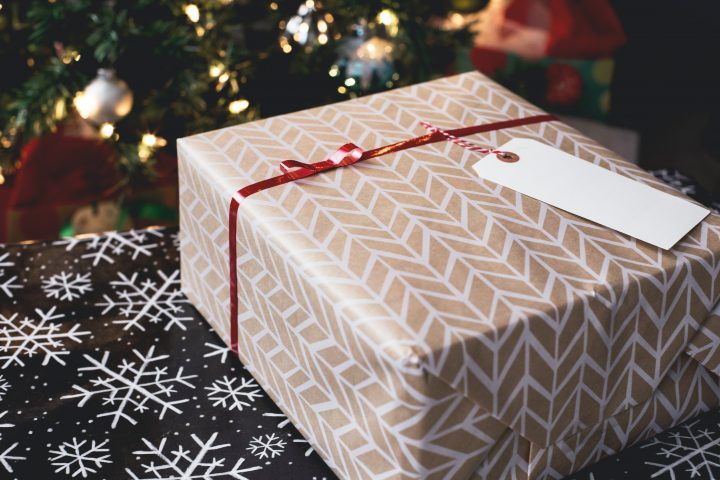 Unless you're one of those early Christmas shoppers who have all their presents wrapped by Thanksgiving, Christmas gifts are probably on your mind right now. We all have special items we want to purchase for our family and friends and maybe a wish list of our own.
If you're stuck on what to give to the teens in your life, need some ideas on gifts that are both meaningful and fun, or want to give your parents a subtle hint on what you'd like for Christmas (!), here at the Reb, we've compiled a list of seven gift categories that every Rebelutionary teen will appreciate. We hope these seven categories spark gift ideas for the teens in your life or your Rebelutionary friends.
1. Something to ignite their faith
There's nothing more important than a teen's walk with God. So why not give them something this Christmas to ignite their faith and help them fall more in love with Jesus?
Our pick: The Rebelution's new book Love Riot: A Teenage Call to Live With Relentless Abandon for Christ by Sara Barratt challenges teens to a deeper, more authentic walk with God. Brett Harris called it his pick for "Christian Teen Book of the Year for 2020" and wrote the foreword. Love Riot is a must-read for any teen who wants to grow in their walk with Christ.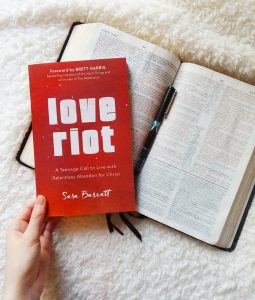 About the book: "Young people are walking away from the church and those still in the church often struggle with indifference about their faith. But it doesn't have to be this way. It's time for a revolution, a holy uprising. A love riot. With passion and authenticity, teen author Sara Barratt calls on her generation to reject apathy and embrace a daring, costly faith. Love Riot is a battle cry from one teen to another to embrace a life of wholehearted commitment and relentless abandon for Christ . . . no matter the cost."
Pick up a copy of Love Riot and find out more here.
2. Something to help them study Scripture
Teens are often stuck when it comes to knowing how to dig into God's Word. Pick up a devotional? Read the Bible from cover to cover? How do you stay consistent and not get discouraged when studying the Bible seems overwhelming? How do you keep God's Word fresh and exciting? Help teens start 2021 off strong in their commitment to God's Word by giving them something to help them study Scripture effectively.
Our pick: If they don't have a study Bible with notes and in-depth resources, consider selecting a teen study Bible like this one or this one. Or select a Christian journal for them to write thoughts and prayers in as they read.
For a practical study help, pick up a copy of Transformed by Truth: Why and How to Study the Bible by Yourself as a Teen by Katherine Forster. Transformed by Truth offers practical study, memorization suggestions, and guidance to help teens dig deep into God's Word and fall in love with Scripture.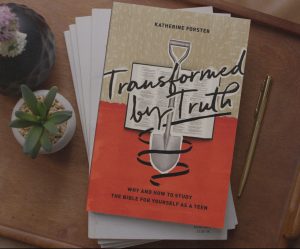 About the book: The Bible is more than just an ancient religious document. It's a book filled with the actual words of the living God, meant to be read often and studied deeply that we might experience its life-changing power. If you're a teen who's tired of low expectations and weightless platitudes, this book will help you dig into the Bible and make the time you spend reading count for eternity. Katherine Forster walks you through three simple practices that changed how she reads Scripture―observation, interpretation, and application― so you too can begin to understand what God has said in his word and discover how God's truth can literally transform you from the inside out.
Pick up a copy of Transformed by Truth and find out more here.
3. Something to inspire or encourage a hobby
What does your teen enjoy doing? Are they artistic? Wrap up some good quality art supplies or a book on their favorite artist. Do they love photography? Pick up a new camera or photography props or purchase a photo editing software for them to use. Do they love to write? Give them a boost in their writing journey by enrolling them in The Young Writer's Workshop where they can meet other young writers and get one-on-one guidance from numerous instructors. Are they outdoorsy and adventurous? How about hiking boots or swimming gear or an outdoor adventure journal?
Inspire your teen's creativity by selecting gifts that encourage a current hobby or could inspire a new one.
4. Something to experience
Sometimes the best gifts aren't things. Get creative and gift your teen a memorable experience: tickets to a drive-in concert by their favorite music artist, a day ice skating or skiing, a night out at a fancy restaurant, or an all-expense paid shopping trip. Pick something you could do together and create lasting memories, even if it's something fun or silly like building an enormous gingerbread house or hosting a murder mystery dinner party or purchasing a karaoke machine and having a karaoke party with friends. Give them the gift of a new experience or a favorite thing you know they love to do.
5. Something to listen to
Teens love their music! If they enjoy jamming to their favorite songs, consider gifting them their favorite album in a vinyl hardcopy with a record player. If they prefer digital music, give them an iTunes or Amazon music gift card or pay for a year of Spotify premium.
6. Something to help them grow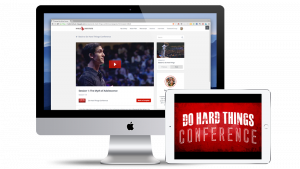 Help your teen grow by giving them gifts that inspire deep thinking and maturity. Along with any of The Rebelution's books, pick up a good read such as Mere Christianity by C.S. Lewis or A Student's Guide to Culture by John Stonestreet and Brett Kunkle or Don't Waste Your Life by John Piper. Or consider an online conference like CROSS20 with speakers like David Platt and John Piper (tip: this one takes place right after Christmas!) or a worldview training like Summit Virtual. Or go for a true "rebelutionary" gift and purchase the Do Hard Things Conference videos for them to watch on their own time. Or give them the gift of both growth and community by purchasing access to the Do Hard Things Community where they can meet likeminded friends and be challenged to do hard things for God.
7. Something practical
We all loved those boring gifts of socks or pajamas as kids (not!), but giving your teen a targeted and carefully selected practical gift could end up being an extremely helpful item they'll thank you for again and again. Think creatively. New high-quality earbuds or headphones? A new winter coat or pair of running shoes? A good quality skin or body care product? Practical gifts don't have to be boring!
What's On Your Gift List?
What would you add to our Christmas gift list? Are any of these items on your Christmas list? What's the most meaningful Christmas gift you've ever received? Let us know below!
---