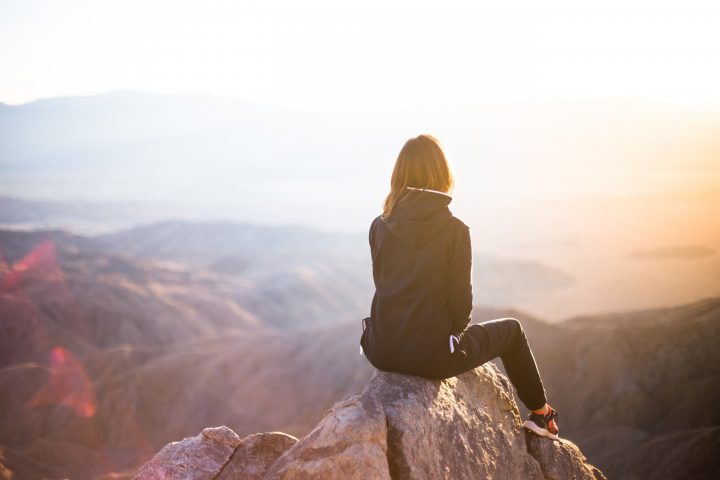 Recently, one of my uncles died. While I wasn't super close with him, he had always been a part of my family. He was a constant. Although I didn't talk with him a lot, I knew he was always there.
But those are things you don't think about when that person is still in your life. Those are things you think about after they have passed. And it was only when my family prepared a song to record for his funeral – a song he had requested before his passing – that I understood why he was so calm and constant. Despite life's circumstances.
Jesus the Rock
"Christ the Rock" by Jono Peatman is not a song that went viral on YouTube, so it was no surprise that I had never heard it before. When I listened to it for the first time, I couldn't help but think that there was no other song that so perfectly described my relative's life.
And then I realized that it could become all of ours too.
There always have and always will be things in life that shake us. There always have and always will be things that try to knock us off our feet and make us lose our grip. There always have been and always will be things that will make our world – both personal and global – crumble.
What the Bible Says About It
Before hearing the song, I knew some verses in the Bible that talked about God being our rock, but a quick internet search showed me that there were many, many more than I had known of.
"Trust in the Lord forever, for the Lord God is an everlasting rock." – Isaiah 26:4
"For who is God, but the Lord? And who is a rock, except our God?" – Psalm 18:31
"He only is my rock and my salvation, my fortress; I shall not be shaken." – Psalm 62:2
"There is none holy like the Lord; there is none besides you; there is no rock like our God." – 1 Samuel 2:2
And that's only to quote a few.
In those moments when everything around us shatters, we have to know where to go, to whom we should go.
Without a doubt, the Bible tells us in whom we should put our trust: The Lord Jesus. Jesus is the one we can grasp and cling to. Jesus is the one who will never let go.
Click To Tweet
The (Only) Rock That Will Not Be Shaken
So, what happens when you, like my uncle, get diagnosed with cancer and are told you only have a short time to live? Or what happens when someone you love ends up in the hospital or even on their deathbed?
Who can you stand on when everything around you crumbles?
No matter how amazing your family, your friends, or your church is, they cannot be the ones you trust to hold you when things "go wrong". No person can promise to always be there for you because they too go through difficulties; their worlds can also be shaken.
Jesus is the only one we can fully put our confidence in. One hundred times over and without a doubt, he truly is constant; he never changes.
Click To Tweet
My uncle's world may have crumbled when he heard the news from the doctors, but the one he was standing on didn't.
Isaiah 28:16 says, "Therefore, thus says the Lord God, 'Behold, I am the one who has laid as a foundation in Zion, a stone, a tested stone, a precious cornerstone, of a sure foundation: 'Whoever believes will not be in haste.'"
When everything around you crumbles, put your trust in the Lord Jesus. He is the only rock that will never be shaken.
---