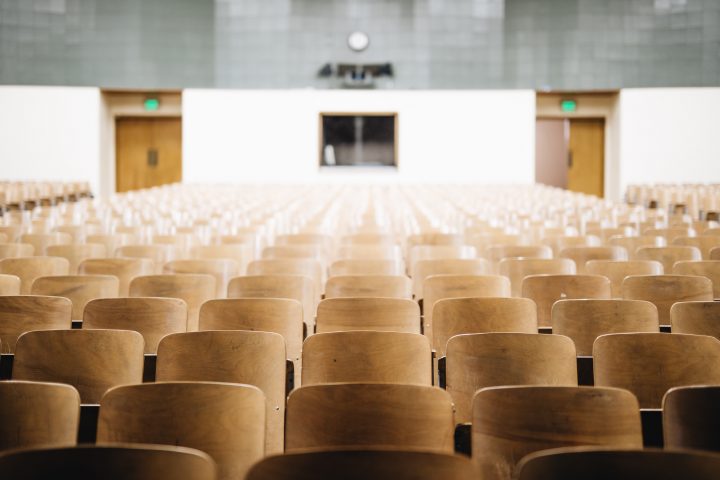 I'm halfway through my first semester of college now, which is really hard to believe. It's been a rollercoaster, but it's been teaching me a lot, and I want to share some of that with you.
It's Okay to Change Your Major
When I came to college I had everything planned out—my major, whether or not I wanted to go to graduate school, and my career. Then I got to school. It was only about two weeks into the semester before I was filling out a form to switch my major.
And that's okay.
God has a lot of plans for your life, and it's okay if you don't have those plans figured out yet. It's okay if your understanding of those plans changes.
Just pray about all things, and let God guide you and your steps, even if you can only see one foot ahead of you at a time.
Make Time for Your Devotions
Before coming to college I was spending time in God's Word practically all day. I had a devotional book I used in the mornings, memory verses I studied in the afternoon, and a Bible reading plan I followed before bed each night. I was incredibly consistent about it, too—sometimes I might miss one thing, but I'd get in at least two of my quiet times a day.
It's a lot harder to be consistent when you're at school, though.
At first, I wasn't really getting in any devotional time—I was too busy with classes, friends, and trying to get some sleep. But I knew that wasn't healthy, so I started reading a day's worth of my morning devotional every day. And that was a good step!
But it wasn't enough.
My soul wasn't getting the rest it needed by spending so little time with my Heavenly Father.
That's when I went on a retreat with BCM, the campus ministry I've plugged into. On that retreat, I got in some quiet time both mornings we were there, and my soul felt so rejuvenated. I ended up doing my quiet time with a friend, and when we got back to school we decided to keep up the habit, so now we meet up a few mornings a week to sit somewhere quiet and do our devotions together. It's been a really good way of providing us both with accountability. I would highly encourage you to find a similar friend if you're struggling to consistently read God's Word and have it someone you don't think would be a distraction.
I still have lots of room to grow in my quiet time habits, but almost every day I'm getting some sort of devotion in now. Doing so has given my soul more rest than I was providing it at the beginning of the semester. Please, don't let this be a habit that you drop because of school or wanting to spend time with friends.
Go To Church Regularly
If you grew up in a Christian home, going to church was probably pretty easy. Your family was going, so of course you were too. In college, however, it can be a little bit harder to find that motivation. But it is so important to go because your soul needs the rest and growth that comes from praising God and hearing His Word taught regularly (and campus ministries are great, but they are not a replacement for church).
It's also important to go to church in person if you are physically able. I think it's amazing that technology has made it possible to live stream a service, because some people truly can't go to church—I know I've had days my chronic illnesses have kept me in bed on a Sunday morning. But, I don't think an online service is a replacement for being surrounded by a community of believers, especially a community with the age ranges you will find at most churches.
If you don't know where to start when looking for a church, get on Google and do some research, talk to friends who are going, or ask the pastor of a campus ministry for some recommendations. Finding a church might not be easy, but it is so worth it.
Find Good Friends and an Uplifting Community
Finding a community on campus is so important. I really can't emphasize this enough! I was lucky to find my main friends within the first few days, but not everyone has an easy time finding solid friends. These friends have been my lifeline, pushing me more towards Jesus each and every day, and I couldn't be more grateful for them. Good friends are one of the most important things to find in college.
If you're struggling to find community on your campus, I would encourage you to plug into a campus ministry. There are several Christian ministries that focus on college students, providing both mentorship and peer relationships, as well as solid Christian teaching.
As mentioned in my previous point, I've gotten plugged into a campus ministry called BCM. They've provided me with a couple older students who pour into my life and want to encourage me and my walk with Christ in any way they can, with a weekly night of worship and teaching to grow my faith, and with a group of girls my year or a year above who are also trying to figure out how to balance all the aspects of being both a college student and a Christian.
Of course, a campus ministry isn't the only place to find good friends. You can also find them in your classes, in your dorm, or simply walking around campus. What matters is finding people who uplift you and encourage you to be more like Jesus, not how you find them.
It's Okay to Need Help
As much as I've loved college, I've had a rough semester so far in a lot of ways. I've dealt with and gone through a lot of different things—some familiar and some new. I've needed a lot of help at a lot of different moments, and so have my friends.
And guess what? It is okay to need help.
It's okay to need to rely on your friends more than you would like, to call your small group leader in tears, or to go to counseling. College is a new and often overwhelming experience; it's not surprising that you might need more help than you've needed before.
College is a whole new world for most of us. It's beautiful, amazing, and one of the best experiences, but it's also hard, confusing, and incredibly overwhelming. It'll put you into new situations that will grow and change you. But hopefully these tips will make all of it just a little bit easier.
---