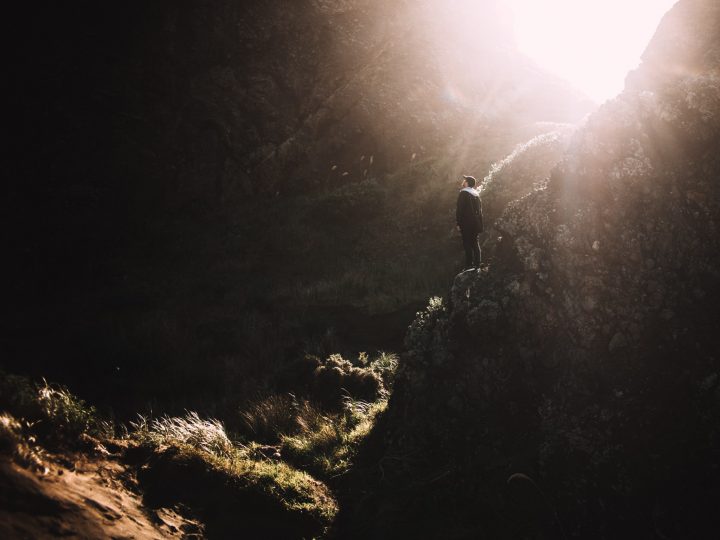 There is a plague sweeping our culture today. A plague that brings thousands to their knees. It's taking hold of more teens and young adults than we know, and it is devastating. If you don't suffer from it, you may not see it as a plague at all, but it is. And it has a name: Anxiety. I assure you, you know people who battle it every day.
Some of you may say, "Everyone feels anxious sometimes. Everyone is scared of something. Everyone gets nervous." But there is a difference between feeling anxious and having anxiety; you may have some of the symptoms, but you don't have the plague.
Those who suffer from this plague would not call anxiety a troublesome pothole in the road of their life. A bump they must get over every so often. For them, anxiety is the antagonist of their story, the villain standing in the way of their dreams. For them it's a war.
The War
The war is held on the battlefield of their mind. To most it's invisible, but it is very real. The enemy uses many different weapons: night terrors, the dark, being alone, morbid images, memories they wish they could forget. It feels like they're fighting for their life. Their heart rate might go up. They may struggle to breathe. They may tremble uncontrollably. The fight is on, and they feel like they're losing.
If you're reading this and this sounds like you then you now know one of the most important pieces of information in this war you are fighting: You are not alone. You are not weird. There is not something wrong with you. You now know that there are other people out there who know how you feel and feel it too. I have fought this battle almost every day of my life, I know what you go through.
You have probably been told to turn to scripture and use the sword of the Spirit as your main weapon in this war. I know I was, and as I searched the pages, desperate for something to help me make sense of these feelings of unexplainable fear over things that caused others to hardly bat an eyelash, I stumbled upon verses like these:
"Humble yourselves, therefore, under the mighty hand of God so that at the proper time He may exalt you, casting all your anxieties on Him, because He cares for you." 1 Peter 5: 6-7
"Do not be anxious about anything, but in everything by prayer and supplication with thanksgiving let your requests be made known to God. And the peace of God, which surpasses all understanding, will guard your hearts and your minds in Christ Jesus." Philippians 4: 6-7
"There is no fear in love, but perfect love casts out fear. For fear has to do with punishment, and whoever fears has not been perfected in love." 1 John 4:18
As I read those verses my heart began to sink.
The Battle
What do you mean whoever fears has not been perfected in love? This is where a crucial battle in my war began, as Anxiety's favorite ally attacked. The only thing worse than fighting Anxiety is fighting Discouragement at the same time.
You may have prayed and given thanks and begged God for His help more than you ever have in your life and yet you still don't have peace that surpasses understanding. Fear that goes beyond reason may still be a more fitting term for how you feel. In times like this discouragement can be overwhelming. "Have I not been perfected in love?" You wonder, as 1 John 4:18 stares you in the face like a glaring specter condemning you as an unfit child of God.
Will it ever change? Will it ever be better? This is what it was like for me.
Warrior
Eventually I learned those verses aren't talking about the plague of anxiety. They are talking about fear and worry. You may have a big exam coming up, you may have to have an awkward conversation with someone, you may have to have surgery. Those verses present you with two options in those situations: 1) You can obsess and go through all the "what if's" over and over, or 2) You can pray and give the situation to God and trust He will take care of it.
I began to look at my anxiety in a different way, and here it is: see it as your situation. Your situation may not be taking a big exam, or needing to have an awkward conversation, or having to have surgery. Instead, the situation you face is the struggle of anxiety and panic attacks. Those Bible verses aren't condemning you for that, they are giving you the same choice they give everyone.
You can obsess over your anxiety and worry, "What if I have a panic attack? What if I have a night-terror? What if I throw up?" or you can pray and trust that God is with you through the anxiety. This has been something I struggle with, and still must work on. Yes, the attack may still come, for many of us anxiety may be an enemy we fight for the rest of our lives, but we need to fight it, not let it take us down with "what if's" and discouragement.
You are a warrior. You may feel broken, wounded, and bloody, but you are a warrior. God loves to use wounded warriors; His strength looks so much stronger next to your weakness.
Click To Tweet
You are a warrior. You may feel broken, wounded, and bloody, but you are a warrior. God loves to use wounded warriors; His strength looks so much stronger next to your weakness.
Don't count yourself out just because your weakness looks different than others; Paul didn't.
"Three different times I begged the Lord to take it away. Each time He said, 'My grace is all you need. My power works best in weakness.' So now I am glad to boast about my weaknesses, so that the power of Christ can work through me. That's why I take pleasure in my weaknesses, and in the insults, hardships, persecutions, and troubles that I suffer for Christ. For when I am weak, then I am strong." (2 Corinthians 12:8-10)
Never give up. Keep fighting. Dream on. Always remember that the more broken you are the more His light shines through you. Never forget that you are more than a conqueror through Christ, and He will give you an overwhelming victory (Romans 8:37).
---