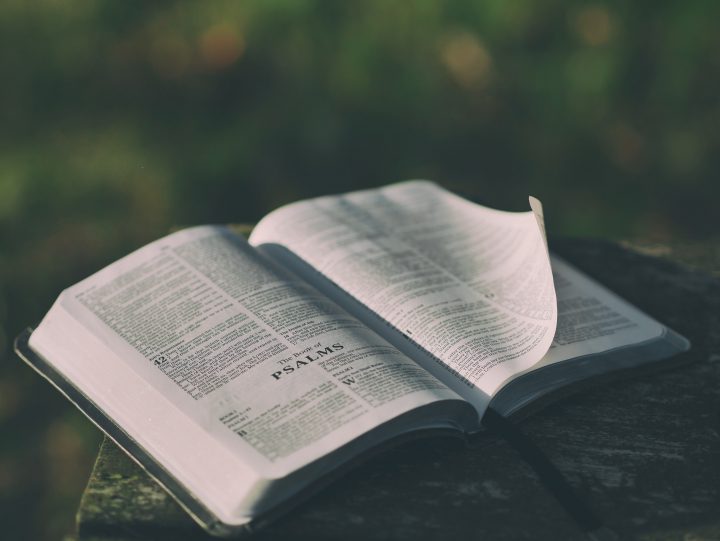 The dawn of a new year is swiftly approaching, and with it comes the famed New Year resolutions.
If I were to guess, one of the most popular New Year resolutions for Christians is some sort of Bible reading plan. Most of us want to improve our daily habits for our time in Scripture. For some, that means reading the Bible more consistently. For others, it means extending mere reading into a thorough time of study. Some of us simply want to start reading the Bible regularly.
Last New Year, I decided to set out on one of those Bible-in-a-Year plans. Throughout the year I've enjoyed taking the journey through the Bible, revisiting many passages I hadn't read in ages and re-capturing the full story of salvation history.
This makes the second time I've set out on this year-long goal, and despite its rewards, it's confirmed numerous concerns for me.
A Bible-in-a-Year plan won't be on my 2022 resolution list – at least, not in the same way. Should it be on yours? Maybe! But let's consider a few things first.
Quality > Quantity
Reading through the Bible in a year amounts to roughly 3-4 chapters per day. All things considered, this is actually really feasible! It typically only amounts to about 15 minutes, which is pretty simple to include in a morning routine.
If you're like me, though, four chapters out of something like the book of Hebrews can be a lot to chew on. Three chapters out of the book of Leviticus, and all the sacrificial laws can start to blur together.
From my own experience, when reading through the Bible in a year, I more often walk away each day forgetting most of what I read. Like "a man who looks intently at his natural face in a mirror," who "looks at himself and goes away and at once forgets what he was like" (James 1:23-24), I too frequently become just a reader – not a doer – of the word.
This leads to a conundrum: If by reading multiple chapters a day I end up getting less out of it, is it really worth it?
What if, instead of spending fifteen minutes reading four chapters from Isaiah, I read for only a minute or two and spend the next fourteen minutes reflecting on, researching, praying over, or applying what I've read? I may only make it through one chapter – or just a few stanzas – but it's far more likely that I'll walk away changed by that time.
"But" – I can hear my goal-oriented side argue – "getting through the whole book this way (let alone the whole Bible) will take ages."
This kind of thinking reveals a second issue.
Conflicting Goals
What is the end goal of a Bible-in-a-Year plan?
It's in the name, isn't it? We set out on Bible-in-a-Year plans with the goal of, well, reading the Bible in a year.
This is actually quite a noble – even an ambitious – goal. It's an amazing feeling to get to the end of the year and consider that it was spent reading the entirety of God's written revelation.
But as far as reading Scripture goes, should getting through the whole thing in a year really be our chief aim?
In his second letter to Timothy, Paul reminds him that "All Scripture is breathed out by God and profitable for teaching, for reproof, for correction, and for training in righteousness, that the man of God may be complete, equipped for every good work" (2 Timothy 3:16-17).
Jesus quotes to Satan in Matthew 4:4, "Man shall not live by bread alone, but by every word that comes from the mouth of God." Paul tells the Roman church that "whatever was written in former days was written for our instruction, that through endurance and through the encouragement of the Scriptures we might have hope" (Romans 15:4).
Teaching. Reproof. Correction. Training. Life. Instruction. Hope.
These are daily needs. When we come to the Scriptures, we do so for the day ahead. We draw near to God Himself and receive from Him what we need, ready to return for more again tomorrow. "Give us this day our daily bread," Jesus taught us to pray; if bread is insufficient (see again Matthew 4:4), how much more should we look to Scripture for our daily needs!
By their nature, year-long Bible plans risk shifting our focus from simply coming to Christ to, instead, coming to Christ in order to achieve a reading goal.
Click To Tweet
By their nature, year-long Bible plans risk shifting our focus from simply coming to Christ to, instead, coming to Christ in order to achieve a reading goal. If you miss a day of reading, the focus becomes "catching up" rather than simply seeking the Lord anew the next day. This can make what ought to be a daily source of life through the Son into a mere step toward a yearly accomplishment.
An Unnatural Way of Reading Scripture
The Bible is a unique and magnificent tapestry, woven from 66 books, by over 40 authors, over 1,500 years.
These books contain a large array of literary styles: poetry, history, apocalyptic prophecy, songs, prayers, letters of encouragement and rebuke, and more.
Some, like the epistles of the New Testament, were originally intended to be read in their entirety, passed from church to church, and read before entire congregations. Others, like some Psalms, were sung regularly on the road to Jerusalem. Still others, like the historical books, carried on to future generations an account of things that should not be forgotten.
Clearly, reading three to four chapters at a time makes sense in some of these contexts. But for others, it doesn't always seem like a natural way to approach the style of the text. The Psalms, for example, tend to be much better approached one at a time, perhaps with singing, so that the reader (or singer!) can absorb the Psalm and feel its emotion.
Now, this doesn't mean that reading Scriptures like the Psalms in large quantities is wrong – quite the opposite! Reading Scripture in different ways helps to capture different aspects of the material. The Word of God is like a diamond, uniquely extravagant viewed up close or from a distance, more exquisite from every new angle.
Reading Scripture in different ways helps to capture different aspects of the material. The Word of God is like a diamond, uniquely extravagant viewed up close or from a distance, more exquisite from every new angle.
Click To Tweet
Yet this is where we can see the problem, isn't it? A Bible reading plan that takes several chapters at a time can reveal many incredible things but being strictly held to this format can also obscure insights that would come by a more natural reading.
A Case for Bible-in-a-Year Plans
All this talk makes me sound very anti reading plan. So, am I saying you shouldn't do one? Absolutely not.
I've loved reading through the Bible in a year. Each time, it's made me more consistent at starting each day in the word of God. It's taken me back to passages I've rarely seen, and it's reinforced the full, grand story of salvation that God displays in this vast tapestry of Scripture. I end the year feeling a great sense of accomplishment, with a renewed motivation to spend more time with the Lord in His word the next year.
So, am I saying you should try to read the Bible in a year? Absolutely!
But not in isolation.
A few-chapters-a-day reading plan can be a wonderful supplement to a regular routine of studying and reflecting on God's holy word. Personally, in 2022 I plan to do just this, but using an audio Bible or Bible-in-a-Year podcast as a way of absorbing Scripture in a slightly different way.
But I've found, in my own experience, that a simple 15 minutes reading a few chapters in Scripture can, if I'm not careful, easily go from a supplementary addition to a rote habit that takes the place of genuine time with the Lord.
So, I actually encourage you to try reading through the whole Bible, especially if you've never done so before or if there are portions of the Bible you've never visited. But rather than making it a goal to finish the Bible in 2022, consider a different approach to the most important portion of your day.
Perhaps resolve to fill an entire Bible reading journal with reflections. Or, alternatively, choose a section of scripture to study through rather than the entire thing.
Resolve to Grow, Not to Read
Conversations are never an end in themselves. They help us to learn, to be challenged, to be encouraged, and most often (and perhaps most importantly) to foster a deeper relationship with the person across the couch or coffee table.
Similar is true of God's word to us. The word of God leads us to the Word of God: Jesus Christ, our eternal Savior, King, and Friend.
Jesus once said to the Jewish leaders, "You search the Scriptures because you think that in them you have eternal life; and it is they that bear witness about Me, yet you refuse to come to Me that you may have life" (John 5:39-40).
This coming year, let us, through the Scriptures, come to the Christ of the Scriptures. Let us find life, hope, instruction, and strength. Let us find Christ.
"The soul can do without everything except the word of God, without which none at all of its wants are provided for." – Martin Luther
What do you think? What experiences have you had with Bible-in-a-Year plans? I'd love to hear your thoughts in the comments!
---