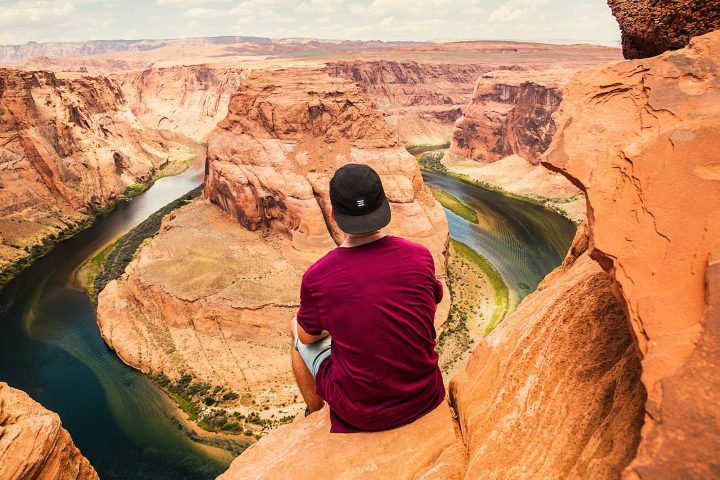 This week, I spent three days without speaking. It was hard. Y'all, I'm an extrovert! I'm a people person. I'm an external processor. I spend all day every day talking with people, laughing with people, offering tissues to people. At the end of a long day, I don't want to totally retreat, I want to laugh with my closest friends.
But you know what? Three days without speaking was incredible, and I highly recommend it. Solitude is such an important spiritual discipline, yet it's one that is so often overlooked and pushed aside in our culture.
Solitude is such an important spiritual discipline, yet it's one that is so often overlooked and pushed aside in our culture.
Click To Tweet
Every time I tell someone I went on a solitude retreat, they tilt their heads to the side and wrinkle their eyebrows. They're not judging — they just don't know what I'm talking about. What does solitude even mean?
When I think about solitude, I picture a desolate mountain. Solitude is a great adjective for such a place. But for a person? What is solitude for a person? How does that even work? More than that, why is it worth pursuing?
Why is Solitude Important?
God created us for relationships; it is woven into the very fabric of the universe and the threads of our hearts. Relationships are the way the world operates. They dictate our priorities and impact us to our core. Especially our relationship with God.
Times of short-term solitude are when we get to step back so we can invest in those relationships even more. But solitude isn't only about stepping back. Solitude really isn't about disconnecting from media or people; it is about connecting with God in a powerful and unique way.
Let's explore four reasons we should intentionally engage in solitude regularly:
1. To stop hearing the world
One reason spending three days in a cabin in the woods was wonderful was because I wasn't able to try to please anyone. I couldn't do anything for anyone or apologize for things.
Those things are not bad, but I was forced to simply accept things — which was incredibly freeing. All I had was God's opinion of me, which was a heavy and light weight all at the same time.
The world is loud, and no matter how hard you try to tune it out and focus on God, it is hard to silence it. Being able to step off the influence of media, social media — and even friends and family — helped me weed out the rest and zero in on the truth.
2. To hear God
The quiet that came with the cease of the world's noise meant I was able to calm my mind more easily and focus on listening to God. Solitude is a chance to spend uninterrupted time being still and listening to God's still, small voice.
Solitude is a chance to spend uninterrupted time being still and listening to God's still, small voice.
Click To Tweet
3. To engage with people well
Time away from people equips us to care for people well and to engage in relationships in a more meaningful and intentional way. When we have time to think we get to enter in with people rather than simply reacting to everything all the time. Solitude helps us process things in a healthy and productive way.
When we fly by the seat of our pants (though there are times when that is necessary), we are not able to help solve problems or truly empathize well because we are constantly focused on the next thing.
4. Jesus modeled it
Jesus demonstrated solitude so well. Though His time was short, the need was high, and the people begging for His attention were many, still Jesus prioritized solitude away from people and with God.
So often, the reason we do not engage in solitude, even when we know how valuable it is, is because we don't feel we have time. There are too many other important things to do than to waste time doing "nothing". But Jesus didn't see it that way.
He took times of solitude regularly even though He had a mere three years to do and say everything He needed to. He trusted God with that time and everything that needed to be done. Solitude doesn't tend to happen automatically; we must fight for it.
How Did Jesus Model It?
Jesus' ministry is launched by a time of solitude when He spent forty days in the wilderness. Throughout the gospels, He continued to slip away from the crowds and even His disciples to spend time in nature with God.
Often it seemed to be early in the morning (Mark 1:35). But I also think of His time after feeding the five thousand, when He sent His disciples ahead of Him. He later walked on water to meet them, but first, between the miracles, He hiked up a mountain in a storm to spend time in prayer with God.
Not only did His ministry begin with solitude, as Jesus' ministry came to a close it was, again, marked with solitude. Before the cross, in the Garden of Gethsemane with His disciples, Jesus left them and went to a space alone to pray and spend time pouring out His heart to the Father.
How can we not do the same?
As I think of the way He models solitude, I noticed several themes.
· Prayer — Jesus didn't just wander around in the wilderness and look at the view, although that is certainly a way to worship God in times of solitude. Instead, He used the time to pray with intention.
· Fasting — I think of the forty days in the wilderness. Jesus demonstrated fasting as a way He drew near to God in times of solitude. For you, that may be fasting food, but that may also be fasting entertainment, music, routine, etc. Solitude itself is a form of fasting, from people and conversation and distraction.
· Before and after serving and great works of God — If you pay close attention to many of Jesus' miracles or the times He spent with crowds, you will notice they are often sandwiched between times of solitude. It may be clear that doing something for God is a time of spiritual battle, but we're often less aware and on the offense right before or after. But that is when we need God more than ever.
· Those around Him didn't understand — The people wanted to crown Jesus king after the feeding of the five thousand, instead He climbed up a mountain. After Jesus' baptism, He did not take advantage of the momentum and popular opinion, He went into the wilderness. Mark 1:36 speaks of the disciples seeking Jesus out when He went missing to spend time in solitude. People may not understand the need for solitude or what you are doing — but you know what? I'm learning that it doesn't matter. Solitude is a sacred time between us and God.
People may not understand the need for solitude or what you are doing — but you know what? That doesn't matter. Solitude is a sacred time between us and God.
Click To Tweet
How Can You Implement Solitude?
Solitude is not a formula. Solitude is a discipline that is going to look different for every believer, and that's okay. It may take time and experimentation to figure out what solitude looks like in your personal relationship with God, and how you are best able to rest and connect with Him. Your version of solitude may also change depending on the season of life you are in.
There's nothing wrong with that.
But I do want to leave you with some general tips I've found to be helpful as I've wrestled to implement regular solitude into my life over the last two years.
· Schedule it — Put it in your calendar! Write it down. This includes telling everyone who needs to know that you will not be available during your scheduled time (don't scare everyone by disappearing without a trace!). Be strict about it. Don't compromise or fill that time with other things. Guard it because no one else is likely to guard it for you. Solitude is worth making time for — we always make time for our priorities.
· Find a location — Unless you live alone, it is very difficult to find solitude at home. Even if you do live alone, it's hard because there are always distractions with other things you can do or "should" be doing. There is a reason Jesus went out to the wilderness where no one could find Him. If I'm simply doing a few hours of solitude, I have a few favorite spots out of the way by a river that goes through town. If it's for a few days, consider camping or a cabin in the woods.
· Unplug and don't do tons of reading — It's one thing to have some alone time. But effective solitude is greatly helped by cutting out the other distractions as well. Bringing a book, while valuable, is not quieting our minds to focus completely on our Creator. Leaving your phone on is the same distraction. Airplane mode is awesome if you still need your phone handy for emergencies. In our modern world, it isn't as simple as going out in the wilderness on our own, we must also put aside the rest of the connection and entertainment for a time.
· Don't have an agenda — Often, when it comes time for solitude, I'm tempted to control it. I have a list of things I need to reflect on and make decisions for; I want to focus on working down my list. But some of the sweetest times of solitude have come when I am able to give God those plans and the things weighing on my mind and heart and let Him guide my precious time of solitude with Him. We are the bride, let our Lord whisk you away and be in control.
· Talk out loud to God — Verbally praying when I'm in a time of solitude really helps me focus my mind on God. And when I am not speaking to other people, I find I treasure any moments to speak. So, if you are getting distracted and sidetracked, try talking out loud to God. Even just about those distractions!
Solitude is such a precious time with God, and it is a time worth fighting for. Today, I challenge you to not just read this article and move on, but to schedule some time of solitude with God. I'll join you.
Solitude is such a precious time with God, and it is a time worth fighting for. Schedule some time of solitude with God today.
Click To Tweet
"A response to giving attention to personal soul care often is 'I don't have time for extensive solitude and silence. I have too much to do.' The truth is that we don't have time not to practice solitude and silence. No time is more profitably spent than that used to heighten the quality of an intimate walk with God. If we think otherwise, we have been badly educated. The real question is, will we take time to do what is necessary for an abundant life and an abundant ministry, or will we try to get by without it." -Dallas Willard
---