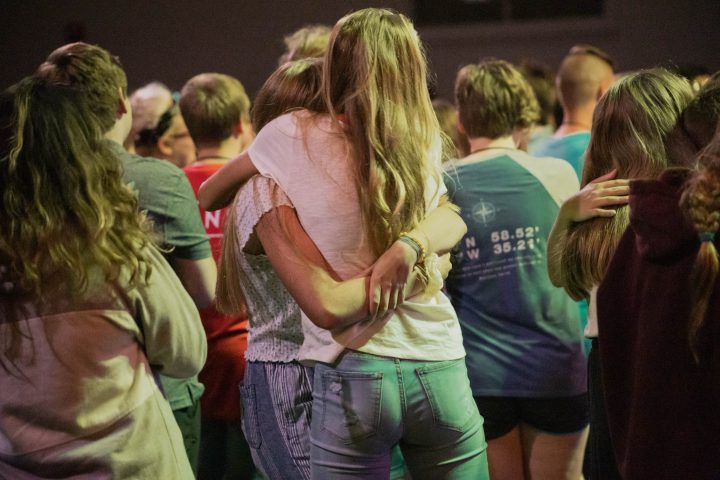 Once upon a time, an awkward, homeschooled sixth grader walked into a room that would change her life.
That room was the Brightmoor Youth Center. That sixth grader was me.
My youth group has changed me as a person. I say this not as an exaggerated, cliched statement. I say this as an unadulterated truth—I am a different person now than I was four years ago because of my youth group.
When eleven-year-old me first walked into that room, I was an obligatory Christian. I had been raised in the church by God-fearing parents. However, your parents' faith cannot be your relationship with God. There comes a point in each of our lives where we must decide to pursue a relationship with God for ourselves. Brightmoor is where I made that decision.
An Example of Christ's Love
Today, I walk into that room as someone who resolves to daily pick up her cross and follow Jesus. To be an example for others the way my youth group has been an example for me.
Four years ago, I walked into that room feeling isolated, unwanted, and unloved. I was a shy introvert and had no friends. I constantly prayed asking God to bring me friends but didn't believe that He could. The youth group motto, "You Belong Here," was something I did not believe could possibly be true. I didn't believe I belonged anywhere.
However, God is good and works even when we doubt His ability.
Since then, I have met my best friends—people who love Jesus and have encouraged me to pursue an authentic relationship with Him. People who loved me where I was but loved me too much to leave me there. My youth pastor, Pastor Kendall, always tells the leaders to make every student feel welcome, wanted, and loved. My life has been changed by students and leaders who have made that their mission—people I cannot imagine my life without now.
I haven't always known what the love of Christ looks like. Until I began attending Brightmoor Youth, the love of my parents was the only consistent model of selfless love I was exposed to. I had no substantial understanding of what it looks like to love someone who isn't family, and to love them because Jesus loves them. God has since given me countless examples of the love of Christ in my youth group.
Through youth group, I've learned that Christ's love is an action, not a word.
Click To Tweet
Through this special community of people, I've learned that Christ's love is an action, not a word. Christ's love looks like Ryan, the youth intern who gave up his Sunday afternoons to coach five Fine Arts groups. It looks like Matt, the worship leader who gave an underqualified middle schooler an opportunity to play piano on the worship team. It looks likes Ally, the high schooler who made certain a middle schooler knew God had great plans for her. It looks like Pastor Kendall, the youth pastor who gives of his time to teach students about leadership. It looks like Steve and Eunice, the longtime youth leaders who always send birthday cards to former and current Brightmoor students. It looks like Luke, the student who will always sit with and acknowledge a lonely person.
An Example of Authentic Worship
Through my youth group, I have discovered what authentic worship is, which has shaped how I interact with God.
Before I attended Brightmoor Youth, I attended a youth group that cared more about how high your hands were raised than if they were being raised for the right reasons. I only cared about appearances during corporeal worship and didn't focus on Who I was worshipping.
Brightmoor Youth has never failed to create an atmosphere where how you worship doesn't matter. At every service, there is an opportunity to praise and seek God in authentic, heartfelt worship. I have learned that worship is about God, not me. It doesn't matter what I look like while I'm worshiping if my heart is turned to Him.
Now, when I raise my hands in worship, it isn't for the benefit of the person next to me, it's because I want to honor God.
An Example of a Life Changed
Today, I am a different person because I have a true relationship with Jesus. I have edifying relationships with other people who also want to serve God. The love I've been shown has taught me how to love others with Christ's love. I've learned how to truly worship God and listen for His voice. Going to church is no longer a chore for me, it is a blessing and a privilege.
I thank God for ordering my steps. I thank Him for leading my family to my church. I thank Him for bringing me to my youth group. I thank God for using this youth ministry to help shape me into a better reflection of Jesus Christ.
---