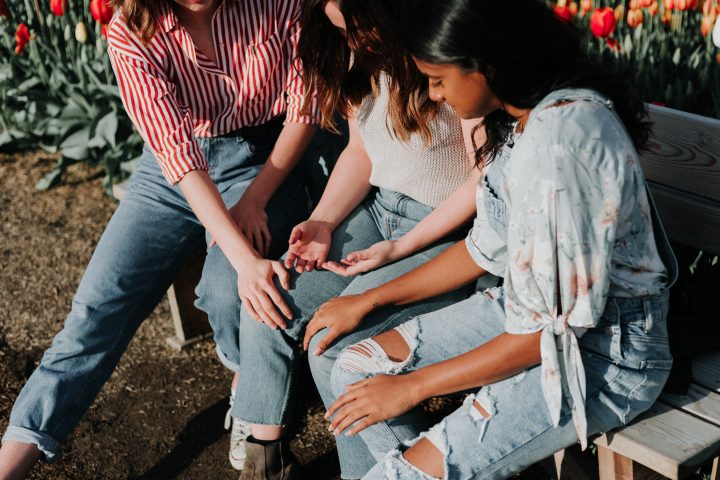 Recently, I attended an evangelism training camp called Testify. As part of the training, they take you to the Iowa State Fair to practice witnessing to all kinds of people from all walks of life. God taught me so much through this incredible experience!
Today, I want to encourage you by sharing five reasons why you should witness.
1. Souls Are at Stake
Witnessing at the Iowa state fair was eye-opening. We interacted with atheists, LGBT individuals, drunk people, Catholics, people who believe in karma, and a person who blames all violence on people having really high or really low IQs.
A friend and I talked with a man who goes to church regularly but had never heard the gospel. We went through some of the ten commandments with him, and he saw his guilt before God. When we explained the gospel to him, he hung onto every word.
Neither of the atheists we talked to were atheists because "science" convinced them. One was an atheist because he was bitter about his grandma's death. The other said she was an atheist because a Catholic priest had told her she was going to Hell. She asked us many questions, and having a loving, logical conversation with real Christians seemed to impact her deeply.
Hurting, lost, bitter people are out there, dying in their sins without even knowing it. They desperately need to hear the gospel. Someone must tell them.
"How then shall they call on Him in whom they have not believed? And how shall they believe in Him of whom they have not heard? And how shall they hear without a preacher?
And how shall they preach unless they are sent? As it is written: "How beautiful are the feet of those who preach the gospel of peace, Who bring glad tidings of good things!" (Romans 10:14-15 NKJV)
2. God Commands It
"Go therefore and make disciples of all the nations, baptizing them in the name of the Father and of the Son and of the Holy Spirit, teaching them to observe all things that I have commanded you." (Mathew 28:19-20a, NKJV)
The first step in making disciples is evangelism. Being introverted, shy, busy, or young are just excuses.
Before giving this command, Jesus proclaimed, "All authority has been given to Me in heaven and on earth," (Mathew 28:18b NKJV). Because He is God, the Creator and the Lawmaker, He has all authority.
Look at how His authority is described in Ephesians 1:20&21 (ESV), "… [God] seated Him [Jesus] at His right hand in the heavenly places, far above all rule and authority and power and dominion, and above every name that is named…"
Christ is the ultimate Ruler over everything. He has the right to give this command and the power to back it up. Do we really believe this? If so, we need to follow all His commands, and that includes telling others about Him.
3. Sharing the Gospel Brings Us Joy
Not long after I got back from Testify, I watched one of my little nieces walking around. Previously she had been afraid to walk by herself; if you let go of her hand she would start crawling instead. Now she toddles around so happy and proud of herself. She discovered it's fun to walk once she got past the fear of doing it.
Evangelism is the same way. The idea of witnessing is scary. We must force ourselves to push past the fear and actually do it—or as someone once said, "Do hard things."
We have to trust God enough to take the first scary step, and then the next, and then the next. Sometimes we might feel like we really messed up, but once we get some practice in, we find there is great joy in sharing the gospel. This is the task God has called us to, and He rewards the faithful with joy.
4. It's an Adventure You Don't Want to Miss
Have you ever longed to see God work, not just to hear stories of missionaries and those in the past? Have you ever wanted to know for yourself that God is still actively working right here and now?
That was my desire for years. Then I went to Testify and got a hands-on look at God's work in the world. God is so good that He lets us be a part of His work. When we follow Christ wholeheartedly, the Christian life is anything but boring.
Nothing compares to helping someone understand the gospel for the very first time! A few people thank you because they are genuinely glad you talked to them. Sometimes you can almost see the light bulbs go on as they realize good works won't get them to heaven or Jesus dying in our place is like someone paying our fine. This is a reward no one can take from us. It's an adventure too wonderful to miss.
5. It Brings Us Closer Together as Believers
One of the biggest ways we build relationships is through shared experiences. You might not have the same job or hobbies as other people at your church, but witnessing is something all Christians can and should be doing. Doing it together helps your friendships go deeper than surface level and be more focused on the spiritual.
Witnessing together makes you less fearful and more confident. If you don't know what to say, your friend might. One person can be thinking, looking up verses, praying, or getting out a tract while the other is talking.
Answer the Call
Never forget Who you serve. When you remember His great power and love and all He is, there is no reason to fear and every reason to courageously charge into the spiritual battle with all you've got.
Will you answer the call? Souls are at stake, my friends. Pick up your sword and run into the heart of the battle.
---