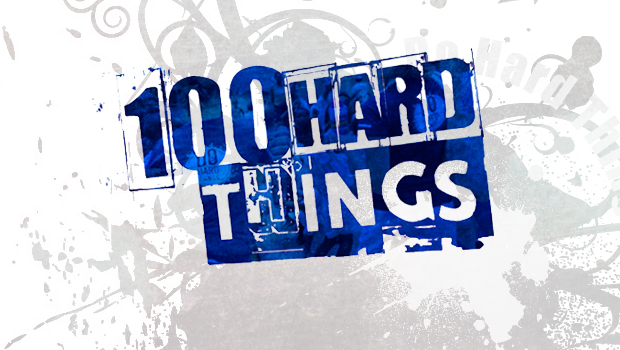 One of our favorite things about the new book (Start Here: Doing Hard Things Right Where You Are) is the way it includes the voices of so many different rebelutionaries. The book includes our answers to the 30+ most common questions we've received from teens around the world, but it's also full of stories from teens just like you.
Because of that, we're really excited about a project we're calling 100 Hard Things. The number one question we get in emails and at our conferences is "Where do I start?" To help answer that, we're compiling a list of a whole bunch of hard things (big and small) that other rebelutionaries have actually done.
Over the next two weeks we will be collecting submissions of hard things you have done. These snapshots should be carefully crafted, preferably in 10 words or less (20 words max). Here are some examples of the range of things we're looking for:
100 Hard Things – EXAMPLES
Share the gospel with a friend.
Write a song and perform it.
Increase your GPA this year.
Start a Christian club at school.
Volunteer on a political campaign.
Hold a bake sale to fight human trafficking.
Babysit for a single mom at your church.
Start a band, practice hard, and book some gigs.
Do a chore that you weren't asked to do.
Honor your parents even though you disagree with them.
Sponsor a child through Compassion International.
If you have done one of the things listed as an example, go ahead and submit it. You can submit your "hard thing" here on the blog by leaving a comment here. However, if you're on Twitter, we encourage you to get your friends involved (and possibly catch the attention of the Twitter community) by tweeting your submission with the tag #100HardThings. Multiple submissions are welcome (one per tweet)!
We'll be taking the best submissions (with a target number of 100) to share in Start Here. But if we receive more than that, we may make it a permanent feature on TheRebelution.com — giving rebelutionaries a growing list of big and small hard things that other teens have done, and (perhaps) that they can do too.
Because we're trying to finish up the book by the end of the month, the deadline for submissions is less than two week away — September 20th. So get tweeting!
+ Submit by Tweet +