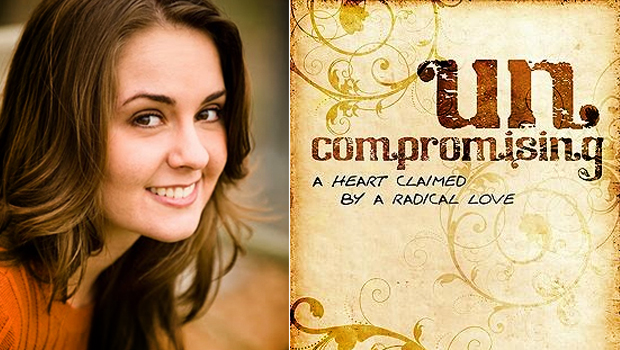 Girls today need a clear vision of biblical, beautiful womanhood — and there's a new book out for teen girls that provides just that. I'd love to tell you all about the book and the young author, but instead I'm just going to let you read the foreword I wrote for it. Take a read and check out "Uncompromising: A Heart Claimed by a Radical Love" by Hannah Farver — just out this past Sunday.
---
Amazon.com Description:
Ask any girl on the street what womanhood is about, and you'll get a blank stare in return. No one knows. Young women are devoid of vision beyond popularity, material wealth, a cute boyfriend or a dream career. Even in Christian circles, significant questions are often left unanswered: What's the point of purity? Modesty? Femininity? What's biblical womanhood? Most of all, girls wonder at the longing in their souls for something greater.
Uncompromising: A Heart Claimed By a Radical Love cuts straight to the heart of young womanhood. Rather than setting up rules, it pulls at the desire in every woman's heart to live a life of purpose, fully surrendered to His radical love. Written in an edgy teen voice, Uncompromising is a collection of "field notes" from the author's own search for answers…and the story of how she stumbled upon the one Cause worth dying for. Contains study questions for group or individual use.
---
BRETT'S FOREWORD: I first met Hannah Farver back in 2007 when she helped host a teen conference my brother Alex and I were holding in Dallas. We were so impressed we asked her again the following year. By that time she was already authoring an outstanding blog for young women called Beauty from the Heart and was getting ready to launch her own series of conferences.
A year later Hannah emailed us about a book she was writing and asked us to look over the manuscript. Well aware of her exceptional character and competence, we gladly agreed—and were thrilled by what we read. When she asked us to consider writing the foreword, we didn't have to think twice.
Since then, Hannah has joined us at Patrick Henry College where we've had the opportunity to attend classes together, enjoy British Movie Nights (with tea), and build a statue of Cary Grant out of snow (her idea). Alex and I have watched her practice what she preaches day in and day out, amidst the pressures of exams and the drama of college life. Even though we are a few years older, we have personally benefited from the "big sister" wisdom God has given her.
Simply put: Hannah Farver is the real deal, a young woman of conviction, compassion, and courage. Through her words and her example she is provoking young women to raise their sights and fix their gaze on the only Cause and the only Love worth pursuing. She is a fresh and compelling voice straight from the ranks of her peers. Her passion for God and for her generation flows through every chapter and bleeds through every page.
One of the things Alex and I love about Uncompromising is that Hannah is not a grown-up trying to sound like a girl. She is a girl wrestling with grown-up things like purity, modesty, and what it means to be a woman. Her challenge to our generation is firmly rooted in her own humble (and often humorous) search for something greater than the trinkets and trappings of this world. These dispatches from a girl-in-progress carry a gut-level honesty — the emotions are fresh; the excitement is real; the journey has begun.
As Hannah writes, "Take this book as the collected scribblings of someone who has met — and is still learning to adopt (or be adopted by) — the Cause. It's a work in progress, but maybe my notes will help you compile your own."
If you accept Hannah's invitation to come face-to-face with Jesus Christ, you will never be the same again, and you will never regret it. What she describes as "scribblings" are nothing less than a soul-shattering tribute to the greatest Cause that ever was or ever will be.
[button size=large style=less_round color=red align=none url=http://www.amazon.com/Uncompromising-Heart-Claimed-Radical-Love/dp/0802411673/ref=sr_1_1?ie=UTF8&qid=1364501308&sr=8-1&keywords=uncompromising]Check Out "Uncompromising" by Hannah Farver[/button]