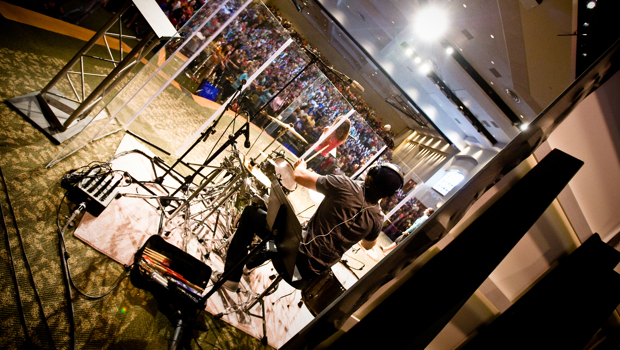 It's hard to believe that the last Rebelution conference is just over a week away. It has been an absolutely incredible past five years, and we're so thankful for the hundreds of volunteers who have made these conferences happen.
This post is about two people in particular who have filled a key role on the tour — leading worship — and who don't receive anything close to the level of appreciation they deserve: Our older brother Joel and our good friend Harlan.
Joel has lead worship on at every single conference (besides the two of us, he is the only person who has been at every single one), and Harlan has played at most of them, including the very first Sacramento conference back in 2006.
Worship at the Rebelution conferences has always been meaningful and unique, featuring upbeat contemporary worship, classic hymns like "Amazing Grace" and "Come Thou Fount," as well as original songs like "Yours Alone," "Ransom," and "Made Anew" — now sung by thousands of people around the world.
This year, Joel and Harlan have collaborated to record The Rebelution Tour EP. For the first time, you can take the worship songs we sing at the conferences home with you — along with a beautiful recording of Joel's song "Goodnight, Mama" (featured in the video above), written just before our mother passed away last year.
The EP will be available at the conference in Baton Rouge on October 15th, and is also available to download on iTunes or order on CDBaby. You can also find chord charts on their site. All proceeds go directly to Joel and Harlan, as a thank you for their many years of service to the mission of the Rebelution Tour.
Enjoy the music, and we'll see you in Baton Rouge!
---
+ iTunes / EP Website / Chords +
---