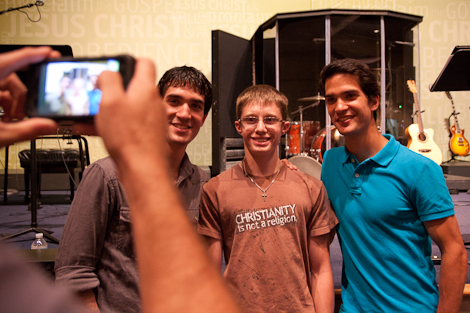 After five years traveling around the United States, The Rebelution's live Do Hard Things Conference held its final tour in 2011 — including this event in Indianapolis, Indiana. Each conference was a challenging one-day event for teens by teens who believe that our generation is ready for a change.
Between 2006 and 2011, The Rebelution came to twenty major cities in the United States, Canada, Switzerland, and Japan — challenging teens with the message of rebelling against low expectations and doing hard things for the glory of God. We're not about the numbers, but we love to share numbers that show God is working in our generation:
45,000 teens, parents, and youth workers reached with a life-changing message.
2,000 bold professions of faith in Jesus Christ with every head up and every eye open.
14-year-olds worked with Convention Centers, 15-year-olds manned $50,000 robotic cameras, 16-year-olds managed grassroots publicity, 9-year-olds ran Audience Response Technology, etc. These were events for teens, by teens.
Even though the live conference tour is over, The Rebelution is not. In fact, you can still bring this exciting message to your community using our conference DVD. Visit our online store to purchase downloadable conference videos and audio recordings.
[button size=large style=less_round color=red align=none url=http://store.nobleinstitute.org/the-rebelution-store.html]Get Conference Video & Audio[/button]