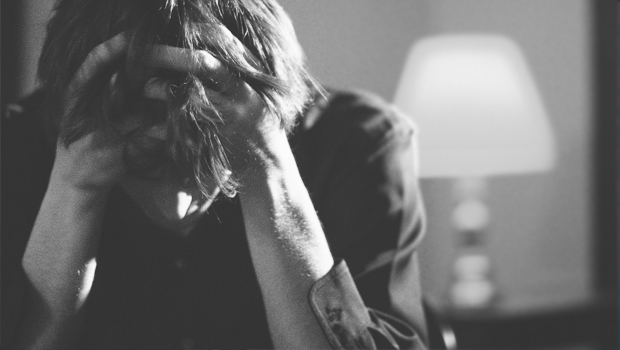 "I just feel so dead. I am so torn up inside. Worthless. Believing lies [and] feeling incapable of believing truth. But I just have to. I am desperate. Angry. I need God yet I feel extremely angry at God. I feel hopeless. This battle never ends. I just want to die."
I penned these words in my journal not two years ago, not nine months ago, but yesterday and they expressed what I wanted to scream at God in that moment — and I did when I was alone.
I'm not proud of it, but I cannot deny: I'm angry at God.
Pain, lots of pain—and anger—along with frustration, confusion, and despair pretty much describe my relationship with God right now. Sounds really Christian doesn't it? Aren't Christians supposed to abide in the love of God and rest in His peace?
I wish I could supply some answers. I like to have my life under control. I like to know what is going on. I hate struggle. If something is bothering me, I like to know why and I like to deal with it. I hate confusion. I hate not knowing which way is up.
But God has chosen to devastate my life like an eruption devastates a volcano. And this frustrates me. It makes me angry that He took my Mom in a car accident nine months ago. I resent the feeling of disconnect from God that I feel. I can't sleep well; it's hard to concentrate on work.
Like I said, I do not have a lot of answers, but I have had a few thoughts rolling around in my soul. They are all true, I believe, but extremely hard to grasp and live at a heart level.
Remember:
1. We are in Normandy
This is reality folks: it's D-Day, but so often we get deceived, thinking that being a Christian means living in paradise—this is wrong, dead wrong. We have lost paradise and have been thrust into an intense daily battle of blood and sweat and slow progress.
Sure there are respites of peace, and times of overwhelming victory. I have had awesome times with God, moments where I felt God's love and peace. But mostly I feel the daily wear of battle. I have to keep Christ in focus and look to Him for healing, because I am constantly feeling the shots of the enemy dragging me down—daring me to give up.
2. Anger isn't the enemy
My feelings of anger and resentment at God have been a source of much of my discouragement because I try to stifle my anger instead of focusing on truth. It is a never ending cycle of Discouragement > Anger > Discouragement > Anger. This is because I believe Satan's lie that my emotions reflect my relationship with God. But this simply isn't true! Emotions reflect surroundings and happenings. When we are in paradise, we generally feel good. When we are fighting, we feel the intensity and seriousness of the situation and may feel discouraged.
Many heroes of the faith also felt and expressed their anger at God. Job did so without sinning (but was eventually rebuked by God). In the Psalms, David vividly articulates his anger and despair (but nearly always vocalizes his trust in God). And even Jesus cries out on the cross "My God, my God why have you forsaken me?" (But despite His feelings, He submitted to God's plan and resigned Himself to the cross.)
[I say all this realizing that anger could involve bitterness. To discern bitterness is up to the Holy Spirit and our openness to Him. Still, the anger we feel comes from pain somewhere inside of us and is a normal response, but if let alone, it will tear us up. Forgiveness is choosing to accept, on ourselves, the consequences of whoever gave us that pain and to nail it to the cross. (There is much more to this complicated issue than can be fully written here, that's why whole books are written on anger, bitterness and forgiveness.)]
After the above journal entry there is a mark where I had began to write more depressing thoughts. But God suddenly stopped me and threw my words right back at me: "I just want to die." Of course, that's what Satan wants to do! To steal, kill and destroy! "He's trying to steal my time, life and affections from God," I wrote. "He's trying to destroy my mind and relationships. And he's trying to kill my life and influence. I will fight this." We must fight him! And…
3. We must cling to Jesus
A couple of months after my Mom's death, a friend sent me a letter in which he told me:
"If you ever come to the place where you can't run, then walk. If you can't walk, then crawl. If you can't even crawl and you are on the 'ground,' and all you can do is look at Christ, then look with all your heart, soul, and mind! That is OKAY to be there. Just never take your eyes away from Christ!"
At the time this was very meaningful, but life got busy and I forgot about it until just this morning when I was really searching for God—and then He reminded me.
Jesus wants to heal us and will, if we stick close to Him. Sometimes He heals instantly, sometimes it is a progression — but He will heal. That is what He does: He restores paradise. And He loves it.
Simply clinging or looking at Christ does not necessarily feel like progress, but it is endurance, which is just as healthy. We must be patient and wait for Him to help us to our feet again.
4. God is in CONTROL
Think about it. If "God is love" (1 John 4:8b) and sovereign, then He must be planning for something good to come out of the painful things. He even says that "in all things [I] work for the good of those who love [me]" (Romans 8:28). When arguing that we should seek God's happiness and not ours, Charles Finney said, "[God] seeks his own happiness, or glory, as the supreme good. But not because it is his own, but because it is the supreme good" (Finney, "Selfishness: Not True Religion").
So relax. God is in control and we can trust Him because He has promised that anything that happens is for His ultimate glory which is the best thing for us as well. He will guide us through the fog, eventually, and lead us into abundance! Just believe…and wait.
One last thing which I have found to be incredibly beneficial…
5. We should read the Psalms
David was very human and open about his humanity, as were the other psalmists. The Psalms deal with real, authentic issues but also communicate the truth and hope of a living, loving, and faithful God.
[Just a hint, if you read 5 psalms a day reading every 30th psalm, you can read through the whole book in a month (e.g. Psalm 1, 31, 61, 91, 121).]
Life is a journey, one with many battles. We all experience fighting at some point in our journeying. I pray that none of us will give up, because there is a joy coming for those who persevere. There is an inheritance we are set to earn. And it will be worth it all.
Don't give up friends! Struggle on! We are in this together! Be real, be open, be honest! Share your journeys, your good times and your bad times, and listen to those around you going through similar battles. And in it all keep your eyes on Jesus, the author and finisher of our faith!
---
Some scriptures that have been meaningful to me, especially during the past weeks, include: Psalm 18, 19, 66, 139; Isaiah 54:10; John 14, Hebrews 12. Look these up if you can, they may or may not be helpful to you.
Some favorite "modern psalms" that have specifically helped me walk through the battle have been:
"Still, My Soul Be Still" – Keith and Kristyn Getty
"Beautiful Things" – Gungor
"Sovereign Over Us" – Aaron Keyes
"10,000 Reasons (Bless the Lord)" – Matt Redman
"By Your Side" and "Worn" – Tenth Avenue North
"Our God" and "Whom Shall I Fear [God of Angel Armies]" – Chris Tomlin
"At the End of Me" – Bebo Norman
"Remind Me who I Am" and "Nothing Is Wasted" – Jason Gray
I encourage you to check out these powerful songs.
---