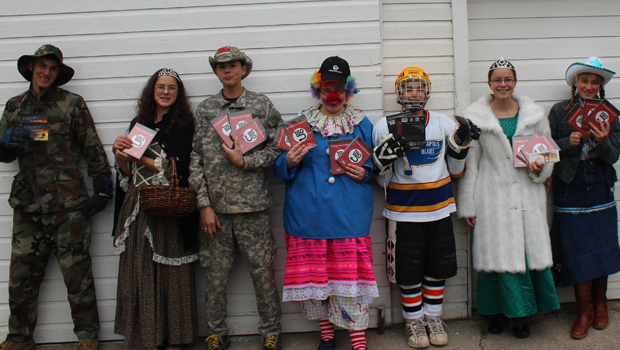 ---
All my life I have thought of Halloween as something to be avoided. I didn't have much trouble avoiding it since I live in the country, and we never get any people "Trick-or-Treating" at our house. I always treated the day as if didn't exist, but this year, I found out that I was wrong to ignore the day.
While asking God what I could do to further spread his gospel message, God gave my mom and I an awesome idea. I'm sure you've heard of people giving gospel tracts to every one that comes to their house, and I think that is great. If you can, you should do that. However, like I said, we never get people at our house, so we can't give them a tract, because they aren't there.
Then it hit us, if the people won't come to you, then you go to them. So Dad took some of my cousins and me loaded down with gospel tracts and the movie "180" by Ray Comfort and we went door-to-door.
The response was amazing! Not only were people surprised and willing to take a treat from us, they jumped to open the door! I have never in my life done such easy door-to-door witnessing before. We also were able to have contact with parents of other children that were out "trick-or-treating" and we were able to give them the gospel as well.
Naturally, this is something that you have to be careful with. It isn't always safe to be wandering around on Halloween, that is why my dad came, and why we went in sets of two.
We were able to give out 292 tracts, and 375 DVDs. People jumped to open the door for us, and they really seemed to appreciate the fact that we were giving them something, instead of asking for something.
I'm just praising God for protecting us, and for allowing us to touch so many lives. We still need to be in prayer that the hearts of the people who got the gospel, would soften, and that they would see their need of a Jesus Christ.
---