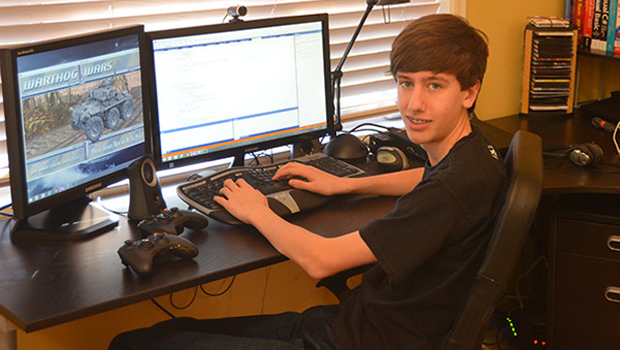 ---
(Redmond Reporter) — It's not uncommon for teens to list video games as one of their favorite hobbies.
Creating a video game is a different story. But this is exactly what 14-year-old Redmond resident Matthew Mistele did. The ninth-grader from The Bear Creek School spent the past year or so working on creating a video game, which was released on Jan. 22 and is now available on Xbox 360.
"It's a really good feeling," Matthew said about completing his game and seeing it on Xbox.
His game, Warthog Wars, features various modes for players and assigns them various objectives to complete. He said the game was inspired by the popular video game Halo.
"I really like Halo," he said.
While Matthew has created simple video games in the past, Warthog Wars is by far the most complex one he has created.
"It's really ambitious," he acknowledges.
Matthew's mother Priscilla Mistele knew his goal to create a game for Xbox 360 would be difficult, so she expected it to just be a good learning experience.
"Basically, we humored him," she admitted. "I thought it was impossible."
Mistele said on the first try, Matthew's game actually failed and fell apart. She said he did not have enough technical knowledge to work out all the bugs.
"He realized how much he didn't know," she said. Matthew then took a break from working on the game and hit the books. "(But) it was still super hard for him."
Mistele said she was impressed by her son's hard work and determination and the fact that he took the time to study — outside of his regular schoolwork — to complete Warthog Wars.
Matthew mostly worked on the game on the weekends, giving up hours and hours of free time. But when asked whether it was worth it, he had just two words.
"Yes. Totally."
---