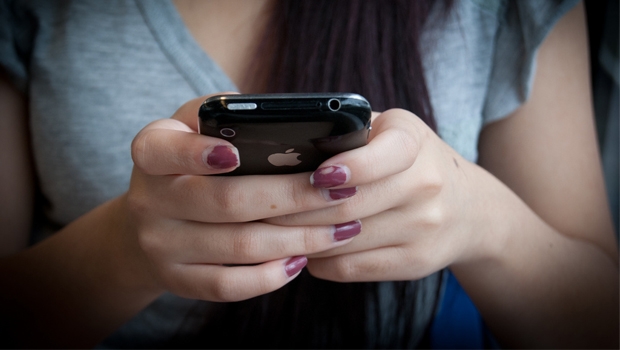 ---
Last week, I began feeling extreme conviction concerning the amount of time I was spending daily on my iPod touch. After lots of prayer, it was clear that technology had become an obvious obstacle in my life as a Christian.
And so, I decided to go on what I consider a "modern fast." Giving up something that is important to me and difficult to surrender, but exchanging it for more time to spend serving Christ.
Currently, I am only one week into the social media hiatus, but I already feel so refocused on the aspects of my life that had lost their place on my list of priorities.
I honestly believe that phones and iPods are encouraging a selfish generation.
When you think about it, when we are on our devices, we can choose what we look at, who we talk to, and even what our life looks like through social networks. We can customize our music libraries, filter our emails, and give our numbers out to people who we want to text. The first day of handing off my iPod to my little sister, I was so much more aware of my surroundings and the needs of others.
Of course, I've had challenges, but these have quickly turned into extreme blessings.
The Super Bowl Party
I can be very shy and introverted at times. A few days ago, I was at a gathering with several people I had never even met, and I didn't have my iPod in the way to avoid talking to them. I was forced out of my comfort zone because I couldn't hide behind my small iPod and use empty excuses like, "I'm sorry, I just need to reply to this text." However, I connected to people with more ease than I had originally expected and had a wonderful time.
The Long Car Ride
Last weekend, my family left for an hour long car ride to my grandparent's house, and I realized that because I didn't have my iPod with me, I wouldn't have music to entertain myself on the way there.
But it also struck me that this wasn't a bad thing!
What a precious opportunity to pour out the thoughts of my heart to my Savior! And the car ride that I had predicted would be so "boring" turned into a time of rich prayer… to think that I had been upset about this for a moment seems so ridiculous now.
The Lock-In
One of my worst habits is turning to my friends when things aren't going my way or when someone has hurt my feelings, and in a "boo-hoo, woe is me" tone, I "vent" my problems to them.
I spent the night at a church lock-in this week, and there was a girl there who goes to another church in the area. She doesn't have the best reputation — she's been arrested more than once, she makes mean-spirited comments to people, and she seems to be more interested in the young men at the church events than the chance to draw closer to Christ.
There was a piano at the lock-in, and a couple of people asked me to play and sing for them. While I was singing, the girl turned to someone and said, "She's not even good."
To be honest, if this had happened when my iPod was accessible, I probably would have sent a rant to my best friend via text, telling her how terrible this girl was and how she had not only insulted me, but had also hurt some of my amazing friends throughout the night.
Instead, I felt inclined to pray. I prayed that God would give me the strength and humility to forgive this girl, and when I was done, I was also led to pray for the girl who had upset so many people from my youth group.
These changes in my life have been so positive. I'm extremely grateful for the time I've had to unplug from drama and gossip and being able to use that time to set my mind on things above.
If you haven't considered giving up your phone, iPod, computer or any other electronic in the past, I would highly recommend praying about it. It can be hard in the beginning, but you will find that it is so rewarding!
---
Share Your Thoughts in the Comment Section!

There are currently 4 Comment(s)
---
Photo courtesy of Jhaymesisvip and Flickr Creative Commons.
---