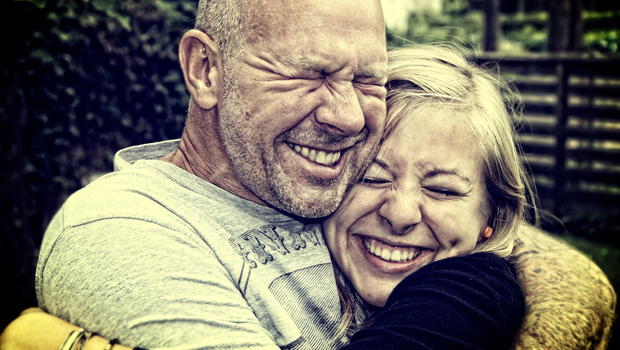 My dad is going to help me pick out a husband. He's not the shotgun-toting type, and we don't believe in arranged marriages. I'm not from another culture or planet and I'm not a crazed fanatic.
Yet my dad is helping me choose my husband. In fact, he's already done that.
No, I'm not getting married yet. I'm not even eighteen. But over my childhood and teen years I have watched my dad serve my mom and model for me what a godly husband looks like. I have watched as he has applied biblical marriage advice and demonstrated and taught me how to choose a godly mate.
Here are six lessons I learned from my dad on how to pick a spouse:
1. Look for someone imperfect.
If you're looking for the perfect spouse, I'm sorry to disappoint you: there is no such thing. Thanks to Adam's sin, we are all born imperfect (Rom. 5:12). We are sinners.
Yet those of us who have repented of our sin and trusted in Christ are now saved by His blood. He is the only perfect spouse, the One who gave Himself up for His bride – the church (Eph. 5:25-27). And now He has redeemed us and His Spirit is sanctifying us.
But we're not fully sanctified yet. Sometimes my dad speaks harshly. Sometimes he makes a mistake. Sometimes he sins. He is flawed.
As is my mom. Their marriage is not perfect because they are not perfect. But they are both passionate pursuers of Christ and so they repent of their sin. They smooth out conflict. They say I'm sorry.
They model failure, but they also model reconciliation.
2. Look for someone who will love you more than life.
From the time I was little, I knew it as a fact. Never once did I doubt it: my dad would give his life for my mom. He wouldn't think twice about it. He loves her with a deep, self-sacrificial love.
But he has never had to actually die for her and so that same love compels him to sacrifice for her in little, real ways every day. He gives up late work hours to spend time with her. He takes her on date nights. He cleans the house. He spontaneously brings her flowers. He rebukes her sin. He prays with her. He reads books with her. He makes her dinner.
Every day I see it: he loves her. And that makes him want to sacrifice his own desires to serve her needs.
3. Look for someone who will love Jesus more than you.
My dad has never made it seem like a choice. Jesus is God. A spouse is a gift from God. We owe our allegiance, our worship, our gratitude to the Giver and we love the gift because it reflects His goodness.
I don't want a spouse who will put me on a pedestal higher than the Almighty. I don't deserve that place in someone's heart, and I can't live up to the expectations of an idol. Sure, it seems romantic in movies, but in a Christian marriage? It will destroy it.
After my dad finished seminary he moved us two thousand miles away from his and my mom's family. Not out of spite, but because that's where God was calling us. My mom submitted joyfully, yet she still struggled with going so far away from home. But my dad loves Jesus more than my mom, and so even when she was uncomfortable he put his duty to Christ above his love for her.
That's the story of a good marriage. That's the image of a godly spouse.
4. Look for someone with your parents.
I read Voddie Baucham's What He Must Be … If He Wants to Marry My Daughter with my dad. The book — a list of qualifications of a godly husband — sparked tons of discussion. We occasionally got my mom in on them. "What would this look like?" we asked. And we talked and we looked at Scripture and we agreed that my dad would be involved in my selection of a spouse.
No, my dad is not actually going to choose my husband for me. But he will be involved in the process. He is my protector and my provider right now. He has a responsibility to me to help me pick a godly husband.
That means that my potential spouse will get to know my family, and both of my parents will be involved. They will help me guard my heart. They will keep me accountable. They will help me set boundaries. They will give me advice. They will love me and support me.
5. Look for someone who is chasing after biblical personhood.
God has designed men and women with different functional roles. They are not the same, but they are not unequal. They are complementary. The Bible instructs men to be leaders and protectors of their home and women to be submissive caretakers (Eph. 5:22-23; Titus 2:4-5).
My dad has consistently modeled biblical manhood. He has led my mom as a servant-leader, humbly and lovingly serving as the headship of our home.
And my mom has never bucked under his God-given authority. She has portrayed a vivid image of biblical womanhood, a nurturer who loves and serves her husband, who makes decisions with him, who offers him counsel, but one who submits to him at the end of the day.
I want a husband who is trying to be a man after God's own heart, who is not caving to societal gender confusion, who is chasing after biblical manhood. And I, conversely, am attempting to be a girl who pursues biblical womanhood to prepare myself to be someone else's godly spouse.
6. You don't need a spouse.
My dad has taught me a lot about looking for a potential mate, but above all, he has taught me that I don't need a spouse. My happiness is not dependent on a partner. Only when my joy is found in God will I be complete.
Delight in Christ, and take joy in Him. If God grants me a spouse, it will be in His good time and for His glory.
Thanks, Dad.
---
Photo courtesy of Roland Lakis and Flickr Creative Commons.
---