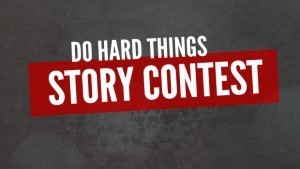 ---
After reading so many great entries for the Do Hard Things Story Contest, we've decided to highlight a story on TheRebelution every week for the rest of the year. Each story emphasizes how Do Hard Things has impacted these rebelutionaries. Today, meet Sydnie!
---
I first read Do Hard Things when I was 13.
It made me think because most of the things talked about in it were things I had just done because they were easy.
Easy is great; it doesn't involve much effort, and you don't often have to deal with things people might say about you.
When I turned 14 I really started to realize that the hard things I had to do were right in my home. My dad has had four strokes, and the last one really affected him. He can't work, he has difficulty remembering things, and stress is really bad for him.
After talking with my pastor and my mom, I made it my mission to relieve the stress my five siblings cause every day while they work on schoolwork and play. I was already watching them the two and a half days my mom was working, but I was doing the bare minimum.
The next day my mom worked, I did my best to help.
I helped prepare and clean up after meals and did as much as I could to help with school – even if it meant that I couldn't do what I wanted to do right away.
After school, I helped my brothers get ready for soccer practice. At that point, I was pretty stressed. I soon realized that I had forgotten to wash their socks, and Dad got really mad.
Pastor told me that whenever he got mad I needed to go up to him and give him a hug.
It was hard because he was really scary, but I went up to him, gave him a hug and said, "I'll take care of it."
It was amazing; he stopped swearing, stopped slamming things, and calmed down almost instantly!
I got everything together, helped the boys get all their stuff on, and found some spare socks they could use. I got them ready on time, and they even were early for soccer practice!
Dad told Mom later that I was a huge blessing to him that day! That really encouraged me, and I've been doing my best to help my family for several months now.
It's not always easy.
It's still scary to hug my dad when he gets mad, but it doesn't happen as much now. And I've even learned how to deal with my brothers when they start annoying me.
God has really worked a miracle in my life. It's amazing to look back on what I used to be and compare it to now!
---
Share Your Thoughts in the Comment Section!

There are currently __ Comment(s)
---
(Some links are affiliate, meaning TheRebelution.com earns a percentage of any purchase. All proceeds go towards the maintenance of this website and to make copies of Do Hard Things and Start Here available to those who can't afford them.)
---