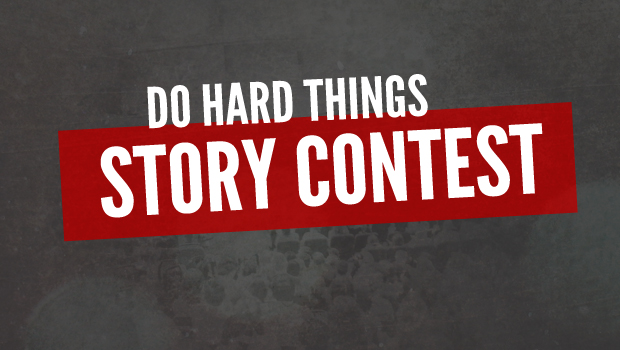 ---
After reading so many great entries for the Do Hard Things Story Contest, we've decided to highlight a story on TheRebelution every week for the rest of the year. Each story emphasizes how Do Hard Things has impacted these rebelutionaries. Today, meet Louis!
---
In 1992, I was born into a Christian family in Central Texas, the child of South African immigrants. We spoke Afrikaans at home.
At a young age, I became a born-again Christian as a result of hearing the Gospel at my preschool Sunday School class near Austin, Texas. We soon moved to five acres between San Marcos and Wimberley.
In 1998, my father died of a heart failure, leaving a wife and five children.
I attended private Christian schools, and when that got too expensive we did homeschooling. I went through Child Evangelism Fellowship's training course at the age of 14 and started helping with their Good News Clubs.
A man from church lent me Do Hard Things in 2008 (when I was 16) and I not only fully agreed with the message of the book but it also encouraged me to do much more than what was expected of young men.
That whole summer I worked on our family business and on my own small business.
When I was 17, the Lord finally got me to really start reading my Bible a lot, every day, which changed my life for the better in many ways.
After my salvation, reading my Bible regularly was the greatest turning point in my life.
It was a hard thing, at first, but got easier.
In 2010, the Lord let me go on my first missions trip at the age of 18: I worked with a missionary from Texas in Mozambique, Africa for two and a half months, primarily doing children's ministry.
Upon my return I continued with the CEF Good News Clubs and my church's AWANA program in the greater San Marcos area. My 13-year-old brother and I eventually did children's ministry at six different places every week (at four schools and two churches).
After months of prayer throughout 2011, we became convinced that the Lord was sending me to a Bible College near Cape Town in the Republic of South Africa.
It happened like this: the reasons why I did not want to go was that I would miss the children I had been evangelizing, I would miss my mother and my siblings and I would also miss my house and our backyard.
I was praying intensely and reading through Matthew in Afrikaans when the Lord answered all five concerns in a single verse:
"And every one that hath forsaken houses, or brethren, or sisters, or father, or mother, or wife, or children, or lands, for my Name's sake, shall receive an hundredfold, and shall inherit everlasting life" (Matthew 19:29 KJV).
That night my mother and I prayed and listened to a sermon about discerning the will of God in which my pastor asked, "Is it in line with the Scriptures? Is it a God-sized thing? Will it get you out of your comfort zone?"
We then received the peace of God in our hearts about the matter.
I sold my broken car (The Gospelmobile) for scrap metal and — along with all the money I had saved — I had enough for half of my one-way ticket. The Lord provided the rest, as well as a laptop and someone who paid for my tuition.
But the best thing that the Lord provided was a group of friends and family who prayed for me faithfully.
The Bible College was an intense training course. It was two of the best years of my life, and God brought me nearer to Him than ever before.
During that time, the Lord led me to stay in South Africa to do full-time evangelism with a local, country-wide ministry.
They preach the Gospel of Jesus Christ in churches, prisons, preschools, primary schools, high schools, businesses and retirement homes.
I did that for all of 2014 and am still doing it, by His grace.
At this writing, I am 23-years-old. There are many trials and difficulties when doing full-time evangelism in South Africa — I do not deny that.
It is not the easiest life that I could have chosen, but life is not about ease; it is about obeying God. He prepares us to complete the mission He has called us to.
And He is with us every step of the way.
At a certain point in my life I had felt as though I had failed God so much and so often that He could never use me, but I was wrong.
He lifted me up — so to say — built me up, and now He uses me much more than I deserve or could ever ask for. Praise the Lord.
---
Share Your Thoughts in the Comment Section!

There are currently __ Comment(s)
---
(Some links are affiliate, meaning TheRebelution.com earns a percentage of any purchase. All proceeds go towards the maintenance of this website and to make copies of Do Hard Things and Start Here available to those who can't afford them.)
---