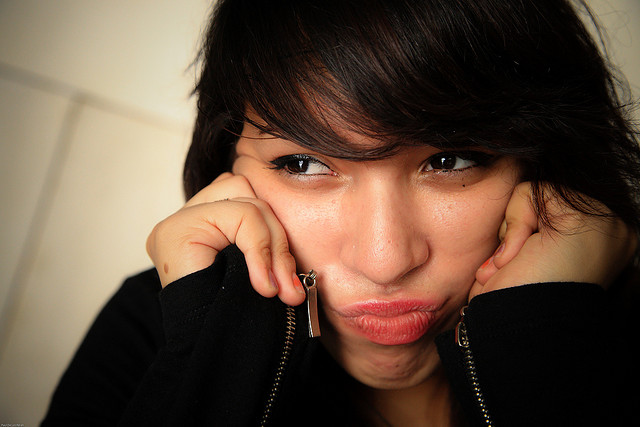 ---
I struggle a lot with feeling ugly.
Every day I am surrounded by posters and advertisements that remind me that my skin is broken out, or my thighs are too big, etc. These posters convince me that perfection is the norm and cause me to constantly compare myself to others to see how I measure up.
I struggle a lot with caring about my appearance.
I know that my focus is supposed to be on Christ. I know my body is merely temporal, imperfect, daily dying. I know that God is supposed to be my refuge, rest, and strength.
But it is easy to be distracted by how I look.
For several years, I've been convinced that my acne is all people notice about me. Sometimes, when I talked, I caught people looking at a spot on my face that I knew wasn't my eyes or my mouth. Other times (including just a few days ago), for a whole week I will be given tips and hints about how to get rid of my acne (in just 10 days!) by neighbors, acquaintances, and random strangers.
Times like these really discourage me. These reminders that I am not beautiful, that I am not attractive, that my acne distracts from who I really am crush me. People noticing and pointing out my acne convince me that my face is all I will ever be – convince me even that I am not useful in drawing attention to Christ because people will only see my blemishes.
I've heard all the messages about "looking to your inner beauty" and "appreciating who you are," but they don't help.
Inside, I'm not beautiful either. My soul is blemished too. Both my inside and my outside seem unworthy of Christ's or any other's attention.
All I can see is my ugliness. All I can see is my need for my Savior.
This past week, completely discouraged by the constant attention my acne received, I went to my room and cried out to God. I told Him how I was tired of caring. I told Him I was tired of being ugly. I told Him that I felt all people saw when they looked at me was acne. And I waited.
I have given you an unblemished soul.
He turned my heart to gratitude. I thanked Him that He does not see acne when He looks at me, that He does not see the much deeper, uglier blemishes of sin that often hurt and people notice. Because of Him, I have a snowy fresh soul because He was willing to forgive me and bear the consequences of my sin.
He died to give my soul a clean complexion!
When my heart wanted to dwell on the temporal, Jesus turned my eyes to the eternal realities that will never change – His love, His sacrifice, and the assurance He gives me of salvation.
For the first time in my life, I was grateful for my acne.
When I wouldn't run to God as my rest and refuge because I knew it was right, my worries about acne and my appearance drove me to His presence for comfort.
And at His feet, I found comfort. Comfort, not that I was "truly beautiful within," or that I somehow met up with worldly standards, but the assurance that Jesus Christ holds and loves my soul, and that He died to clear it of its imperfections.
Jesus Christ lives in and through me today, and He wants to use me to minister to the people around me. He loves me, guides me, and walks with me through all my troubles. He promises me a future and a hope, not just here on earth but especially in heaven. And He wants to have this relationship with the people that I meet every day.
When my focus is on people seeing Christ, not on seeing me, I forget my self consciousness, and I am given opportunities to share the gospel.
People will begin to ask, "Why are you so confident?"
What will I answer?
"Because I am on this program that will get my face clear in UNDER 10 DAYS!"
"Because my inner beauty shines through and that's enough for me,"
Or,
"Because Jesus Christ is my anchor and my support, and He has saved me from all of my sin. My confidence and my hope is in Him alone."
Only one of those answers will take others' focus off of me and onto Christ, to whom belongs ALL the glory and ALL the honor, and ALL the praise.
So the next time you find yourself looking in the mirror with tears in your eyes, leave it, go someplace you will be alone, and pour out your heart to God. He sees the true feelings of your heart, so don't feel like you can't share them with Him.
Trust Him to be your comfort and your sweet support. Trust Him to walk with you through every trial – even this one. Praise the God who cares for the little things. Little things like me. Little things like you.
Believe it or not, your acne, and how you respond, could open the door for you to introduce someone to our glorious Lord and Savior!
"How beautiful are the arms that have embraced Christ, the hands which have touched Christ, the eyes which have gazed upon Christ, the lips which have spoken with Christ, the feet which have followed Christ. How beautiful are the hands which have worked the works of Christ, the feet which treading in His footsteps have gone about doing good, the lips that have spread abroad His name, the lives which have been counted loss for Him." – Christina Rossetti.

"If any soul has any beauty, it is because Christ has endowed that soul with His own, for in ourselves we are deformed and defiled! There is no beauty in any of us but what our Lord has worked in us." – C.H. Spurgeon
Share Your Thoughts in the Comment Section!

There are currently __ Comment(s)
---
Photo courtesy of Paul De Los Reyes and Flickr Creative Commons.
---