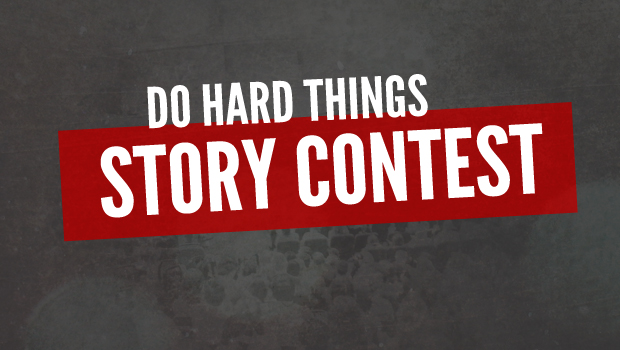 ---
After reading so many great entries for the Do Hard Things Story Contest, we've decided to highlight a story on TheRebelution every week for the rest of the year. Each story emphasizes how Do Hard Things has impacted these rebelutionaries. Today, meet Michaela!
---
My name is Michaela Thames. I'm 17-years-old, and I live in Mississippi. I read Do Hard Things a couple of years ago, and ever since I've had this urge to do something great for God's glory. I've had a lot of ideas, but none of them have been accomplished.
My biggest hard thing came when I got my first real job.
It's a small store so any time spent not assisting customers, straightening merchandise, or doing the necessary paperwork is spent talking.
Most of the time I enjoy our little chats, but as time went on I noticed that I was the only follower of Jesus there. I also noticed that although we had talked about everything under the sun, I had not yet shared the gospel with one of my co-workers.
God had really convicted me and I knew that it was my duty to declare the good news of Jesus Christ to those in my midst. I also knew that I was in a world where being a devoted follower of Jesus is considered unpopular.
I know for a fact that being unpopular can be really hard.
I like to use Paul as my role model. The apostle Paul was exceedingly bold in his stance for the faith. He had endured beatings, stoning, prison, continual opposition and hate all for the glory of Christ.
Here in America we don't experience the persecution some of our brothers and sisters have and are now experiencing for standing up for the faith.
I feel like saying, "Compared to China, standing up for the faith here in America is really doing hard things" is an overstatement. The Christians in China (and in other nations that are hostile to Christians) really exemplify doing hard things in their suffering for the gospel.
So surely I can do this small hard thing and preach the gospel to people who aren't so openly hostile to it.
And what about when it's worth it? What about when at the end of this race you hear the proud words of the Father saying, "Well done, my good and faithful servant!"?
This is one thing I long to hear with all my heart.
So God used me to share the whole truth of the gospel with one of my co-workers. Taking a stand and boldly declaring Christ made me feel like I had accomplished a great triumph.
The most important thing I felt was that God had actually used me for something great.
I regret the fact that a lot of people have come into my life and I didn't have the boldness to share the gospel with them.
So even more now, I feel it is my duty to tell people of Christ's atoning sacrifice on the cross, to tell them that He died to take upon Himself the wrath of God that we deserved, to tell them that He is most assuredly alive, to tell them that He has prepared a magnificent home in Heaven for His children, and to tell them to repent of their sins and be saved.
Theologian R.C Sproul says,
"If we are faithful to Christ in the public square, we will be regarded as the plague. … At some point, you have got to be a pest to the world. At some point you must take a stand."
I hope and pray that God will make me like his servant Paul who proclaimed Jesus boldly like it was embedded in him. I pray that God will remind me that all the "great" stuff that I do is all so I may gain a crown that will give back to the One who deserves it most.
"How then will they call on Him in whom they have not believed? And how are they to believe in Him of whom they have never heard? And how are they to hear without someone preaching? And how are they to preach unless they are sent? As it is written, 'How beautiful are the feet of those who preach good news!'" – Romans 10:14-15.
Soli Deo Gloria!
---
Quotations cited from St. Andrews Expositional Commentary: Acts by R.C Sproul
---
Share Your Thoughts in the Comment Section!

There are currently __ Comment(s)
---