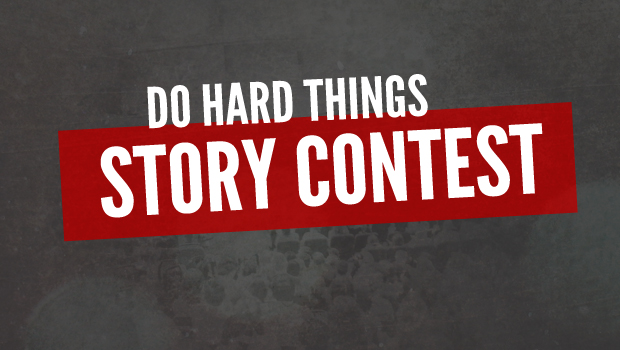 ---
After reading so many great entries for the Do Hard Things Story Contest, we've decided to highlight a story on TheRebelution every week for the rest of the year. Each story emphasizes how Do Hard Things has impacted these rebelutionaries. Today, meet Sarah!
---
About two years ago, I came across TheRebelution.
A friend had recommended that I watch the Fabulous Life of a Teenager series.
Soon after watching them I discovered TheRebelution website and the "100 Hard Things Challenge." I decided to take it up and every day, I would attempt to do at least one hard thing, whether it be as simple as setting an example for my younger brothers or as complicated as achieving a good mark for my higher grade Math exam.
I completed the challenge and still try to do something which challenges me each day, although I have stopped keeping score.
About six months ago I remember reading through the posts on TheRebelution website and being intrigued by the incredible things teenagers, a few my age (and younger), were doing. I would often wonder what I could do to make a significant difference, to leave a legacy, to help others.
I would brainstorm amazing plans of how to change the world but when the seemingly mundane tasks of life filled my to-do list and reality kicked in, I began to realize how small I am on my own.
If I was to do anything to help make a difference, I realized, it would have to be done in the Lord's strength, not in my own, otherwise my efforts would be pointless and selfish.
So I chose again to do something hard, which may seem relatively simple. I chose to embrace those "mundane tasks" which filled my to-do list: my school work and assignments, the daily chores, the visits to lonely extended-family members and the commands from God to love Him first and then to love my neighbour as myself.
By choosing to do something ordinary, something extraordinary happened.
I began to live joyfully and love more fully. I looked forward to the "small" lessons God would teach me each day, as I began to follow Him without complaining or arguing. Contentment began to bloom in my heart and gratitude for the many blessings God has given me.
Sure, there were days I'd feel less-than-blessed or a little miserable about "doing everything without complaining or arguing," but when my attitude turned sour, I'd turn to God, and refreshment, peace, and purpose started to fill my life.
The end of the story? I think not.
Despite my choice to joyfully embrace the simple challenges I faced in ordinary daily life, I still felt a longing, especially in my spare time, to become more involved in my community. Namely, to pursue my passion of working with children.
I've always had a heart for orphans and wanted to get involved at the local children's home, The Hope Centre, which houses children whose parents have died of AIDS. I had previously had the privilege of getting to know these children as they had attended a Holiday Club when I was helping as a leader at our local Baptist church.
I decided to contact one of the temporary American interns at The Hope Centre, who I knew from my church, to organize a day when I could visit and get to know the children a bit better.
It turned out that the intern had returned to America, so she recommended I contact some missionaries who had recently moved to South Africa to get involved at The Hope Centre. I contacted them and waited for about a week to receive confirmation that I would be welcome to visit the children.
In the meanwhile, I had come across a search for a representative for the Commonwealth South Africa.
The Commonwealth competition was looking for a South African teenager to represent the South African Commonwealth at the International Commonwealth competition in London.
They uphold values very close to my heart such as social upliftment and responsibility and the promotion of unity, racial harmony, poverty eradication and cultural cohesion. The fact that they were searching for an ambassador for our country caught my attention.
Perhaps this would be another "hard thing," something which would extend me and provide challenges which, by embracing, would help me to grow in character, and maybe it would provide the platform I needed to be able to raise awareness for The Hope Centre.
Perhaps this was an opportunity provided by the Lord?
After much prayer and discussion with my parents, I decided to seize the opportunity and send in my entry.
After an interview with the Mrs. Commonwealth International, I was selected as one of fifty semi-finalists for the South African Commonwealth and it was then that my journey began.
As a semi-finalist I was assigned certain tasks which I was required to complete before a set deadline. One of these tasks was to approach local businesses in our hometown to ask for sponsorship, which creates a relationship between the sponsor's company and the Commonwealth South Africa.
Our second task was to select a local charity to raise funds or items for. I immediately thought of The Hope Centre and approached the Head to ask for permission for them to be my chosen charity.
Permission was granted straight away and I set to work to see what I could do to help.
The forty-one children who live there do not have much at all, but after spending more time with them, I realized they posses the things which really matter. Many of the children have a firm, unquestionable faith in God as well as joyful hearts, unity and love among themselves, gratitude for their few belongings (most of which they share) and hope for the future.
I wanted to do something to bless these children, to reward them a little bit for their contentment.
After approaching friends, family and numerous local businesses for donations of clothing, shoes and bedding (as we're approaching winter now), God generously blessed my efforts and we were able to collect about eight large bags of good quality clothing and shoes as well as a R10 000 voucher from a local home furnishing store.
The voucher was a huge answer to prayer for the staff at The Hope Centre and the children. With it they were able to buy duvets for the young boys, mirrors and lamps for the girls' rooms, and six beautiful bookshelves for the little library.
It was at this point that I realized God's grace in giving me the opportunity to work with these children. Though it was presented in the form of a competition, it was all part of God's wondrous plan.
I now do not mind whether or not I am chosen as the Commonwealth Ambassador for my country, though it would be an honour and present more opportunities to do even "harder things." I'm content to be a role-model to the children at The Hope Centre, who don't have parents or older relations to look up to. I surrender the future into God's hands.
The lessons I've learned and the relationships I've formed, by simply choosing to follow God day by day and by taking a step outside of my comfort zone, are more precious than any title could ever be.
I've also learned that God has created us with specific passions and talents which, by embracing, we can use to His glory. God has given me a passion for working with children as well as the desire to be a leader and a role-model for the young generation. The Commonwealth competition has presented me with the opportunity to accomplish both.
I hope that God will continue to use me as a shining light and a vessel to pour out His love on others. I am sure I will still fail in many ways as I continue to choose to do hard things, but by His grace, I will keep persevering through the challenges, so that the glory may be His.
I've learned that when you seek to do hard things, whether big or small, to the glory of the Lord, He can use you in ways you never dreamed possible. After all, our purpose is to glorify Him.
"May it be said, when the sun sets, you made a difference."
Share Your Thoughts in the Comment Section!

There are currently __ Comment(s)
---