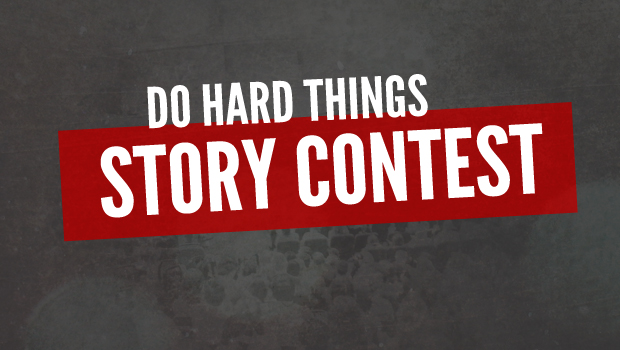 ---
After reading so many great entries for the Do Hard Things Story Contest, we've decided to highlight a story on TheRebelution every week for the rest of the year. Each story emphasizes how Do Hard Things has impacted these rebelutionaries. Today, meet Cynthia!
---
My name is Cynthia Dawn, and I am a writer.
As a teenager I was passionate about creating stories and dreamed about one day publishing a book of my own. I finished my first manuscript when I was fourteen, a novel about pirates.
I rewrote it at age seventeen, the same year I read Do Hard Things. I was given the book a few months before going on a summer mission trip to the Caribbean, and it had a way of rewiring my thinking. This book pushed me to take my experiences seriously, and do something great with them.
For four years, I continued to edit my novel, as well as drafting three others. Editing was rigorous work, and I rewrote full scenes and chapters countless times. I also spent hours researching the publishing industry, following blogs and participating in online writers' forums.
While scouring the internet, I discovered a Christian conference for Canadian writers called Write Canada. The opportunity of networking with other Christian writers sounded incredible, but the cost was more than I could handle. When I was nineteen, I discovered a contest to win free registration, and I won.
This conference changed my life. I was surrounded by people who were passionate about the same things I was. I attended classes, hungry for answers to questions I didn't know I had. I chatted with writers, agents and teachers, sometimes about writing, but more often about the lives of these storytellers, and how they used their words to glorify God.
I was like a little kid in a big kids' playground.
I had been hoping to find an agent or publisher for my novels, but I quickly realized that my work wasn't ready yet. I had so much more to learn.
Nevertheless, because of all the research I'd been doing, my knowledge of the industry was quite sophisticated, though I was one of the youngest people there. While my manuscript had flaws, I still managed to make an impression on other attendees and continued to stay in contact with many of them throughout the year.
In the fall, I was hired by my university to organize events for writers. I assisted in hosting author readings and even a small writers' conference. I gained a love not only of writing, but working with writers. I applied for a scholarship to attend Write Canada once again and was granted free registration. I worked like mad trying to make my manuscript perfect before going, but right before the trip, the story fell apart. After four years, I still had nothing to show for all my work.
Instead of bringing my novel, I decided to bring my resume and started asking about job opportunities.
I was also on my way to another summer mission trip, this time in Southeast Asia. My flight was leaving three days after the conference.
Write Canada was different this year. I was gaining experience and making a name for myself. I was twenty years old, and people couldn't get over how young I was. It seemed like every conversation ended with, "Wow. You are so young." They meant to be encouraging, but soon their attitude began to affect me. My age began to define me.
An exception to this was Bev Boissery, who was just beginning a new publishing company. During the days between the conference and my flight, we were guests in the same house. I had the opportunity to edit some documents with her then, and she saw what I was capable of. When I returned from Asia, she offered me an internship.
I've been working with Bev at Wesbrook Bay Books for nine months now. I haven't even graduated university yet, but I'm working with emerging and established writers and publishing their books. Our vision is to help Christians to write great books for the mainstream market that represent a Christian worldview, yet appeal to all readers.
There are surprisingly few publishers that encourage Christian writers to publish mainstream books, and we are looking to fill that need.
In two weeks, I'll be going to my third Write Canada conference, this time as a representative of Wesbrook Bay. I'm also going to The Word Awards gala, where two of Wesbrook Bay's books are shortlisted for the awards. As both these authors live in Vancouver, I will be attending the gala on their behalf.
My dream of publishing a novel hasn't happened yet, and that's okay. God has created another passion in me, a desire to help Christian writers improve their skill and write excellent books, books that change lives.
I am twenty-one-years-old, and I am an editor.
---
Share Your Thoughts in the Comment Section!

There are currently __ Comment(s)
---