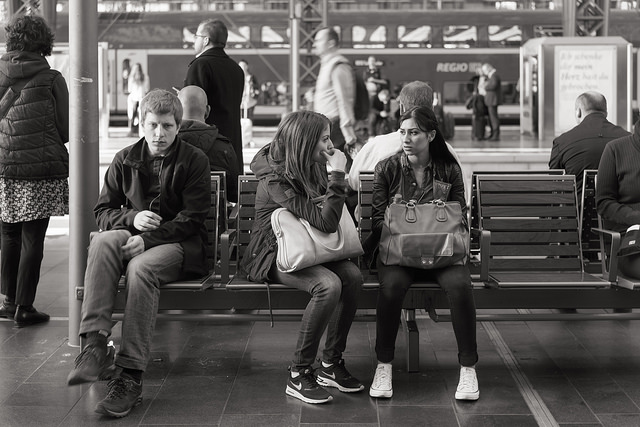 ---
Recently, I've been struggling with loneliness.
I'm sure at some point in time you've experienced the same "being alone" feeling. Honestly, it's really hard.
I'm 20-years-old; most of the people I know are either in a relationship, getting married, or having kids.
And I'm just here like, "Okay, Lord. I enjoy being single, kind of. I've been doing it for a while now and I'm ready for the next season of life to get here."
Needless to say, I realize that being dissatisfied with where the Lord has me isn't a good thing, so I've been praying about it. Slowly, but surely, the Lord has been breaking my heart open and teaching me a few lessons that are much needed.
They've helped me a lot, and I hope in some way or form they can help you too.
A couple of days ago, I got together with one of my strong Christian friends to pray. We prayed for everything under the sun, but she specifically prayed over me for this season in my life.
While she was praying, she said something profound that began to change the way my heart and mind were feeling about my general dissatisfaction.
She prayed, "Lord, I pray that You would be enough for Sam. I pray that she would be so in love with You that she wouldn't need anyone or anything else."
Talk about convicting.
This prayer brought a certain passage to mind, when Paul is praying for the thorn in his flesh:
"Therefore, in order to keep me from becoming conceited, I was given a thorn in my flesh, a messenger of Satan, to torment me. Three times I pleaded with the Lord to take it away from me. But he said to me, 'My grace is sufficient for you, for my power is made perfect in weakness.' Therefore I will boast all the more gladly about my weaknesses, so that Christ's power may rest on me. That is why, for Christ's sake, I delight in weaknesses, in insults, in hardships, in persecutions, in difficulties. For when I am weak, then I am strong" (2 Corinthians 12:7-10).
Through this passage, the Lord has challenged me with this question:
Is Jesus enough?
Well, Lord, when you put it that way, you make it sound like I'm not appreciative of the gospel or something. I mean, I appreciate what Jesus did for me, it's just that….
And He asks me again,
Am I not sufficient? Did I not do enough for you?
Matthew 6:26-27, 32-34 says,
"Look at the birds of the air; they do not sow or reap or store away in barns, and yet your heavenly Father feeds them. Are you not much more valuable than they? Can any one of you by worrying add a single hour to your life[e]?…For the pagans run after all these things, and your heavenly Father knows that you need them. But seek first his kingdom and his righteousness, and all these things will be given to you as well. Therefore do not worry about tomorrow, for tomorrow will worry about itself. Each day has enough trouble of its own."
So, friends, I ask you the same question.
Wherever you are in life, whatever you're struggling with, ask yourself, "Is Jesus enough?"
I found myself in a place where I had lost sight of Christ and all that He had done for me. I found myself in a place where I was saying that Jesus wasn't enough, when really, He is all I have ever or will ever need.
When we run after Him and His kingdom, He will provide for us. We, as Christians, have to realize that Jesus has already given us everything, and that is salvation and eternity with Him.
My point is, don't lose sight of the cross.
Don't let anyone or anything take the place of Jesus. He took our place; He volunteered to die so we wouldn't have to. He saved us.
So when it comes down to my loneliness and your struggles, when we find ourselves wanting more, let us look to Jesus and say, "For me, to live is Christ. He is enough."
---
Share Your Thoughts in the Comment Section!

There are currently __ Comment(s)
---
Photo courtesy of Martin and Flickr Creative Commons.
---