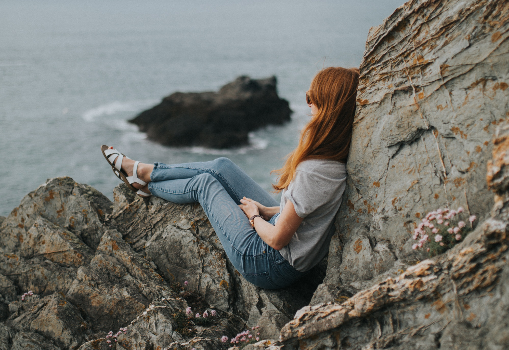 I was reading The Pursuit of God by A.W. Tozer recently and came across a passage that resonated with me and stopped me in my tracks.
Much of our difficulty as searching Christians stems from our unwillingness to take God as He is and adjust our lives accordingly. We insist upon trying to modify Him and bring Him nearer to our own image. The flesh whimpers against God's inexorable sentence and begs like Agag for a little mercy, a little indulgence of its carnal ways. It is no use. We can get a right start only by accepting God as He is and by learning to love Him for what He is.
Do me a favor and reread that passage again, except this time read it slowly and intently. Let the words soak into your heart and let your soul ring with the truth of the content. When I read the above, I'm convicted of all the times I thought I could mold God to fit my needs, confining Him to the pedestal upon which I set Him. I refused to see the error of my ways and continued to adjust and "fit" Him into my busy schedule.
I didn't have to be kind if I didn't feel like it. I didn't have to follow what that verse said. I didn't have to avoid temptation. Looking back on it all, I laugh at how naïve I really was. Who was I to think I was greater than God, to think I was bigger than the number one best-selling author of all time?
When you find yourself trying to make time for God, you know there is a heart issue.
God At the Center
God should not be molded to fit our lives, instead, we should be molding ourselves to become more like Him.
God should be at the center of all we do! When we put Him aside and put our worldly idols in His place, the glue that holds believers together starts to crumble as our hungry and lustful flesh cries out for something more. We lose sight of the Creator and the sacrifice that He made for us.
When we lose sight of God, everything becomes meaningless.
"… Everything is meaningless." (Ecclesiastes 1:2)
God does not want to be conformed to our sinful and corrupt ways, rather, He wants us to come to Him and be changed by the "renewing of our mind" (Romans 12:2). As Christians living in a fallen world, there will be temptations. There will be times we want to indulge in our flesh and lash out at that person who hurt our feelings, and there will indeed be times where we fall back into our old ways and try to manipulate God's Word to justify our sin.
Admiration–Not Adjustment
We are sinners. But happily for you and me, God loves us despite that fact.
As we draw nearer to God and get to know Him, once more embarking upon the path He has marked specifically before us, the relationship becomes a source of unspeakable joy and not a chore. It becomes a relationship in which both parties are participating and it becomes a beautiful, intricate source of peace and comfort that our language cannot put into words (believe me, I've tried).
Some of the most beautiful moments in your life will be when you are in rapturous admiration of the Godhead. It will be in those times that the very thought of trying to change Him and "adjust" Him into your life will be too painful to comprehend. The pursuit of God will embrace the labor of bringing our entire being into conformity with His, and not judicially, but actually. It will mean the surrendering of our whole being to a place of joyful worship and submission.
Step Out of the World's Parade
The moment in which we make up our minds to bring glory and honor to God's name above all else will be the moment in which we step out of the world's parade and step into the loving embrace of the Father.
We will be out of alignment in the ways of the world–as we should be–in our walk with Christ. We will experiance a different viewpoint, a new standard by which to hold ourselves. A new psychology will be formed within us. Our breakup with the world will be the direct outcome of our changed relationship with God, for as A.W. Tozer said, "The world of fallen men does not honor God. Millions call themselves to His name, it is true, and pay some sort of token of respect to Him, but a simple test will show how little He is really honored among them."
No man can serve two masters, and it is such in our relationship with God. In this world, if you gave someone a choice between money and God, they would choose the money.
God becomes second place or even last as materialism corrupts the heart of the non-believer.
Exalting Our Master
The man of God sets out to exalt his Master above all things, and God acknowledges that and in return, honors him (1 Samuel 2:30).
In our desire after God, let us also keep in mind that God also has a desire, and His desire is that His children will choose to exalt Him above all else and cast aside the chains of this world once and for all.
A person such as this is so very precious to Him, for He finds a theater in which He can display His kindness and the deep, abiding love He has towards us in Christ Jesus.
God wants all of us, and He will not rest until He gets it. No half or part of us will do. He wants us fully, He wants us now, and He yearns to have a deep and meaningful relationship with us. Let us welcome Him in.
---