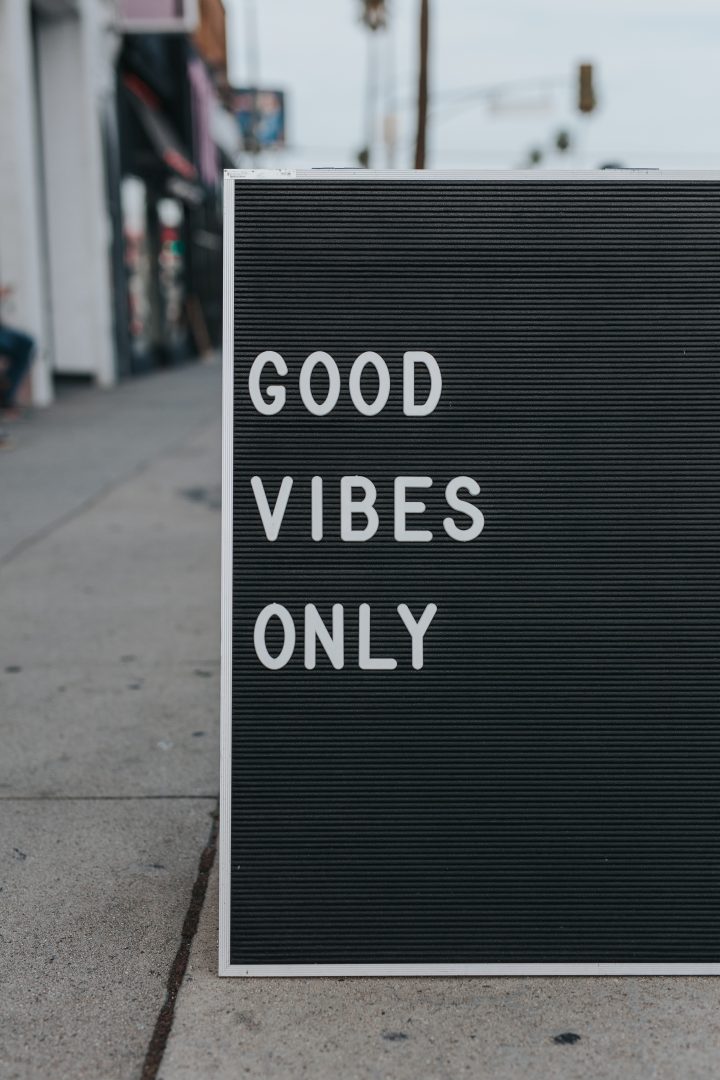 I recently noticed this phrase on the phone case of a friend I work with in the church nursery. I shrugged it off after glancing and went about my duties, but the words lodged in my brain in the following days. "Good vibes only." What comes to mind? I thought of California. Sun, surf, and sand. The Beach Boys and their 1966 hit "Good Vibrations." But I suspect that there's more to this popular expression than things associated with the West Coast.
In Time of Need
According to Bon Vita, Good Vibes Only describes "a positive way of living, to ultimately live and achieve The Good Life." You'd be hard-pressed to find people that don't desire the pursuit of a positive life and spreading that positivity to others both appealing and edifying, but "vibes" needs to be further scrutinized in the context of faith and Scripture. For instance, when's the last time you took to social media asking for real prayer only to be met with "Good vibes coming your way!" Or, "I'm sending you positive thoughts right now." Did you appreciate those responses or find them lacking in depth and potency?
It's nice to know that a friend is thinking of you in a time of need, but good vibes and positive thoughts don't reach the living God. Prayers do. "Let us then with confidence draw near to the throne of grace, that we may receive mercy and find grace to help in time of need," writes the author of Hebrews (4:16). "The prayer of a righteous person has great power as it is working," adds James (5:16).
Of course, Christ followers should be mindful of their own remarks (and hashtags) attached to their respective social media accounts, be it a post or a comment. Lumping all the "good vibes only" language together is easy and doesn't require much forethought, but this hodgepodge of positivity should be reconsidered.
In an article for Desiring God, Melissa Dennis writes, "Our friends aren't strong enough on their own to 'keep their heads up' and 'pull through' life's challenges, like vain platitudes suggest. No, they were made to find their strength in the God who made them." There's a strong pull in Western culture to pursue rugged individuality in times of struggle, to pull ourselves out of the muck and mire under our own strength. Let's thank God that he hasn't left us to ourselves.
Ms. Dennis adds that Christ followers are prone to highlighting their own abilities, not God's. Our prayers indeed have power as the writer James makes clear, but the results of the prayers that we lift up in faith are a credit to God's power alone. He intervenes. He delivers. He rescues. He heals. He saves.
How You Should Pray
As good vibes are but a shadow, we must therefore turn to prayer as the source of our strength in time of need—and pause as we consider the words we direct towards others. But what if you don't know what to pray in times of difficulty? What if there are no words? Jesus told his disciples—and us—how to pray in Matthew 6. "Pray then like this," he said, before delivering what we know as "The Lord's Prayer." Unpacking this magnificent prayer is beyond the scope of this essay, but suffice it to say that verses 9-13 reference holiness, provision, forgiveness, guidance, and deliverance.
There are times, however, when friends in pain may be resistant to prayers initially. What's more, "Thoughts and prayers" is a fairly common refrain in America these days when it comes to tragedy of some sort (see: gun violence). Should we pray for those who experience harrowing trauma? Yes, and prayer can also be accompanied by action. Or no action.
Too often we wish to fix a person's pain and make it go away so they can get on with life. But there are times when the best course of action is to simply sit with someone in silence and allow them to process their grief on their timetable. It may be days, weeks, months, years, or an entire lifetime. That's for them to decide, not us.
Take Every Thought Captive
"We destroy arguments and every lofty opinion raised against the knowledge of God, and take every thought captive to obey Christ," writes the apostle Paul in 2 Corinthians 10:5. I'd like to suggest that "Good Vibes Only" is a nothing more than a lofty opinion driven by a faddish culture that seeks to maximize the positive and minimize the negative, to indulge in pleasure and divest all pain.
I'm all for a positive life, but a pain-free life isn't scriptural. Jesus himself said that we would have trouble in this world. Trouble of all sorts. Seldom does a day pass that we or someone we know isn't impacted by loss and grief in some fashion. "But take heart; I have overcome the world," adds Jesus, the one who promises authentic hope amidst the hurt that life exacts.
As Jesus has overcome the world, so we should overcome our words. Take every thought (and word) captive so that it aligns with the Scriptures. Resist doling out hollow tropes that are devoid of purposeful power, heaven-quaking power that God alone can use to impact the lives of the people who dwell on this rock. God alone is good. No vibes needed.