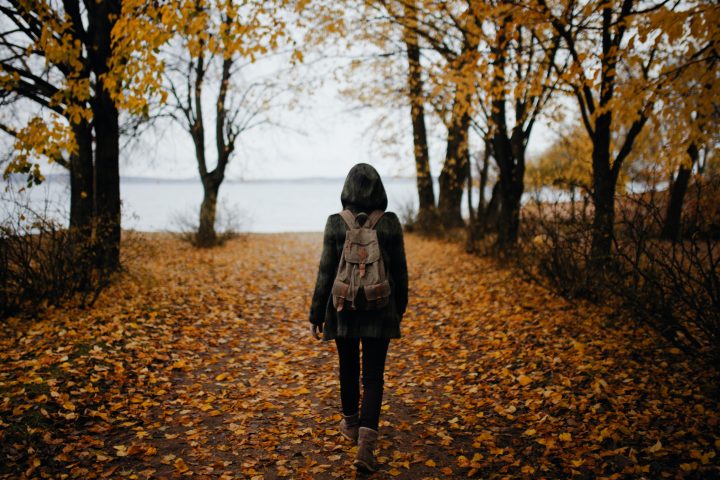 You know what is one of the worst cliche sayings ever?
"What doesn't kill you makes you stronger."
I'm not one for cliche sayings to begin with, but that one has never sat quite right with me. I've always felt like it was a lie; a saying to give you false hope in the midst of your suffering; something to slap on the walls of a classroom to give half-hearted encouragement to its readers.
After all, there are people who go through painful suffering and seem to come out worse on the other side. Many people go through suffering and don't seem to be any stronger. Maybe you're experiencing something right now and you can't possibly see how it would make you stronger in the end.
The reality is, we're guaranteed to go through pain, suffering, doubts, and trials. But the question is, will we actually come out stronger on the other side?
Isaiah 43:2 says, "When you pass through the waters, I will be with you; and through the rivers, they shall not overwhelm you; when you walk through fire you shall not be burned, and the flame shall not consume you."
God isn't saying if we go through the fire, but when. So, when trials come, how do we handle them so that we aren't consumed?
As many of us have probably seen, suffering can pull us away from God. It can make us angry, apathetic, selfish, cowardly, bitter, and full of self-pity. Maybe you've experienced it in your own life or you've seen it in someone around you. Many times, suffering and doubts can feel like they only break down our faith, rather than build it up.
Why is that? Why is it that some people can come out of suffering stronger in their faith than ever before and others come out of suffering completely walking away from Jesus?
It's all about what we are pursuing.
What Are You Pursuing?
We have great hope in Jesus when life gets hard, but we must pursue that hope. Suffering requires the proper response in the midst of the trial, but how are we preparing ourselves before the trials come?
It's easy to say, "But I've been praying and praying for God to help me with my doubts and take away this suffering and he never answers!" What this kind of response points to is our motive for pursuing God.
Many times, without even realizing it, we are pursuing the good things we believe we can get from God rather than pursuing God alone. We are pursuing our own desires and plans for our lives and we use God to try to get what we want. But the key to a Christ-like response to suffering is to trust God. That's it.
This means, our greatest joy is to honor God rather than to use God to try to get what we want out of life. This way, we can trust God no matter what circumstances befall us, and we do not descend into bitterness or apathy when we don't get what we want. If God is our supreme desire, then nothing can take that away from us.
But another way we can have mismatched desires is when we desire a strong faith more than we desire God himself. We want to be strong in our faith. We want to stop struggling with doubts. We want to overcome the pain. And we find that we desire these things more than we desire God.
If God is our supreme desire, then nothing can take that away from us.
Click To Tweet
What if we committed ourselves to God, but couldn't see the immediate results? What if we committed ourselves to the daily spiritual disciplines of following Christ, regardless of the outcome?
A Walk, Not a Run
When I was diagnosed with a chronic illness, I lost my ability to run like I used to. I loved running. I got to know my city by running miles and miles through the streets and neighborhoods; along the river and across the bridges. A mile always seems shorter when you run it, and so I ran everywhere.
When I lost my ability to run, I started to walk. And going from running to walking is just about the most boring transition you can make. You lose the ability to travel longer distances in shorter amounts of time. You don't get the same kind of endorphins that are released when you're running. It feels lazy and insignificant.
Many times, we can view our relationship with Jesus like a run. We attend camp, or a retreat. We are encouraged by a sermon or an article and we take off at a sprint. "I'm going to live my whole life for Jesus! I'm going to change everything about my life!" But we hit a period of dryness, a time of suffering, a place of doubts and we come to a screeching halt.
Following Jesus was never supposed to be a sprint. We were never guaranteed instant transformation. We were never promised that our doubts would dissipate the day after we prayed for them to go away.
Following Jesus is a walk—a steady, rhythmic, consistent, slow walk. A day-after-day commitment of obeying, reading the Bible, investing in Christian community, committing to the life of a church, engaging in worship, and praying unceasingly.
There's nothing particularly glamorous about this kind of relationship with Jesus. We can't count on instant deliverance from whatever trials we may be facing. But this quiet, disciplined consistency is the very life that Jesus calls us to.
As Tim Keller says in his book, Walking With God Through Pain and Suffering: "There will certainly be progress . . . But in general it will be slow and steady progress that comes only if you stick to the regular, daily activities of the walking itself."
When you put one foot in front of the other and begin walking, you will always go somewhere. You are refusing to stand still or to move backwards. But like my transition from running to walking, walking can seem monotonous. It can be much more difficult to commit ourselves to the daily routines of following Christ than to the more glamorous mountaintop experiences that leave us feeling alive and elated. It can feel like we aren't making any progress or growing in our faith at all.
It is in the daily discipline of committing ourselves to walking with God that we will find that the promises of God will come true in the midst of any life circumstance.
Click To Tweet
But it is in the daily discipline of committing ourselves to walking with God that we will find that the promises of God will come true in the midst of any life circumstance.
Start Now
It can be difficult to start to implement consistency in our walk with Christ when we've fallen into a pit of doubts, uncertainties, confusion, suffering or trials. It's usually in those times that most every kind of good habit falls to the wayside as we succumb to apathy. But it is in those times that we are most susceptible to the attacks of the enemy and most need the consistency of the spiritual disciplines.
No matter what you are currently experiencing, start implementing the spiritual disciplines into your life today. Don't wait for a sudden feeling of need or something bad to happen to bring you to the feet of Jesus. Just as yoga is a slow and steady way to gain flexibility and strength or running more every day will increase endurance; daily disciplines grow us slowly and steadily toward Jesus.
If you are already implementing daily disciplines into your life, then you are more likely to remain consistent when trials come because you have already been walking with Jesus daily.
It is through daily study in the Word rather than relying on one hour teaching on Sunday that will help you know truth deeply. It is in the daily practice of worship that you will learn to worship through all occasions. It is through consistent time spent in honest prayer that prayer will become a natural reflex. It is through time spent with Christian community that the unity experienced will become tangible love for you in times of suffering.
Fight for these disciplines now. Lay out your excuses and shove them aside. Do you truly want Jesus and nothing else?
Then no excuse can be left on the table.
---