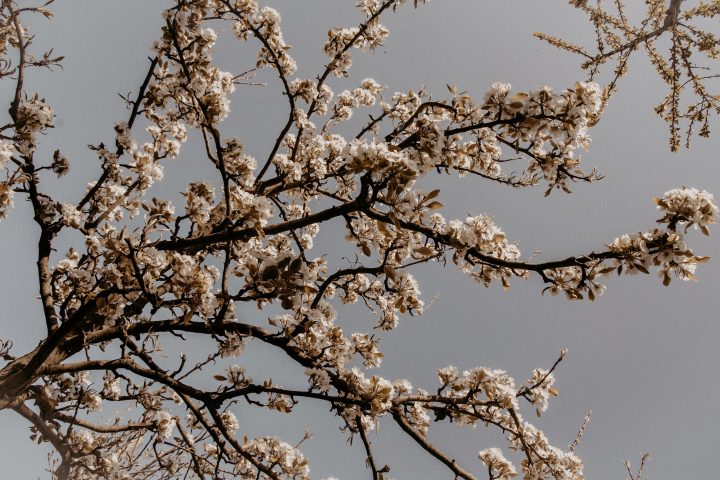 Learning about the practice of new spiritual disciplines can be intimidating and overwhelming. It can feel like a New Year's resolution where the excitement of a new goal is what carries us into a few weeks of strict implementation, only to be squashed by exhaustion, discouragement, and unforeseen circumstances.
But it is possible to take small steps toward practicing spiritual disciplines in your life right now.
If you missed the last post called "How Spiritual Disciplines Can Carry You Through Times of Pain and Suffering," it talks about how important it is to live our lives following Jesus at a walk, not a run.
So how do we start walking with Jesus rather than relying on our 100 meter dashes that tend to be our spiritual life? How do we practically implement these spiritual disciplines so that we don't give up the minute it gets difficult?
It Starts With Abiding
If we want to know how to implement the spiritual disciplines, we can look no further than the very words of Jesus to his own beloved disciples:
"Abide in me, and I in you. As the branch cannot bear fruit by itself, unless it abides in the vine, neither can you, unless you abide in me. I am the vine; you are the branches. Whoever abides in me and I in him, he it is that bears much fruit, for apart from me you can do nothing. If anyone does not abide in me he is thrown away like a branch and withers; and the branches are gathered, thrown into the fire, and burned. If you abide in me, and my words abide in you, ask whatever you wish, and it will be done for you. By this my Father is glorified, that you bear much fruit and so prove to be my disciples. As the Father has loved me, so have I loved you. Abide in my love. If you keep my commandments, you will abide in my love, just as I have kept my Father's commandments and abide in his love." (John 15:4-10)
We can rely on Jesus's words in order to give us a framework for implementing the spiritual disciplines:
Abide in Jesus
Bear fruit
Prove yourselves to be Jesus's disciples
How Do We Abide?
"Just abide in Jesus" is great advice until we have no idea what it means. How do we actually abide in Jesus? It can become one of those cliché sayings we throw around as Christians, but it provides no practical steps if we keep it an abstract idea.
We can find the answer right here in Jesus's final discourse with his disciples: "If you keep my commandments, you will abide in my love, just as I have kept my Father's commandments and abide in his love." (John 15:10)
What are Jesus's commandments?
"Jesus answered, "The most important is, 'Hear, O Israel: The Lord our God, the Lord is one. And you shall love the Lord your God with all your heart and with all your soul and with all your mind and with all your strength.' The second is this: 'You shall love your neighbor as yourself.' There is no other commandment greater than these." (Mark 12:29-31)
I'm hesitant to talk about how we can abide by following the commandments of Jesus. Many of us already struggle with making our relationship with Jesus centered on all of the things we do for him rather than what Jesus has done on our behalf. The reality of this kind of abiding is really about this tension of resting in Jesus's finished work and living as a result of it.
The Greek word for abide that is used all throughout this passage is meno and it has a few definitions that can point us to what this means for our lives. In reference to place, meno means "not to depart," "to continue to be present," "to be held, kept, continually" and in reference to a state or condition, it means "to remain as one, not to become another or different."
The action of any kind of spiritual discipline first starts with loving Jesus with all your heart, soul, mind and strength—not departing from his truth, continuing to be present with him, letting him hold you and keep you continually.
Click To Tweet
But as these commandments are so clearly linked as Jesus cannot say, "love God" without saying, "love your neighbor," we see that we cannot rest in Jesus without taking action.
Thus, the spiritual disciplines help us abide and abiding helps us with the spiritual disciplines. Loving God plunges us into the spiritual disciplines and the spiritual disciplines plunge us into a deeper love for God.
We cannot have one without the other.
So we abide by reminding ourselves of the truth of the Gospel—that it is not about our work for Christ, but the work he accomplished for us on the cross. We abide by listening to the words of Jesus. We abide by reading, listening, talking about, reveling in, and wrestling with His truth. We abide by reading the Bible. We abide by praying continually. We abide when we sit in silence with Jesus. We abide when we worship Jesus with all that we do. We abide when we take a Sabbath. We abide when we have fellowship with one another. We abide when we love people sacrificially.
Making Space to Abide
None of this probably sounds that new to you, so why aren't people making space in their lives to do these things on a consistent basis? Why do we read all about the spiritual disciplines and silently make a list of everything we need to start doing in order to follow Jesus?
There is often a few reasons for this:
-We haven't seen the spiritual disciplines modeled for us by others around us
-We haven't been taught how to implement the spiritual disciplines into the different phases and seasons of our own lives
-We just don't make time
You can start to implement the spiritual disciplines by first learning from someone wiser, older, and more experienced than yourself. Who in your life can you ask for guidance in practicing the spiritual disciplines? Whose faith do you respect enough to follow? Find someone in your life that you can learn from and follow. Someone who you can be honest with about your faith and who can help you grow and keep you accountable. You may be surprised by how joyful people will be if you ask them to invest deeper into your spiritual formation. Hopefully, that person can walk with you through different life seasons as you learn how to keep consistent in the spiritual disciplines and walk in the grace of Christ when you constantly fall short. This person can also look at your schedule and help you find the time you can give to focus on these disciplines.
If there is no one older in your life that you can learn from or lean on for support, try asking a friend who is ready to take steps of their own in the spiritual disciplines. We can rely on our friends for encouragement, honesty, accountability, and companionship. After all, our relationships with Jesus were never meant to be an independent pursuit. Who can you ask to join you on this journey?
More than anything, we just need to make time for the disciplines. We are great at making excuses and wasting time. Write out your schedule and take a look at how you are spending your time. Cut out anything in your life that is hindering you from drawing nearer to Jesus. Remove distractions that are not healthy. This may mean that you need to say "no" to good things so that you can say "yes" to something even better. These spiritual disciplines won't just happen, we need to plan them into our days so that they become routine habits that aren't easy to depart from when life changes.
And lastly, start small. Don't look at your schedule and add in a bunch of different spiritual disciplines that you have never tried. It won't work. Remember that our relationship with Jesus is a steady and consistent walk, not a run.
We talk often about spiritual disciplines on the Reb, such as Bible reading, prayer, fellowship, solitude, and worship. There are plenty more, but all you need to do is pick one that you aren't currently implementing into your life. Don't worry, we aren't necessarily supposed to learn how to implement every spiritual discipline into every single day. For example, maybe you start practicing solitude once a week for a planned period of time.
The point is that you would intentionally choose a spiritual discipline, pick a practical place for it to go in your schedule, and start doing it. It is a walk. It may not be glamorous and you may not experience fruit right away, but you are promised fruit eventually if you abide in Jesus.
Bearing Fruit
The beauty about abiding in Jesus is that, in his incredible grace, he actually allows us to bear fruit. This is incredible grace because it is so undeserved! The world teaches us that we have earned the fruit of our labor, but the Gospel tells us that Jesus has earned the fruit and freely gives it to us to enjoy. Click To Tweet
As John 15 shows us, when we abide in Jesus through the spiritual disciplines, we bear fruit and prove to be Jesus's disciples. This means that people will start to see Jesus in us! People will see and experience the fruit of the Spirit in you as you continue abiding in Jesus. It will be obvious that you are a follower of Christ because you will look more and more like him every day.
And because of this growth, you can then start to invest in others so that they may experience the joy of abiding in Christ.
The growth will be slow and steady, but it will be beautiful and rich. How will you commit to abiding today?
---