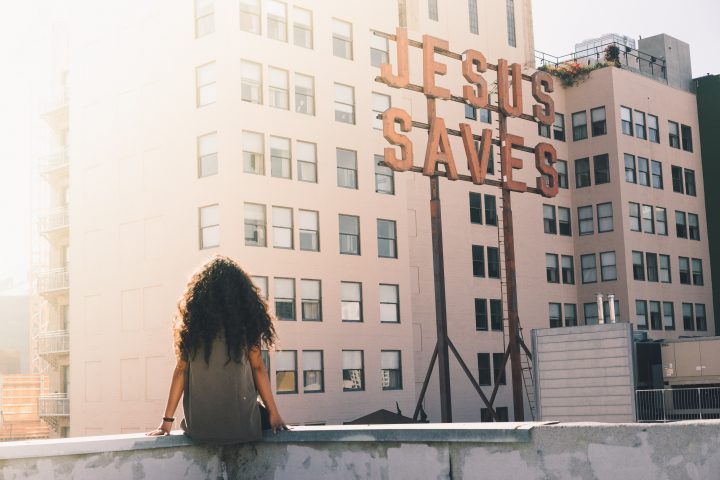 Most Christians would say they believe the gospel.
But not all Christians live like they believe the gospel.
The gospel—the good news—isn't like any other news in the world. The gospel hits deep into the core of a person and flows through every part of life. It shows us the true condition of ourselves—sinners who deserve God's judgment—and provides the only way of salvation.
Most of us who are Christians will nod and skim past these words. But here's the real question: Do we actually believe it? If we do, it will radically overhaul our lives and revolutionize how we engage the world. If we believe the gospel, it will become impossible for us to live like the rest of society—because our lives will be built on a drastically different foundation.
But too often Christians embrace a watered-down message. We're content to believe Christ's death means we can have eternal life—but it doesn't cross our minds that it should affect how we live here and now. We're thrilled Jesus loves us enough to save us, but the thought of Him also wanting to change us is uncomfortable.
Yet we can't have it both ways.
The truth of the gospel means that Christ's words do have authority to tell us how to live. That authority changes everything. Believing the full, undiluted message of the gospel is the first step to living counterculturally.
Shallow convictions lead to shallow living and shallow Christianity, but solid principles and convictions help us obey Christ's command, "Follow Me."
Click To Tweet
If our view of Christ's teaching is compromised, we'll crumble under the pressure to conform instead of standing strong. Shallow convictions lead to shallow living and shallow Christianity, but solid principles and convictions help us obey Christ's command, "Follow Me."
What does that look like?
1. The Gospel Changes Our Life Purpose
Christ's words are action filled. "Go into all the world." (Mark 16:15) "Take up your cross and follow Me." (see Mark 8:34)
The call to follow Christ is a call not simply to believe a set of facts but to live a drastically transformed life. When we accept Christ's gift of salvation, our life purpose alters, and that changes how we view and live in the culture. The world defines life purpose mostly in terms of "getting" or "achieving."
The gospel changes our life purpose by giving us meaning beyond the transient things of this world. We live for Jesus, not ourselves.
Click To Tweet
While most might view success through the lens of a job, degree, and good retirement account, Jesus tells us "treasures in heaven" (Matt. 6:20; see vv. 19–21) are worth far more. While popular opinion declares happiness is an emotion to be sought by whatever means in whatever way (through relationships, sex, possessions, position, pleasure, entertainment, etc.), Jesus shows us that building His kingdom is the path to true fulfillment. The gospel changes our life purpose by giving us meaning beyond the transient things of this world. We live for Jesus, not ourselves.
2. The Gospel Reorders Our Priorities
"No one can serve two masters" (Matt. 6:24). Enter again the radical words of Christ, leading us to a crossroads. Throughout the gospels, the kingdom of God is portrayed as a prize above all else. To those who love possessions, Jesus says, "Sell it all" (see Mark 10:21). To those who crave comfort, He hands a cross (see Mark 8:34–37). To those who long for familiarity, He says, "Don't look back" (see Luke 9:62). We are to seek first the kingdom of God (Matt. 6:33).
Our daily lives reveal our priorities. Christ? Comfort? Wealth? Security? Success? We can't serve them all. The heartbeat of the gospel is that Christ died so "that those who live should live no longer for themselves, but for Him who died for them and rose again" (2 Cor. 5:15). The gospel reorders our priorities, placing Christ above all.
3. The Gospel Realigns Our Authorities
Whether we realize it or not, through the saturation of social media, we've given our favorite YouTubers, Instagram influencers, and TikTok stars authoritative voices in our lives. We can all admit to being swayed by the loudest and most prominent voices around us, simply through the permeation of their influence. The gospel realigns these authorities, distinguishing between voices worthy of our respect and those who shouldn't have influence. We filter all authority through Christ—our supreme authority. We don't turn to the voices of the world for guidance on how to live, but rather to the words of Scripture.
4. The Gospel Infuses Our Hearts with Hope
Because of Christ's jaw-dropping redemptive work in our lives, we can have hope in the midst of chaos and uncertainty. "Do not let your heart be troubled," Jesus said in John 14:1. In a world gone crazy, we have confidence in His words: "I have overcome the world" (John 16:33). And not only has He overcome this broken place we call earth, He has also secured an eternally perfect place in heaven for those who trust in Him. We have hope that this world is not all there is. One day, every sorrow will be turned to joy (John 16:22), every tear wiped from our eyes, and every broken thing made new (Rev. 21:4–5). No matter what happens in the world, this promise is secure.
When we understand this, it radically shifts how we live here and now. Fear and anxiety don't have to rule our lives, but rather we can live with confidence and hope with our eyes fixed on Jesus, our hearts set on the goal of drawing others to know the hope we have in Him (Heb. 12:1).
A World Turned Upside Down
What would happen if we lived a gospel-defined life? How would the world change? How would we change?
Which path will we choose? Will we sit on the sidelines or will we rise up? Will we let the voice of truth die out on our watch or will we be the ones to open our mouths and proclaim it?
This is our time, and it's not time to retreat.
Yes, it will be hard. We won't be popular. We won't be politically correct or culturally accepted. But God is calling us to this work and searching out those who will rise up and live out His truth. He's calling us to be a church who neither succumbs nor retreats, but who stands firm upon His truth and shines a light in the darkness of our world.
---
This is a modified excerpt from my book Stand Up, Stand Strong: A Call to Bold Faith in a Confused Culture. Reprinted with permission of Baker Books. To read more, grab your copy of Stand Up, Stand Strong today.
---