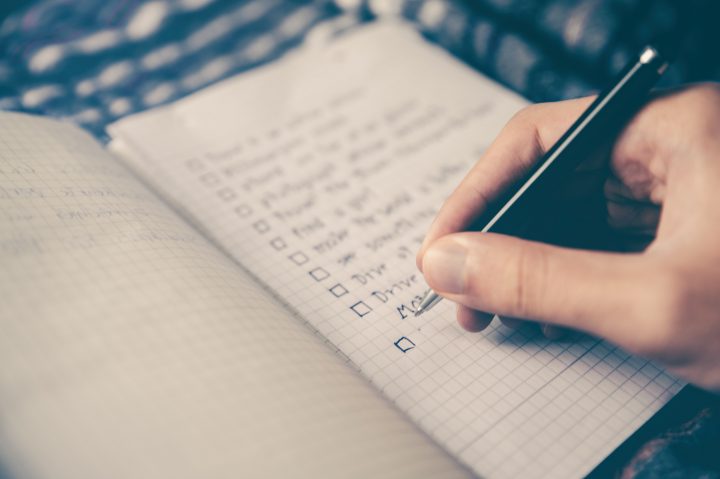 Nearly every morning, I roll out of bed with a phone in hand, click on my Notes app, and scroll through my list of to-dos for the day. After breakfast, I hastily move onto Bible study. As I flip through the pages of the current biblical book I'm studying (1 Peter), I glance at the time every few minutes. With each glance, I flip the page and scan the text more urgently than before.
I soon move on to writing messages of encouragement to my family and friends, then I begin to get ready for the day. It's usually around this time that my to-do list (and my hopes with it) starts to crumble. For God often has a different timetable than I do.
Sometimes my parents need to drive into the nearby town for errands, and I must go with them. Sometimes my brother needs help babysitting my mischievous nephew and sweet (yet feisty) niece. Sometimes my sisters ask for help spiffing up the house and cleaning our often-messy bedroom. No matter what it is, something always happens, and at the end of the day, there is always a box left unchecked on my list.
Crawling into bed late at night, I often wonder if I wasted the day, if I will ever fulfill my goals. After all, if I can't find time to write just a paragraph during the average day, how will I ever become the author I aspire to be? It seems there is never enough time, but there is always a task to add to my lengthening to-do list. What to do?
The Book of Haggai
In light of my struggles with seemingly fruitless toil and unfulfilled tasks, it is not a surprise that I connect with (and am convicted by) the book of Haggai so much. This account was written in approximately 520 BC, but it doesn't fail to speak to our ambitious and frenzied generation in the 21st century. This book answers the questions:
· Where should our priorities lie in everyday life?
· How should our to-do lists reflect that fact?
· How do those priorities reveal the position of our hearts?
The Jewish people had been exiled to Babylon for 70 years, but King Cyrus of Persia, under God's sovereign rule, allowed the people to return to Jerusalem to help rebuild God's temple in 538 BC. God was faithful to His people, and He desired for them to rebuild the temple—He wanted to dwell with them, displaying His covenant love and the reconciled relationship between Him and His people. However, it proved to be difficult, as at the time of the events in Haggai, the people had been living in Jerusalem for 18 years, but the Temple still lay in ruins.
Laboring in Vain
"Thus says the Lord of hosts: These people say the time has not yet come to rebuild the house of the Lord" (Haggai 1:2). The Jewish people had become discouraged when they started working on the Temple so many years before, with the resistance of hostile enemies (Ezra 4:1-5), hard work, and the temptation to replace God's priorities with their own. They began to focus on their own homes, their own crops, their own food…
Their toil proved to be fruitless and in vain. "Now, therefore, thus says the Lord of hosts: Consider your ways. You have sown much and harvested little. You eat, but you never have enough; you drink, but you never have your fill. You clothe yourselves, but no one is warm. And he who earns wages does so to put them into a bag with holes" (Haggai 1:5-6).
"You looked for much, and behold, it came to little. And when you brought it home, I blew it away. Why? declares the Lord of hosts. Because of my house that lies in ruins, while each of you busies himself with his own house" (Haggai 1:9).
In reflection of this account, theologian and scholar Matthew Poole said, "It seems to intimate some of them had more than one house, a city and a country house, and whilst God's house lay waste; they thus lavish out their wealth on private worldly conveniences, but grudge their charge against God's house…. Do you owe so much to yourselves, and so little to your God?"
True Fulfillment
The people of God had set aside God's priorities for their own—how often do we do the same? God's priority was to reconnect with His people after the exile caused by their sin, but they followed wealth, prosperity, and security instead. In our lives, we also have the choice to either chase after material treasures and earthly stability, or to rest in God's plans and promises.
However, God doesn't leave us to wallow in our paneled houses and to-do lists. Instead, He ensures that they remain unfruitful paths of work, in order to call us back to the truly fruitful portion He has for us. Just as the Jewish people's crops, food, drink, and clothes didn't satisfy them, my to-do list was never built to satisfy me—only following after God's heart and abiding in Him will satisfy. Sometimes, God desires for me to help my family and babysit rather than listen to a podcast, and while it may seem mundane, His plan will never fail us!
We need to be mission-minded kingdom builders rather than people who wearily build up ultimately useless, earthly treasures that never fulfill or last. Jesus won't tell us 'Well done, good and faithful servant!' for checking off all our to-dos—He will greet us in this way after a life of living for God and His priorities instead of our own. In the book of Haggai, God promised the people that as they obeyed Him, His Spirit and promises would dwell among them. We can rest in that as they did as we strive to obey Christ, strengthened by, and rooted in His power alone.
If you are tempted to crumble under the pressure of getting a lot done in little time, whether it be homework, reading, sports, spending time with friends, or any other pursuit, look to the Lord and rest in the labor He has perfectly portioned for you. Your worth is defined by Christ and His love for you—the undefiled, imperishable inheritance He has for you has been given to you due entirely to His work on the cross alone (1 Peter 1:3-4). Pursue Him—not a perfectly checked off to-do list or earthly treasure (Matthew 6:19-21). Then you can truly do hard things, and you'll be doing it with a heart set on Him.
---