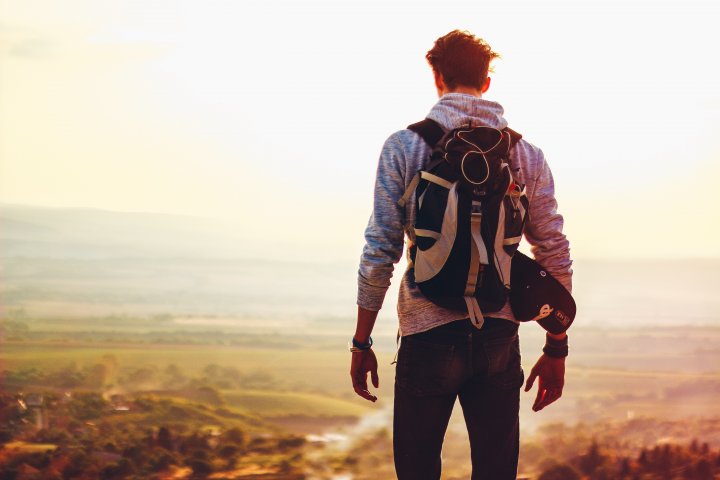 My mother was adamant.
"You've started to wrap your whole identity up in, 'I'm sick. I can't do that.' That's not healthy!"
Her words shocked me: because they were true.
I was sick. There were many things I couldn't do. But it had become my identity. It's not as if I wasn't actually ill. This week I had spent more time in bed than out, unable to convince my exhausted body to simply shower. It had been this way for years, and somewhere along the way, I had become, "the sick girl."
Do Our Struggles Define Us?
Young people often identify with their struggles. "I'm depressed." "My parents are divorced." "I'm a failure at school/work/life." And in their words you can hear, "This struggle is me," or "I'll never overcome it."
Sometimes it materializes as a constant discussion of their struggles, or asking for advice but never implementing the counsel. Or it can surface in our mindset when we won't ask for advice, because we know we can never get over this sin, that memory, those hurtful words. It can creep into our work, school, relationships, and spiritual walk.
If your struggles have infiltrated your understanding of who you are, then it's time to step back and realize that your struggles are not you.
Christ Defines You
Paul says, "So now it is no longer I who do it, but sin that dwells within me." (Romans 7:17)
When Jesus saves us, when we trust in His righteousness and restitution on the cross, we have a new nature, one that is not defined by our struggles, sins, or scars, but by Christ alone. If that is you, if you have sincerely repented of your sins and trusted in Christ, then your struggles do not define you—whether it's a battle with temptation, a scar over your soul, or a struggle like mine.
Sin Can't Define Us
It's so easy to submit to temptation, isn't it? Its goal is to trap us into believing we can't overcome it. On our own, of course we can't. We need God's help. But He has granted to us all things that pertain to godliness.
Friends, it's time to stop letting sin define us. Whatever it is, however long you've been enslaved, know this: you are redeemed! Go to Him, confess, and pray for the Holy Spirit's power to withstand your flesh.
It won't happen overnight, but as you continually pray for deliverance, in the moment of temptation or after the failure, He can free you. Romans 8:2 says, "For the law of the Spirit of life has set you free in Christ Jesus from the law of sin and death."
Scars Can't Define Us
Maybe it's not a sin battle, but a painful memory enslaving you today.
Did someone tell you you're worthless or broken beyond repair? Did a lie ruin your reputation? Do you remember this mistake or that silly failure and let your heart soak in the scar?
I want you to know that it can be overcome. It will take steady trust, constant surrender, wise counsel, and continual prayer. Rest in God's plan for your life, His right to justice, His enduring love, and His redemption of your sins.
Your scars don't have to define you.
Struggles Can't Define Us
I used to think of myself as "the sick girl."
"I'm the girl who can't lift boxes…who can't go to church…who still can't drive."
But I'm going to stop defining myself by my struggles.
I'm more than my illness. I am a child of God. I'm dearly beloved by the King. I'm called to battle my sinful flesh and bring glory to God in my life.
Everyone has battles, but they don't have to be our identity; behind every warrior is a person.
You are more than your struggles.
Whatever The Struggle…
What is your struggle? Bad grades? Anxiety? Loneliness? A ruined reputation? Parent trouble?
Friend, we can overcome our struggles—acknowledge them, yes, but remember that in the end, we are only defined by our Heavenly status.
Our sins are not us. Our scars don't have to overwhelm us. Our struggles don't have to define us.
Our sins are not us. Our scars don't have to overwhelm us. Our struggles don't have to define us. You are not your struggles. And neither am I.
Click To Tweet
What does define us?
A Christian is a follower of Christ, one who trusts in Jesus Christ alone for righteousness and the forgiveness of sins. Their names are written in the Book of Life. They are beloved by God, and His Spirit dwells within them, giving them comfort and the power to defeat sin.
This is who you are.
Stop letting something other than Christ dictate your identity. You are defined by redemption. You are a member of a chosen people and a holy priesthood. You are invited to sit in God's throne room and ask for the grace God willingly gives.
You are not your struggles.
And neither am I.
Editor's Note: this article was originally published on August 2nd, 2018.
---