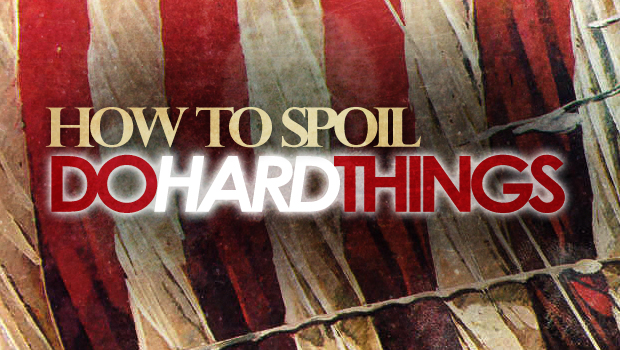 ---
At one of our Do Hard Things conferences in Dallas I made the following challenge to the parents in attendance. Alex & Brett thought is was good enough that they decided to share it with everyone here on the blog as well. Read it together as a family if you can and let us know what you think. It's an encouragement from one parent to another.
Parents, the first thing I want to tell you this evening is what not to do — and that is to hijack The Rebelution or the phrase "Do Hard Things" and use it as a way to nag, or ridicule your young adult as they are living and working with you. I share this because I know how easily this can be done.

As a pastor, I often have to deal in marriage counseling with a couple where the wife or the husband will say things like: "Yeah, love and honor till death do us part. Oh yeah, tell me about it!"

And what are they doing? They're taking their sacred wedding vows and using them as a way to slap their spouse in the face. That doesn't do a very good job of enhancing the marriage.

In the same way, as parents you are going to be severely tempted, when you walk into your son or daughters bedroom and you see the ordinary chaos that ensues in that place, to say "Oh yeah, do hard things." And what you've just done is you have, in a way, taken the wind out of the sails of that phrase. You will spoil the wonderful impact of those three words.

So I encourage you to protect it. Use it in a way that does not use it in vain, or in a way that demeans it or makes your kids despise it. With that understanding, pray for your young people. Ask God to bless them. Don't just pray about them; pray for them. Ask God to work in their hearts and in their minds to will and to do what is pleasing to Him.

And if you realize that you have already been using this phrase in a negative way, I want you to "do hard things" yourself and apologize to your children. Let them know that Do Hard Things is more than just cleaning their room or taking out the trash. It is a mindset that prepares them to expect great things from God as they attempt to do great things for God.

Tell your children that you are here to support and advise and encourage them as they set awesome goals and strive to attain them. Then, sit down together and identify some "hard things" that they may want to do, things that will stretch them in their character and their skills, and cause them to grow stronger and more effective, things that will turn our culture's expectations of teenagers upside down, for the glory of God and the good of others.

Let them know that you're the manager/agent and they're the artist, you're the coach and they're the athlete. You help provide the contacts, the finances, and the initial know-how to get their dreams up and off the ground—they provide the passion and the energy. If they fail at first, let them know that you'll be right there to pick them up, dust them off, and get them going again. You are the launch-crew. They are the rockets. This is the opportunity and the responsibility that comes with being the parent of a rebelutionary. Make every shot count.
So, what do you think? How has the phrase "Do Hard Things" been used or abused in your home? Has it become merely another reason to bring down the laundry every day? Though "Do Hard Things" certainly includes everyday small things, is it wise to focus it on that? What kind of big hard things should teens be doing? What do you and your parents intend to do as a team?
---
Share Your Thoughts in the Comment Section!

There are currently __ Comment(s)
---