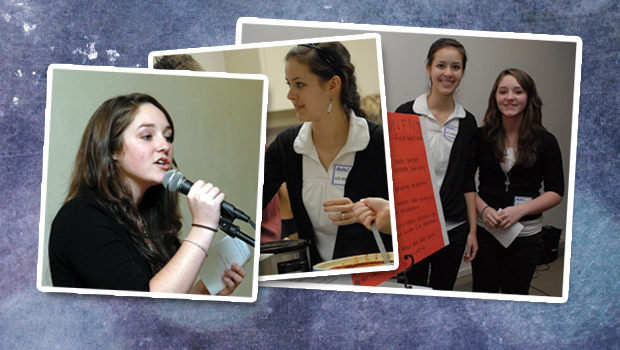 Whether it is making the cover of ESPN Magazine or garnering attention in local papers, rebelutionaries are helping make teens good news again. Joining those ranks are Kelsey Jurewicz and Liz Matthews from Pennsylvania — who raised $2,500 to provide clean water to third world countries. In the process they demonstrated care for others, effective collaboration, and perseverance in the face of discouragement. That breaks quite a few stereotypes about teens. Take that, low expectations!
Two teens toughing it out for a cause
By Brendan Purves • Wednesday, 11.18.09

Dinner for two. Two teens that want to do hard things.

Kelsey Jurewicz, 17, and Liz Matthews, 17, both of Harleysville, broke away from the typical teenage stereotypes and served up a fundraising spaghetti dinner at Zion Mennonite Church to raise money to help bring clean water to Third World villages.

"To know that people don't have clean water is just horrifying," Liz said about the two girl's motivation to give back.

The two Souderton seniors held the Saturday, Nov. 14 dinner to raise money for World Vision's Clean Water Fund, which uses the funding to provide 18-foot wells in villages that do not have clean water and can not afford to dig their own wells.

Liz and Kelsey held the dinner as part of their senior projects for Souderton High School, but said that they were originally inspired to run a charity event by the book "Do Hard Things: A Teenage Rebellion Against Low Expectation."
What do you think of Kelsey and Liz's project? What is stopping you from doing something similar? Your cause might be clean water, or abortion, or slavery, or AIDS, or missions, or poverty, or Bible translation, or anything. Have you been involved in a fundraising project before? If so, share your story in the comment section.
Also, don't miss an exciting opportunity this holiday season to help Josh Guthrie raise $24,000 to dig three wells in Africa. Other rebelutionaries and their families are giving away their Christmas money, organizing fundraisers, and spreading the word at church and at school. Check out the story here and consider getting involved.
Photos courtesy of Montgomery Media • MontgomeryNews.com