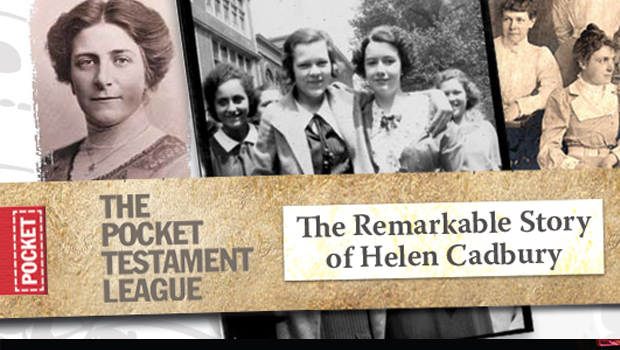 We weren't familiar with the Pocket Testament League until a few weeks ago when someone handed us a pocket-sized Gospel of John. In the back it included the challenging question: "What's in your pocket? Keys? Wallet? Small change? Why not use your pocket to change someone's life by filling it with the power of God's Word?"
We discovered that the Pocket Testament League has been around for 116 years and has distributed over 100,000,000 Gospels around the world! All of this has been accomplished through the work of enthusiastic volunteer members. Moreover, all of this was started by a teenage girl from England named Helen Cadbury!
From their website: The ministry began in 1893 as the vision of a teenage girl named Helen Cadbury, daughter of the president of Cadbury Chocolates. She was so excited about sharing her faith that she organized a group of girls who sewed pockets onto their dresses to carry the small New Testaments her father had provided. The girls called their group "The Pocket Testament League." Using small membership cards, they pledged to read a portion of the Bible every day, pray, and to share their faith as God provided opportunity.
God uses young people. Perhaps more accurately, God uses anyone who is willing to follow hard after Him — no matter their age. Helen (pictured above, far left) gave her life to Christ at the age of 12 and never looked back. She understood that the Great Commission applies just as much to 12-year-old Christians as it does to 45-year-old Christians — and millions have heard the Gospel because of it.
Our Savior Jesus Christ said, in Luke 10:2, "The harvest is plentiful, but the laborers are few. Therefore pray earnestly to the Lord of the harvest to send out laborers into his harvest." Let us pray that many of those laborers will be young people — and then let us be some of the first to go forth.
Some questions for discussion:

Were you already familiar with the Pocket Testament League and/or Helen Cadbury? Have you eaten Cadbury Chocolate?
At your stage in life, how should you be involved in the Great Commission? Have you excused yourself because of your age?
When was the last time you shared the Gospel with someone?