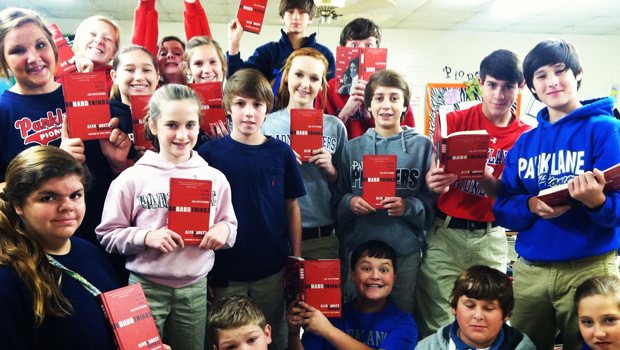 Where's the movement headed? We've heard this question from several of you — on Facebook, on Twitter, and here on the blog. It's a good question — and it's going to take more than one blog post to answer. It's more than just a question about Alex and Brett. It's a personal question. It reflects how life is changing. It reflects growing up.
What does it look like to be a rebelutionary at twenty-five? Or thirty? How do we transition these ideas to college? To pursuing marriage? To starting a family? To heading down a long career path? To all that comes next?< We love these questions because they all communicate the fact that doing hard things still matters; rebelling against low expectations still matters; we never graduate from loving God and following God no matter the cost. No one is asking if doing hard things is still necessary. They know it is. They just want to know what it looks like — at college, in the workplace, in a serious relationship, etc.
The question is not if, but how…
But before we get to the how question it's helpful to look at a few whys — and we received a pretty good one in our inbox this morning. The email was from a middle school teacher who has 100 of her students reading through Do Hard Things. And these kids aren't just reading the book — they are living it.
One class is looking to do a project for World Vision. Another is supporting St. Jude Children's Research Hospital. All of them are seeking to apply and stretch themselves at home and at school. Their teacher wrote us, "One young man has blown me away, coming from failing my class to an A within 3 weeks!"
One class has even started a blog to share their stories about doing hard things. Maybe you can recognize yourself at twelve or fourteen. Here's their latest entry:
---
Hi, I'm R. Today I did two hard things. Recently my dog has been tearing up my mom's plants. I decided to clean up the dirt and sweep off the porch. I also cleaned up my room. I did these two things without my mom telling me. These are just the first few steps of fighting "Low Expectations."

——————————————

Hi my name is Josh. I have also been doing hard things this week. Usually, my parents have to tell me to study and do my homework. However this week, I have been studying and doing my homework without having to be asked. I have found that I have more free time now. We encourage you to do hard things this week.
---
It turns out, the question about where the movement is headed is not just about what we do today — it's about what the Class of 2018 will be doing in five years, in ten years, following in our footsteps. This is part of what it means to grow up — recognizing that we don't just live for ourselves, we blaze a trial for others to follow.
In the next few weeks, we'll be getting into the nitty-gritty of your questions. But for today, with that paper deadline looming, with your Bible beckoning on the shelf, with temptation whispering in your ear — remember this… The Class of 2018 is watching how we finish… Let's finish strong.
---
Join the discussion by answering the following questions:
Have you been struggling with how to apply these ideas past the teen years? What areas have caused you the most confusion?
Do you have younger siblings or kids at church that look up to you? How often do you think about the example you're setting for them?
Did you look up to any older teenagers or young adults as an early teen? How did they finish? How did watching them affect you?