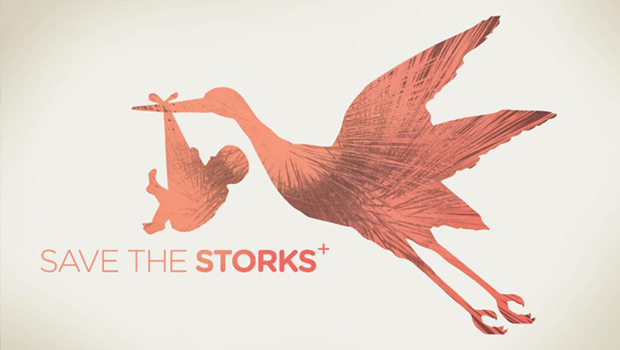 ---
My name is Marcie Little and I recently started working for a nonprofit called Save the Storks. Their mission is simple: To empower abortion-minded women to choose life, and to share with those same women the gospel of Christ.
Their mission is not unique; a lot of pro-life groups and organizations do the same thing. But their method is something quite innovative and revolutionary.
Acknowledging that we live in an image-driven culture today, and armed with the fact that three out of every five women will choose life after seeing an ultrasound image of their child, Save The Storks approaches the pro-life cause with a fresh perspective.
They partner with local pregnancy centers around the United States who place sidewalk counselors outside of abortion clinics. These counselors only have to ask one simple question: "Would you like a free sonogram?"
This inoffensive, no-strings-attached question puts women at ease, and most will accept the offer.
The women then board the "Stork Bus" — a Sprinter that has been specifically built for Save the Storks and features ultrasound equipment, comfortable chairs with high-end massagers built in, a bathroom, and a peaceful and calming environment.
Once inside the bus, women receive the ultrasound and at this point many lives are changed … and saved.
Save The Storks is a relatively new nonprofit. They just moved into their first office. They just hired their first employee (me). And the first Stork Bus in their fleet was just released last year. A lot of new things have happened in the past 12 months, and the visionaries behind the organization are looking to exciting new opportunities ahead. But they could really use your help.
One of the main obstacles to reaching more pregnancy centers is money. The cost to build the buses are expensive, and most pregnancy centers don't have the funds to purchase them, even when Save The Storks is able to help with the cost. And yet, their effectiveness has been proven time and time again.
Save The Storks is looking for innovative and creative young people to join them in this aspect of the fight against abortion. There is a whole page dedicated to fundraising ideas on the website (www.savethestorks.com), and there are cool ways to donate monthly to the organization.
Individuals who partner with Save The Storks financially can know that they are helping to save storks and their precious cargo all over the nation.
The online store also includes lots of cool merchandise that sparks conversations about life whenever the apparel is worn.
For individuals who cannot financially give, there are other ways to join the cause. We greatly value our prayer partners and are launching a prayer update email list this year. If you would like to be included on the list, let me (Marcie) know and I'll be glad to add you (marcie [at] savethestorks [dot] com).
And for all of you on social media: You can share the Save The Storks' profiles with all of your friends. You can find us on Facebook, Twitter, Pinterest, and Instagram! We post updates, compelling graphics, information about abortion, and other news and opportunities.
We would love your partnership with us in the fight against abortion. We believe fighting to protect the lives of the unborn is THE civil- and human-rights issue of our day. If you believe this, too, let us know.
+ Visit SaveTheStorks.com +
+ Suggest Other Resources to the Blog +