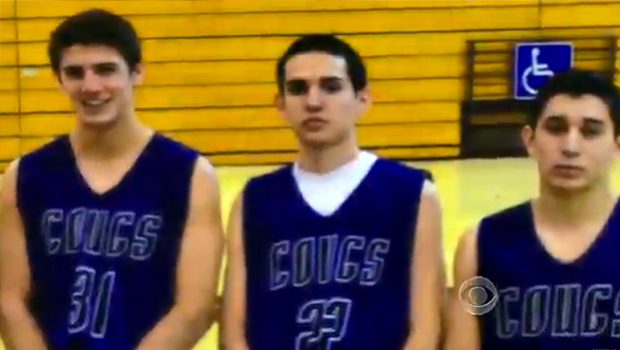 If the video isn't showing up, try reloading the page.
Mitchell Marcus is a basketball-loving high school student with a developmental disability and a team manager for the Coronado Thunderbirds varsity basketball team. For the last game of the season, his coach let Mitchell suit up with the others. Then, with little more than a minute remaining, Mitchell was put into the game.
With their friend finally given his moment on the court, Mitchell's teammates tried repeatedly to set him up to score, but with no success. With only seconds remaining and the ball in the hands of rival Franklin High, Mitchell's opportunity seemed to be slipping away. No one was expecting what happened next.
Inbounding the ball for Franklin High was senior Jonathan Montanez, who yelled Mitchell's name and tossed the ball right to him. It was a turnover — and an assist. Mitchell scored a basket at the buzzer and the crowd swarmed the court, hoisting him onto their shoulders and shouting his name.
"I was raised to treat others how you want to be treated," Jonathon told CBS. "I just though Mitchell deserved his chance, deserved his opportunity."
What would you have done?
+ Share Your Thoughts +
+ Like Us on Facebook + Follow Us on Twitter +