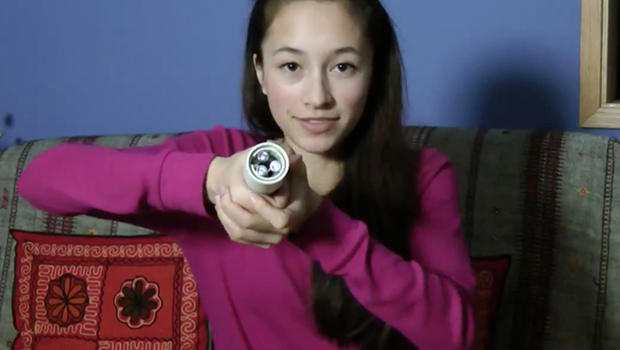 ---
(The Star) — Ann Makosinski was thrilled with 200 views for her YouTube video showing how she created a flashlight powered by the heat of her hand.
But after the teen was chosen as the sole representative from Canada at Google's upcoming international science fair, views shot up to over one million.
"It's a big shock for me. I did not expect my project to get this far," the 15-year-old Victoria, B.C., teen said in a telephone interview from her home Tuesday morning.
"I made a video of myself talking for two minutes about my project. Before, it was at 200 views and I was like, 'Yes! 200 views!' Now it has one million views, I can't believe it," she said.
"It's all over Reddit, all over the Internet . . . It's so nice to know people have seen my project and seen that this technology does exist, it can make such a difference in the world."
Ann, who just finished Grade 10, has been entering science fairs since Grade 6 and really enjoys researching and experimenting at an intense level.
"You learn so much about the topic you are studying — I learned so much from it. It's a really good experience for people, too. So often we don't do anything with our hands but text, so here's a chance to do something."
In Grade 7, she began looking at ways to harvest energy, and used Peltier tiles — which can create energy by heating one side and cooling the other — lit with a candle to power an MP3 player. She buys surplus tiles off eBay to keep her experimenting affordable.
"The bigger the temperature differential, the more energy produced," she explained.
For the flashlight — which she designed from scratch — the "tiles take the temperature difference between your hand and the ambient air, and they produce power" to light it.
Ann worked on the flashlight over many months, in between rehearsals and shows for the school play, The Secret Garden, in which she was cast as the headmistress.
---