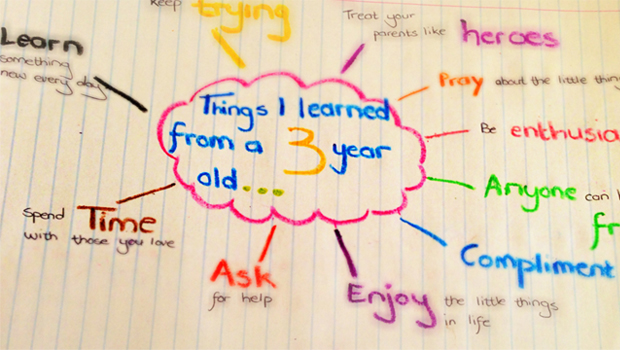 ---
I am one of the luckiest girls in the world. I am the oldest of four children. Jessica is twelve, Cael (whom we call "Boy") is three, and Cadence is thirteen-months-old.
There are almost fourteen years between me and Boy and so I have gotten to observe his growing up process, more so than with my sister Jess. As I watch Boy grow and develop he has taught me many important lessons.
Pray about the little things
Recently Boy has developed a bedtime routine. My mom reads a story to him, they sing and then they pray together before he sleeps. Every night Mom asks him what he would like to pray for.
He has a list that some would consider strange and most would consider cute. The list consists of family members and friends and each of his favourite toys.
I sit in my room and listen to him praying with a smile on my face. It's kind of funny that he wants to pray for his trucks and his teddies. However, I recently realised that I don't thank God often enough for the little things in my life. God gave me everything I have and it's good to take some time to thank Him for the "trucks and teddies" in my life.
Be enthusiastic
Every morning my brother says brightly "Morning! Sleep nice?"
The other day he gave my dad a high 5 for waking up "Good job Dad!" He claps for me and my sister after we practice a song on our instruments, he jumps up and down when we tell him we're going out and he never fails to get excited when we say we'll play with him.
He greets life with enthusiasm and he gets excited for things I wouldn't normally take a second glance at. The attitude makes us all smile and we have learned to appreciate so much more because of his daily cheerleading.
Compliment people
Often I will hear "I like that…" coming from across the house in Boy's bright tone. He tells Mom, Jess and I that we look pretty on a regular basis, tells us we've done a good job or simply says "Yay!!!" and claps his hands when we achieve something.
It makes everyone feel good about themselves and often we want to do even better next time because someone noticed what we did.
It doesn't take that much effort but it shows that you care and it really lifts the other person's spirits.
Ask for help
Children are so innocent and when they know that they can't do something, they ask for help.
I don't know why we lose this quality. Maybe it's because we don't want to look stupid because we can't do something.
However I've learned that it's nice to be asked for help because it means the other person believes in you. Not only that but when I ask for help the task is done faster and better giving both me and my helper satisfaction.
Keep trying
Even though Boy will ask for help when he needs it there are also times when he just tries again and again until he get whatever he is trying to do right.
He doesn't give up easily and eventually he is able to do what he wants to.
This showed me that there's a time to ask for help and a time to keep trying. The important part is that in the process I am learning how to do what needs to be done the best way possible.
Spend time with those you love
My brother always wants to sit or be with one of us and often invites us to join him in whatever he is doing at that moment.
Be it watching TV, playing a game, singing a song or reading he is always ready for company and isn't scared to ask for it.
Yesterday I was busy working and he came into my room and sat with me in silence sharing his popcorn just so we could spend time together.
I feel special when he wants to be with me, so wouldn't others if I made more of an effort to do the same?
Learn something new every day
Everything is interesting when you are three! He watches us closely and learns new words, new skills and develops new ideas with every passing day. He wants to know as much as he possibly can and I believe we can never get to a point where we need to stop learning new things.
Treat your parents like heroes
As far as boy is concerned, our parents can do anything! Eventually we do learn that our parents can't do everything but they are still heroes.
They raised us, they taught us many of the important things in life, they are there to support us and to lean back on when we stumble.
We don't often treat our parents like the heroes they are or show them our appreciation. Make an effort to do this more, they deserve it.
---