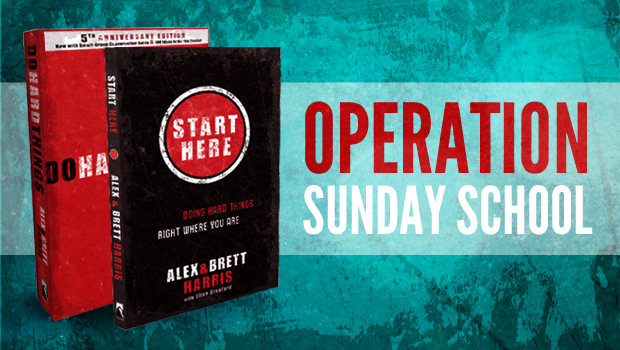 ---
Are you tired of Sunday School? You're not the only teen who feels that way. You might sit there thinking about what you need to do that week, or about what you want to talk about with your friends later.
But let me ask you a question, what would happen if we would talk to our teachers about a getting new Sunday School books? Something that's going to make us better and prepare for what life is going to throw at us.
So here's my idea: Why don't we study Do Hard Things and Start Here for Sunday School or youth group? Or maybe some apologetics curriculum like ABC: Sunday School by Ken Ham? Not only would we be able to stand for the truth, but we could be a stronger next generation.
I started reading Do Hard Things and I think reading it for Sunday School or youth group would make a great start to changing our generation. Not only would Sunday school be interesting again but it would give us something to look forward to each week.
What do you think? Would you join me in talking to your Sunday School teacher or youth pastor about studying Do Hard Things together? Who knows what could happen.
---
Note from Brett: We loved Matthew's project idea and want to help make it happen. However, we should clarify that we do not recommend replacing the study of God's Word with the study of our books. If you are in a church that expects you to wrestle with God's Word in Sunday School, then more power to you. Stay the course. You're on the right track.
At the same time, we also know that low expectations for teens are common in many churches. There are many Sunday Schools and youth groups where Do Hard Things would a step towards more serious study of God's Word. Those are the type of situations where we would recommend speaking with your youth pastor. We've found that many youth pastors are as frustrated with the low expectations as anyone, but don't always know how to change the mindset of their students. Do Hard Things could be a great resource them.
If that's your situation, here's a few tips for talking with your youth pastor or Sunday School teacher:
If they are not familiar with Do Hard Things let them know that it is one of the bestselling Youth Ministry titles of the last decade with nearly 500,000 copies sold and has been endorsed by men like Chuck Colson, John Piper, and Chuck Norris.
Let them know that TheRebelution.com offers case orders on a Pay-What-You-Can basis, meaning that your church can purchase books for whatever price they can afford. This will be way less expensive than any other book study. They can find out more about it on our Group Orders page.
Tell them that each book comes with a built-in study guide with discussion questions. And there's a free video series that comes with small group guides, message notes, and artwork — all available online through LifeChurch.tv. They can preview the videos here.
Finally, be sure to let them know how Do Hard Things has impacted your life personally.
---
Share Your Thoughts in the Comment Section!

There are currently __ Comment(s)
---