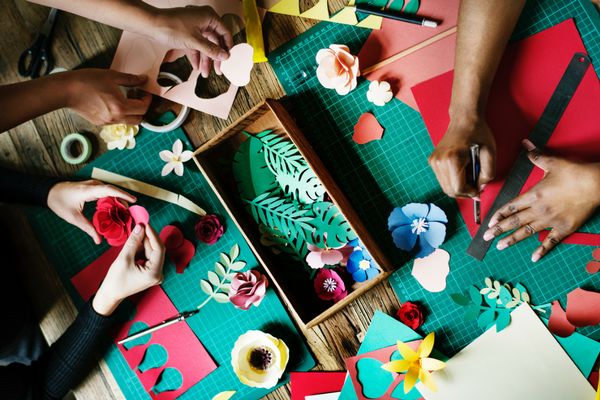 ---
UPDATE: THE VALENTINE CARD CHALLENGE goal for 2018 has officially been reached! We ended up with 233 cards total.

If you volunteered to make cards, please send them in by February 16th. Thank you, everyone! You're the best!
Three years ago, my heart ached for a Valentine's Day that was different.
I was eighteen, wondering if gifts of chocolate and a rose from my dad could finally come from a guy. The loneliness was overwhelming.
Jesus created a project of surprising beauty from my longing.  Months before, I had walked the concrete prison floors, surveyed the dilapidated walls, and gazed into the faces of African orphans. Some were much younger than myself, mere toddlers experiencing a brutal jolt to the innocence of  childhood; others were older teens on the threshold of adulthood. Yet, these orphans each needed one thing: hope of Jesus' love to comfort their hearts right in the valley of desolation and prison.
Those prison flashbacks flooded my heart during my loneliness in the Valentine's season of 2015. Jesus ignited determined passion inside to spread His love to across oceans to the orphans I knew by face.
Cards for imprisoned orphans
I organized a Valentine Card project so that young people could exchange their loneliness for something real—something lasting—by making 1,400 cards by Valentine's Day for the kids in Uganda. The resounding impact was incredible! It became an international effort. A youth group from Hong Kong participated as well as other countries overseas, Canada, and several states in the U.S. Cards kept flooding in until we had over 4,000. I was able to deliver the cards in person that summer and share the fact that hundreds of young people in America and around the globe cared about them. I told them through a translator that God had a hope and future for their lives!
In 2016, the challenge was repeated. I deeply regret letting it slip in 2017.
Now, in 2018, Valentine's Day lingers weeks away. Although much harder to face that I am in my twenties and single, Jesus' solution to satisfy that longing with this special project is the same! It is far better to spread His eternal love to orphans than to focus on the fleeting romantic stigma of this holiday.
Those simple acts of making cards with a proclamation of the love of Jesus for the souls of these orphans are still lingering and resounding with hope in those prison walls!
After I contacted the ministry Sixty Feet to organize this card challenge again recently, one of the staff told me that a social worker's child came up to her so that she could read one of the cards from my original challenge three years ago.
Three Simple Steps to Become Involved
Sign up for the number of cards you want to make. This year, Sixty Feet is asking for 200 cards total. I will post a comment once we have reached our goal!
What to include
Use a variety of colors, because the guys in the prison never go for the ones with pink or glitter.

John 3:16 written out

"Jesus Loves You" (in their language of Luganda: "Jesu Okwagala")

Sign your name.
Although the cards will be made around or on Valentine's Day, they will not actually be delivered in time for this holiday. A team will be going on mission trips with Sixty Feet to the take cards during the summer.
Pray over the card(s) & mail them to me at this address with "Valentine Card Challenge" written on your box or envelope:
Moriah Simonowich
P.O. Box 3227
Greenville, NC 27836
I will be sending ONE box of all the cards to Sixty Feet in order to keep it as easy as possible for them.
It will be so beautiful to see the reach of this project. It is a joy to know we can use our Valentine season to spread the hope and love of Jesus that crosses oceans and warms orphans hearts!
All it takes is ordinary people willing to do what God asks of them to make an extraordinary difference in the lives around them and across the globe.
---
Share Your Thoughts in the Comment Section!
---