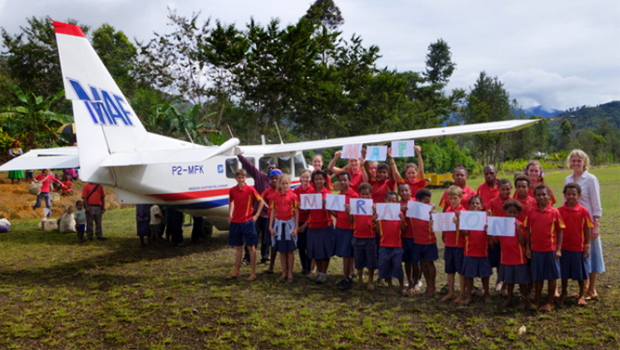 ---
The sloping 450 meter long grass airstrip clinging to the side of a mountain disappeared behind us along with the Mangao aid post. Our 20 minute flight back home took us over lush green rivers, valleys, dense rainforests and isolated villages; we skimmed across the tops of mountain ranges within what seemed like touching distance.
As we looked out the window and watched the plane's tiny shadow ringed with a rainbow on the dense bush below, we marveled at the ease of this journey from above, but were at the same time struck by how difficult it must be for the thousands of villagers living scattered in the bush below, who have no roads and no easy way out.
My family lives at Kompiam Hospital in Enga Province, Papua New Guinea. In July this year, we spent a week at Mangao, one of the hospital's 10 remote aid posts and health centers that serve as the only health facilities for a large portion of Enga Province, meeting the health needs of between 50,000 – 60,000 people.
It was an eye-opening experience to see just how remote this part of PNG is and how the people live in these areas. No roads. No phones. No power. No internet. No infrastructure or proper facilities such as schools and health care. Even the radio at the aid post was broken while we were there and we had no link with the outside world. Our brief experience over these few days served to highlight the incredible work done by Mission Aviation Fellowship (MAF).
For a pregnant mother with complications, or a man with serious back injuries after falling out of a tree, there is little chance of making the grueling 3-4 day walk from Mangao to the hospital here at Kompiam. MAF is the only option for these patients, as well as the only way in which the hospital is able to run and support our remote health services. It is only in conjunction with MAF that the Kompiam Hospital, and nearly 1500 other organizations around the world, are able to function effectively and bring essential services and hope to people living in these very remote locations.
But MAF needs the help of people around the world in order to be able to effectively function and do what they do. Here in PNG for example, MAF are struggling to get enough pilots, engineers and other ground staff to maintain their services. Funding is also an ongoing battle as MAF provides significant subsidies for flights supporting the local churches, as well as for educational development, health, Bibles, and especially medical evacuation flights.
So, as our experience has opened our eyes, we wanted to help. Our goal is mainly to raise awareness of the work that MAF does and some of the issues they are facing, and get people behind MAF by praying for their work. There are many other ways to support MAF as well. This may include prayer, financial help, or you may even want to become a pilot, mechanic, or support staff!
Our family has decided to dedicate the month of November to an MAF Prayer Marathon. Our airstrip here at Kompiam is about 800m long (half a mile) and we propose to get as many people as possible (including our small international school) to run 1 mile (up and back down the airstrip) 26 times in the month of November – a marathon.
What we are asking of you is also a small daily commitment for the rest of the month of November. It's simple: we run a marathon, you pray a marathon. We would like you to sponsor us through prayer for MAF on a daily basis as you follow our marathon progress.
It's not hard. If you can spare a few minutes to pray each day, please send a quick email through to [email protected] asking to receive weekly prayer points. You can also have a peek at the blog (mafmarathon.blogspot.com.au) for more information, facts, links, and ways to get involved in MAF's work! And please pass this on to any Christian friends who would be interested — the idea is to spread the word as far as possible!
---
Share Your Thoughts in the Comment Section!

There are currently 4 Comment(s)
---
Photo courtesy of Heather Conwell.
---