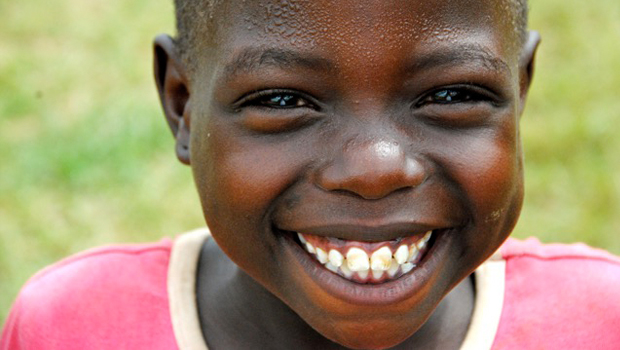 ---
The first thing that pops into most people's heads when they think of Valentine's Day is visions of red roses, chocolates, romantic dinners, couples holding hands. It's normally a time when everything everywhere whispers of romance.
To be honest, it's enough to make someone like me, who is not at a season of my life to enjoy Valentine's Day in this fashion, just a tad lonely.
But, God has not put "Mr. Right" in my path yet and instead of lamenting this fact or feeling sorry for myself, He has given me an idea. I believe it is one that reflects a true heart of love. Not what the world tells us love should be, but what God says about it.
"For God so loved the world, that He gave His only begotten Son, that whoever believes in Him should not perish, but have eternal life." — John 3:16
The extent to which God loves us is unfathomable. It is lasting. It does not fade away along with Valentine roses a couple weeks later. It can never be separated from a Christian in life or in death.
"He who did not spare His own Son, but delivered Him up for us all, how will He not also with Him freely give us all things?…

Who shall separate us from the love of Christ? Shall tribulation, or distress, or persecution, or famine, or nakedness, or peril, or sword?…

But in all these things we overwhelmingly conquer through Him who loved us. For I am convinced that neither death, nor life, nor angels, nor principalities, nor things present, nor things to come, nor powers, nor height, nor depth, nor any other created thing, shall be able to separate us from the love of God, which is in Christ Jesus our Lord." — Romans 8:32, 35, 37-39
All of this truth inspired me to start a Valentine Card Challenge. The purpose is to spread the love of God to the imprisioned children of Uganda that the ministry Sixty Feet serves. Their mission is, "Bringing Hope and Restoration to the Imprisioned Children of Africa in Jesus' Name."
People can make a card with John 3:16 written out along with "God loves you" and their signature. Since around 200 children are in each facility and 7 known facilities exist in Uganda, we are aiming for 1,400 cards by February 14th so every child can receive one.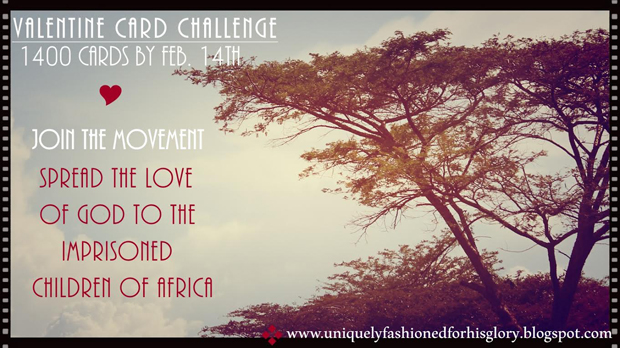 Why Uganda? Why Sixty Feet?
All I can say is that as a sixteen year old girl, I read the story of how this ministry formed to serve the vulnerable children of this country. God placed an intense irrefusable burden on my heart to help these orphans. I had to be their voice. Impressing a knowing deep within my core, the Lord clearly revealed that these children were His call on my life.
In October of 2013, I initiated a Cupcake Kids sale at my church as a way to raise support for the kids in Uganda. Graciously, the Lord gave me courage to share on several occasions about the passion I had for these orphans and how people could help them in their desperate plight by purchasing cupcakes.
With the help of countless people, whose efforts made the sale possible, hundreds of cupcakes were bought that raised enough funds for almost a month of medical care for the ones I loved so well.
Then, providing everything I needed in less than a month during early 2014, God had me on a plane destined for the Pearl of Africa so that I could go to those prisons and wrap the children in the arms of His love.
I think my heart skipped a beat when I saw Entebbe from the air. My first glimpse of Uganda. It was an inky black night with lights from the city glowing like so many fireflies. I fell in love.
Now, I find myself a year later being eighteen and homesick for this place. I remain in love with this country and the call God has put on my life to this day.
I miss it so much that I cry when I think of all the sweet young friends I made. I dream about orphans often. It is my deepest desire to go back.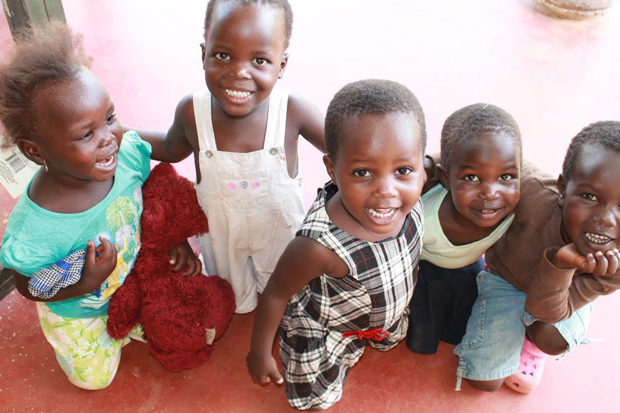 At the same time, there are things I can do right here, right now to fill these kids' lives with hope. The hope of Jesus, it gives life to the broken.
I took several brightly colored cards with me on my first trip to Africa. They were made by me, my brothers and sisters, as well as a group of kids from an Awana program at church.
Martin Luther once said, "If you want to change the world, pick up your pen."
It's surprising what one piece of paper can do to change the world for one person. I know how much a card can brighten up these kids' lives, flooding their faces with smiles!!
You can be a part of that! All it takes is ordinary people willing to do what God asks of them to make an extraordinary difference in the lives around them and across the globe.
Please join this movement. For more details, visit my blog, Uniquely Fashioned for His Glory.
---
Share Your Thoughts in the Comment Section!

There are currently 9 Comment(s)
---
Photo courtesy of Sixty Feet and Crista Moriah.
---