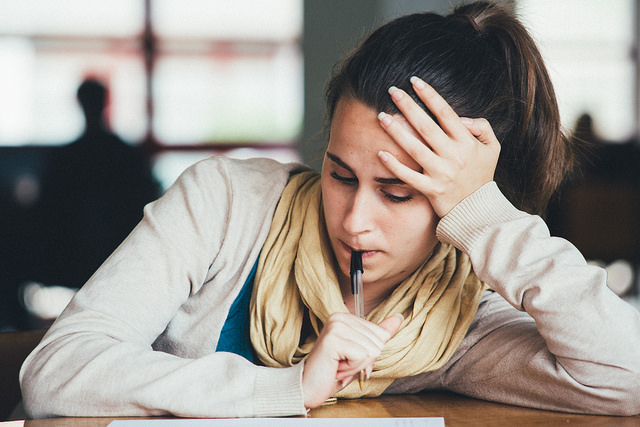 ---
Teachers everywhere are sharpening pencils, scarecrows are in display windows, and Wal-Mart has officially stocked the shelves with full-priced backpacks.
It's back-to-school time yet again.
Maybe you're starting college. Maybe you're homeschooled. Maybe it's your senior year or your freshman year or maybe you start junior high this year.
No matter what stage you're at or what context you're in, school is an inevitable reality in our lives. We can begrudge it or we can embrace it – that choice is up to us.
So for those of us who want to make the most of our education, here are thirteen ways to have the best school year ever:
1. Be grateful.
Recognize that education is a privilege, not a burden. Thus, you are blessed to be pursuing one. There are thousands of underprivileged teenagers all over the globe who don't have access to an education – but who would do anything to get it.
Look at school with a fresh perspective this year, with a heart grateful to God for the wondrous opportunity that you have.
2. Get (and stay) committed.
Decide if education is important enough for you to commit wholeheartedly to it – and then commit. If learning really is a privilege, don't waste it in bare minimum, just-good-enough effort. Choose every day to make the most of it.
3. Stop complaining.
About your classes, about your teacher, about your homework, about your gym, about your principal, about your cafeteria food. A complaining spirit says that you are dissatisfied with the circumstances God has put you in.
Do we realize that when we complain about our education that we are reflecting ingratitude to God for putting us in school?
4. Make friends.
Whether you're homeschooled or in public school, reach out and build relationships. Hang out with those younger than you – and older than you. Follow good examples and set a good one of your own. Make connections and foster friendship.
5. Stay humble.
Don't grow puffed up with pride – at your grades or your popularity or the fact that you're homeschooled or the fact that you're in public school. Recognize that as a student, you are here to learn and grow, not show off how much you know.
6. Respect your teachers.
Whether that's the dreaded biology professor or whether that's your mom, love your teachers and show them the deference they deserve. They are your authorities, your academic leaders. Honor them as they guide you.
7. Make yourself uncomfortable.
Step outside of the box. Break out of your comfortable sphere. Join a club or a co-op. Try out for basketball. Sit at a different lunch table. Talk to different people. Be unashamed in your gospel witness. Don't be unwise, but make your year memorable with godly discomfort.
8. Don't make it about grades.
This one's for all my kindred spirits out there – the perfectionist, GPA-obsessors who have nightmares about C's. Friend, true education is not about grades; it's about learning something that shifts your perspective, changes your paradigms, and enlightens you about the world. Don't grow hardened to learning by making your education just about letters.
9. Have fun.
No, I'm not crazy. School can be fun, because here's the thing: like everything else in life, it's all what you make of it. Look at your studies with joy. Find the things you like about learning. Discover your favorite subject. Throw homework parties with your friends. Involve your parents. Engage your teachers.
10. Find your passion.
Figure out what you love to do. Chemistry experiments? Literary critiques? Algebra? Squats? You have a rich opportunity to sample a diverse array of subjects. You'll discover some things you hate to do, but you'll also find delight in things you enjoy doing. Look at school as a way to find what captures your interest.
11. Keep calm.
Dear fellow students, please don't stress. It's just a test. It's just a paper. It's just a teacher, just an interview, just a [fill-in-the-blank]. I have learned this time and again from bitter experience. Your worry never pays off. It inhibits you, cripples you, disorients you, and makes you selfish. Then suddenly it's gone – and you wonder why you were ever concerned.
Stay calm by planting your feet in a ground higher than school; place your trust and satisfaction in Christ.
12. Work hard (for God).
Paul's oft-quoted command from Colossians rings distinctly true for the student: "Whatever you do, do it enthusiastically as something done for the Lord and not for men" (Col. 3:23). Don't get blinded by self-importance. Do your work well and do it for the One who is more important than any of your teachers.
13. Know that you're not a student first.
It can be tempting to make student our first identity, but we are foremost children of God. The reason we are here is not to make good grades but to glorify our King (1 Cor. 10:31). In a few years, we won't even be students any more.
Yet we will forever remain children of God. Thus, how we live should reflect that.
---
Share Your Thoughts in the Comment Section!

There are currently __ Comment(s)
---
Photo courtesy of Leo Hidalgo and Flickr Creative Commons.
---