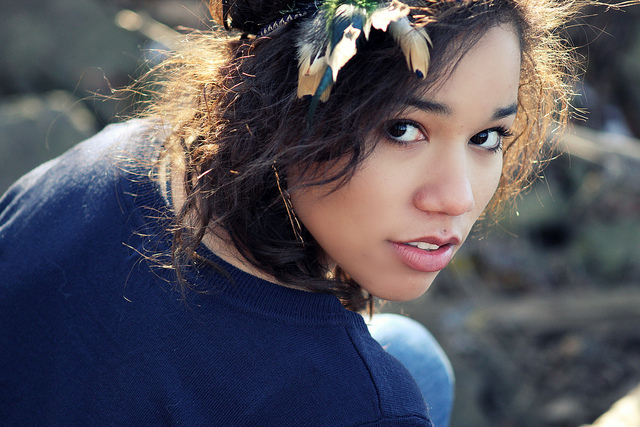 ---
I am scared of living a mediocre life, but not in the same way I used to be.
My past fear was of having a mediocre marriage, a mediocre job, and few friends. And I'll admit there are still days when those seem like the most important things, but my perspective has shifted.
Now I am scared of living a mediocre Christian life.
I am scared that I will not have a passionate relationship with God.
I am scared that I will not have the courage to do what He calls me to do if it is outside of my plan (which it probably will be.)
I am scared that I will push away the urges of the Holy Spirit because they make me uncomfortable and it is simply TOO SCARY for me to be uncomfortable.
In the last month or so, the things and people God has put into my life have seemed to be echoing one thing: You are made for more than this.
You are made for more than comfort and mediocrity.
You are made for more than holding grudges and bad attitudes.
You are made for more because your God walks on waters, and through Him you can do anything.
"I can do everything through Him who gives me strength" (Philippians 4:13).
"But he said to me, 'My grace is sufficient for you, for my power is made perfect in weakness.' Therefore, I will boast all the more gladly about my weaknesses, so that Christ's power may rest on me" (2 Corinthians 12:9).
After coming back from my one week mission trip this year something struck me.
We are applauded for "giving up" one week of our summer to serve and to love those in need. "Giving up"? That week-long mission trip was not a sacrifice.
I'm sure anyone who's been on a mission trip will agree with me on this: You may have served the people there and blessed them, but you come out so much more blessed.
What have these trips taught us? Life is at its fullest and we are at our best when we serve.
Yet, we come home excited for next year's mission trip. I almost feel as if we have missed the point. We love to serve and have a purpose on these trips, yet we don't come home wanting to serve the people around us.
What if we lived every day of our lives not looking at ourselves but looking at the people around us and saying, "How can I serve them?"
Why don't we live like that? Why can't we see outside of ourselves enough to serve on more than just mission trips?
There's a reason serving others pushes out of our comfort zones and brings out the best in us. It's because we are MADE to serve. We are MADE to love.
"And whoever would be first among you must be slave of all. For even the Son of Man came not to be served but to serve, and to give his life as a ransom for many" (Mark 10:44-45).
Isn't the point of Christianity to become more like Christ?
Yet, as Christians, I don't think we really want to be like Christ. We want the assurance that we're going to Heaven someday, but we want to be comfortable and liked.
We want our lives to be ours; we want to be in control. But that's the exact opposite of how we are called to live.
"He must become greater, I must become less" (John 3:30).
Becoming "less" goes completely against what society tells us. Society tells us how important it is to "find ourselves and our happiness" but let me tell you something.
The happiest I have ever been is serving others.
The happiest I have been was with children surrounding me, loving on them, and not caring about what I looked like or what others thought of me. That is when we have true joy. Not when we "find ourselves" but when we are emptied of ourselves.
I don't know what being a servant looks like in your life. Honestly, I don't even know what it looks like in mine yet! But we are called to be servants for more than once a year. We are called to be servants every day – because Jesus was a servant.
Serve your family, friends, city or world – wherever God calls you.
Let go of your fear and let God work through you. We are called for something more.
Are you willing?
---
An Update from Julia: "In the time between sending in my submission, and learning it would be posted, God slowly started breaking down my ego. He's showed me that I need to stop acting like I've got my life together and am fit to give advice. That being said, this is God's article, not mine. I hope that it serves as motivation for some of you, despite the fact that it was written by an imperfect (sometimes downright failure) girl."
---
Share Your Thoughts in the Comment Section!

There are currently __ Comment(s)
---
Photo courtesy of Anna Gearhart and Flickr Creative Commons.
---